Detroit noise rock oddballs CHILD BITE are pleased to unveil the visual companion to the track "Vermin Mentality" from their Negative Noise full-length, released earlier this year via Housecore Records. After an incompetent scientist botches a series of tests on his lab rats, the creatures mutate and launch a vicious attack on humanity starting with CHILD BITE, who must defend themselves from the stronghold of their tour van against the monstrous pests.
The delightfully murine-centric clip was written and directed by Ryan Oliver of Deathblow Productions and includes appearances by Bill Moseley (The Devil's Rejects, Texas Chainsaw Massacre 2), Wayne Alon Scott (Tim And Eric's Bedtime Stories), Danny Belrose (Portlandia, Brooklyn 99), Sarah French (Killer Biker Chicks, Strip Club Slasher), and Elissa Dowling (Tales Of Halloween, We Are Still Here).
Elaborates CHILD BITE frontman Shawn Knight: "We consider ourselves very lucky to have snagged Ryan Oliver for our latest music video. We were familiar with his short films Restoration and Air Condition since they had screened at the Housecore Horror Film Fest. He had seen our previous videos, including 'Ancestral Ooze' [featuring King Buzzo from the Melvins], and was up for the task of dumping countless hours and buckets of elbow grease into this ambitious masterwork. We gave him a heads up just one week before we were booked to play in Chicago, and in that time Ryan and his crew had created everything needed for the van sequence. This included a giant rat costume with functioning jaw and red glowing eyes as well as all of the weaponry needed to combat the rodent horde. The second shoot, which took place a couple months later out in Los Angeles, involved a fully-outfitted science lab and several rats, both real and artificial. This location was selected since we had Bill Moseley (The Texas Chainsaw Massacre Part 2, The Devils Rejects etc.) officially on board to play our lead lab tech. During the months before and after the shoot, Ryan and his team were busy building a complete miniature set at his Chicago-based effects studio, The Rot Shop. Once that elaborate miniature set was ready, they proceeded with the third and final shoot; real rats in tiny Chicago. In the end, we couldn't be more thrilled with how it all turned out and are anxious to see what Ryan does next!"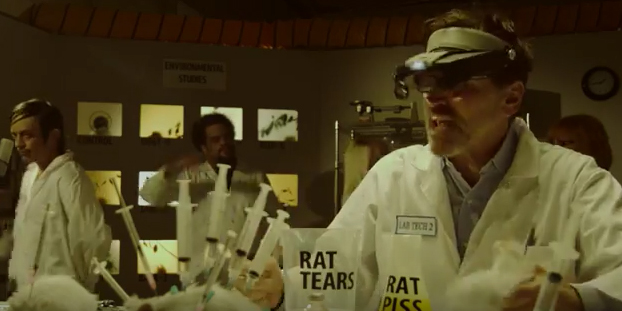 Grab some popcorn and watch "Vermin Mentality," now playing exclusively at Bloody Disgusting alongside an interview with Bill Moseley at THIS LOCATION.
*No animals were harmed in the making of this film.
Catch CHILD BITE live on their upcoming live excursions with future onstage bedlam in the plotting stages.
CHILD BITE:
10/29/2016 Subterranean – Chicago, IL w/ Bear Vs Shark
10/30/2016 Subterranean – Chicago, IL w/ Bear Vs Shark
11/04/2016 No Rest Fest 4 – Detroit, MI
11/05/2016 Loud Records – Port Huron, MI w/ Lume
11/06/2016 Pittsburgh Brewtal Beer Fest – Pittsburgh, PA
CHIL BITE's Negative Noise is out now on Housecore Records. The wild, forty-seven-minute ride was produced by label head Philip H. Anselmo, mastered by Scott Hull (Pig Destroyer), and is where the Venn diagram of Black Flag, Voivod, and The Jesus Lizard truly overlaps.
Get weird with Negative Noise, available at the Housecore Store HERE.
"This is for the open minded punk, headbanger or weirdo. If you like your music a little on the ugly side, you owe it to yourself to check them out." – Punk News
"Negative Noise possesses a brilliance and individuality all its own and is a refreshing breath of fetid air in an era saturated with a d-beat-only approach to punk and hardcore." – No Clean Singing
"CHILD BITE creates an idiosyncratic racket, a chaotic collision of off-kilter punk, the weirder end of '80s hardcore and rumbling post-punk." – The Sludgelord
"…an adventurous slice of loud rock…They have the aggressive force of hardcore, but it's filtered through grimy noise rock." – New Noise
"References within the sphere of metal are hard to come by, but imagine if the first Mr. Bungle album wasn't annoying circus music, and then remember that this band once did a 5″ record of Anal Cunt covers with Phil Anselmo on vocals, and you're getting there." – Brave Words
http://www.childbite.com
http://www.childbite.bandcamp.com
http://www.facebook.com/childbite
http://www.thehousecorerecords.com