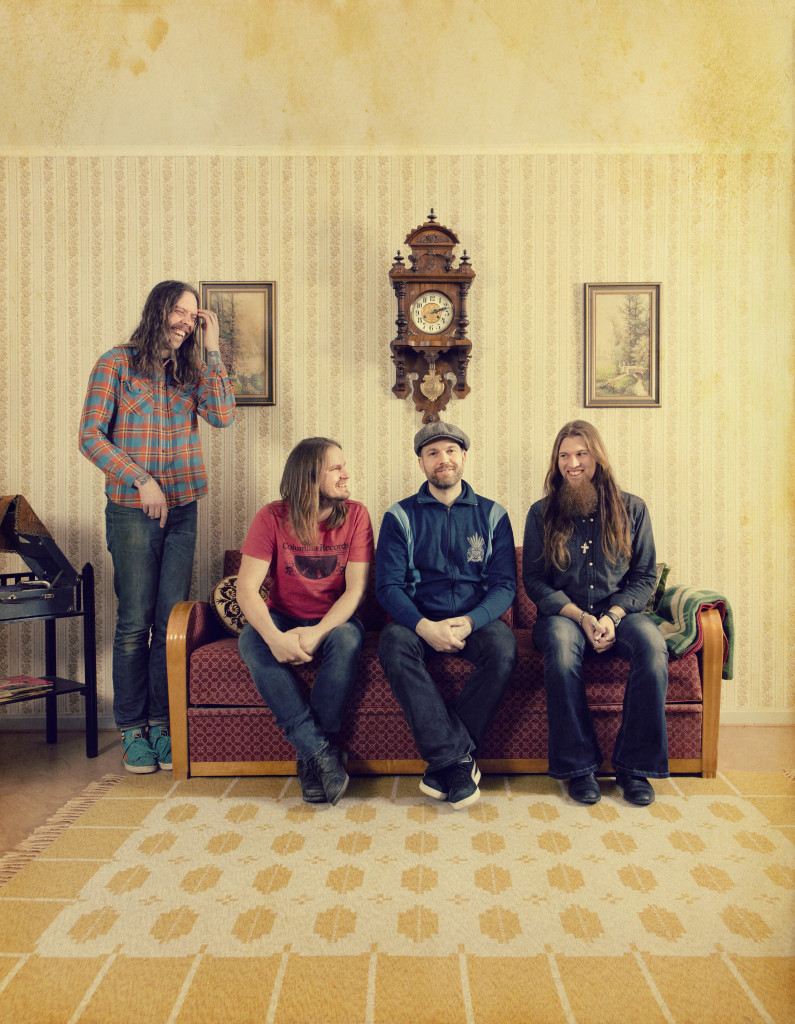 Swedish blues rock collective CAPTAIN CRIMSON will unleash their riff-laden Remind full-length via Small Stone this Friday! A true testament to the timeless power of groove and of memorable choruses that take you back to when you felt such things deep in your soul, CAPTAIN CRIMSON manifest the kind of rock and roll that speaks to the essence of the form.
In celebration of its release, today The Obelisk is streaming Remind in full. Issue the esteemed blog, "Now working with the lineup of vocalist Stefan Lillhager (ex-Blowback), guitarist Andreas Eriksson, bassist Chris David, and drummer/organist Mikael Läth, the Örebro natives have come unquestionably into their own throughout these tracks, moving well beyond the '70s worship for which their hometown is so known in favor of a full sound, marking a less dramatic shift than that of, say, Witchcraft, but mostly because CAPTAIN CRIMSON were less of a directly vintage mindset to start with. In any case, what they arrive with on Remind is a forty-two-minute collection of tightly written, smoothly executed cuts that seem to be vying with each other to occupy space in the listener's consciousness. Will it be 'Black Rose' or 'Let Her Go' stuck in someone's head? I don't know, but there's a good chance that something here will hit a nerve among the converted, as CAPTAIN CRIMSON favor quality songcraft over the trappings of hyper-stylization, and so have no need of the latter as they make their way through, energetically and deftly using the momentum of one track to push through the next."
Hear Remind in its infectious entirety alongside a deeper investigation of the record at The Obelisk RIGHT HERE.
Remind will see release on October 14th, 2016 on CD, digitally, and limited edition vinyl. Preorders are available at THIS LOCATION. Additionally, you can sample the band's video for "Bells From The Underground" below
Forged in 2010 by vocalist Stefan Lillhager, formerly of Blowback, CAPTAIN CRIMSON draws inspiration from the classic sounds of The Groundhogs, Blue Cheer, Jethro Tull, Cactus, and Emerson, Lake & Palmer, meeting heavy boogie head-on with a modern swagger that has carried over to their latest and third album, Remind – their first for Small Stone Records. Remind follows their 2012 debut, Dancing Madly Backwards, which led them onto their first tour that Fall. Emerging with the lineup of Lillhager, bassist/backing vocalist Chris David (ReinXeed), guitarist Andreas Eriksson, and drummer/organist Mikael Läth, CAPTAIN CRIMSON earned rave reviews for their blues riffing and killer hooks, and they did what any band worth their salt would: They kept touring.
Their second offering, 2014's Ageless Time, aligned them to Moving Air Music and Nasoni Records and once again put them on the road. On the LP, they showcased a multifaceted songwriting process, benefiting from the contributions of each player working together to bolster the strengths of the whole, and with a stopgap jam session in Stockholm captured on a 2015 digital EP (fittingly titled A Chaotic Jam Session In Stockholm), they make their way into Remind having fully realized their vision of modern classic rock.
"Raunchy, bass-driven and bluesy hard rock (and yes, there's a tiny hint of Graveyard hidden away in the grooves if you really want to look hard enough), packed full of melodic though heavy riffular fun and the excellent lead vocals of Stefan Lillhager, who is perhaps the highlight of the whole show. Although supremely talented bassist Chris David might have something to say about that. Anyways, forget the personnel – they're all brilliant…" — The Sentinel Daily
"Much of the album expertly mixes the swagger of Stevie Ray Vaughan with the speed and flavor of Mötley Crüe, especially on the title track and through the second half of the playlist. CAPTAIN CRIMSON should appeal to all fans fans of classic rock, hard rock, and metal." — Glacially Musical
http://www.captaincrimson.com
http://www.facebook.com/CaptainCrimsonSwe
http://www.smallstone.com
http://www.facebook.com/smallstonerecords