The anticipated third leg of SUPERJOINT's US live invasion will begin on September 22nd in New Orleans, Louisiana. The band will pillage their way through over two-dozen venues across the country including a stop at this year's edition of Rock 'N' Shock in Worcester, Massachusetts, the trek coming to a close on October 20th in Orlando, Florida. The band will be joined by DevilDriver with additional support provided by Housecore labelmates Child Bite and King Parrot as well as Cane Hill.
Comments SUPERJOINT frontman Philip H. Anselmo: "Do your pushups, take your vitamins, and start some light jogging now, because this is gonna be a hell-of-a-shitload of shows this fall. Olde School rules only. Leave your fashion statement at home or at the door. Individuals unite for one night only at a place near you, and then disperse like wildfire to dry pages. Bring it on, sisters and brothers. Always championing the underdogs of this world and The Underground since 1988! Yours truly, PHA." See all confirmed dates below.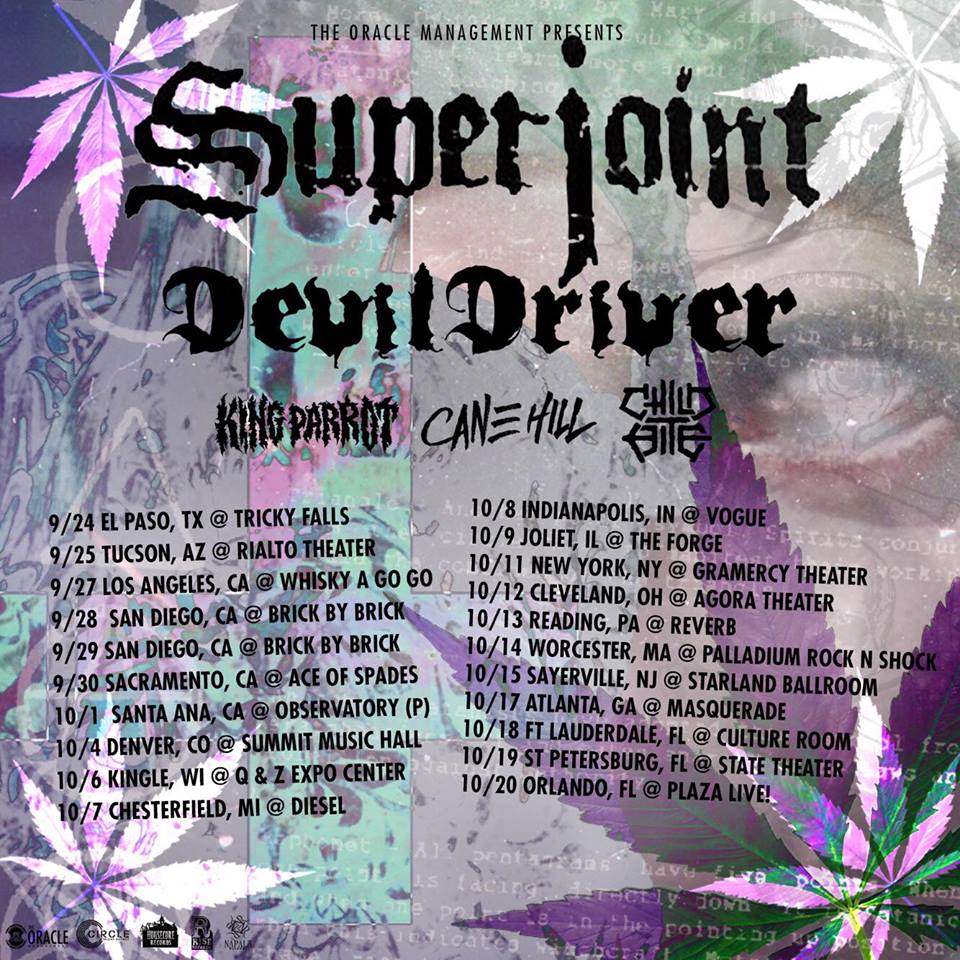 SUPERJOINT w/ Child Bite:
9/22/2017 House Of Blues – New Orleans, LA [tickets]
w/ DevilDriver, King Parrot, Cane Hill, Child Bite:
9/23/2017 Come & Take It Live – Austin, TX [tickets]
9/24/2017 Tricky Falls – El Paso, TX [tickets]
9/25/2017 Rialto Theater – Tucson, AZ [tickets]
9/27/2017 The Whisky – Los Angeles, CA [tickets]
9/28/2017 Brick By Brick – San Diego, CA [tickets]
9/29/2017 Brick By Brick – San Diego, CA [tickets]
9/30/2017 Ace Of Spades – Sacramento, CA [tickets]
10/01/2017 Observatory – Santa Ana, CA [tickets]
10/03/2017 Top Deck – Farmington, NM [tickets]
10/04/2017 Summit Music Hall – Denver, CO [tickets]
10/06/2017 Q & Z Expo Center – Ringle, WI [tickets]
10/07/2017 Diesel – Chesterfield, MI [tickets]
10/08/2017 Vogue – Indianapolis, IN [tickets]
10/09/2017 The Forge – Joliet, IL [tickets]
10/11/2017 Gramercy Theater – New York, NY [tickets]
10/12/2017 Agora Theater – Cleveland, OH [tickets]
10/13/2017 Reverb – Reading, PA [tickets]
10/14/2017 Rock 'N' Shock @ Palladium – Worcester, MA @ Rock N Shock [tickets]
10/15/2017 Starland Ballroom – Sayreville, NJ [tickets]
10/17/2017 Masquerade – Atlanta, GA [tickets]
10/18/2017 Culture Room – Ft. Lauderdale, FL [tickets]
10/19/2017 State Theater – St. Petersburg, FL [tickets]
10/20/2017 Plaza Live! – Orlando, FL [tickets]
SUPERJOINT continues to tour in support of their Caught Up In The Gears Of Application full-length. The record serves as the band's first proper studio offering in over a decade. Recorded at the famed Nodferatu's Lair, produced by SUPERJOINT co-founder Philip H. Anselmo (Down, Pantera, Scour, Philip H. Anselmo & The Illegals, Arson Anthem etc.) and Stephen Berrigan (Down, Philip H. Anselmo & The Illegals, Eyehategod, Haarp, Classhole, etc.), and mastered by Scott Hull (Agoraphobic Nosebleed, Pig Destroyer) at Visceral Sounds, the thirty-eight-minute bruiser spews forth an unapologetic crossover of hardcore punk, metal, and uncompromising, antagonistic, New Orleans-style angst.
Various order bundles, including limited edition vinyl options and authentic woodwork from their "Caught Up In The Gears Of Application" video are available via Housecore at THIS LOCATION. For digital orders, point your browser HERE where you can also stream the record in full.
SUPERJOINT was resurrected in 2015 after the original band broke up a decade earlier. At the behest of the late Corey Mitchell, co-founder of The Housecore Horror Film Festival, SUPERJOINT founders Anselmo, Jimmy Bower (Down, Eyehategod), and Kevin Bond (Christ Inversion, Artimus Pyledriver et al) joined forces with longtime comrades, drummer José "Blue" Gonzalez (Warbeast, Philip H. Anselmo & The Illegals), and bassist Stephen Taylor (Philip H. Anselmo & The Illegals, Woven Hand, 16 Horse Power). A new era of the band was born. After just two tours, new material followed culminating in the scathing sounds of Caught Up In The Gears Of Application.
"[Philip H. Anselmo's] tenacity seems undeniable, and that spirit shines through Caught Up In The Gears Of Application from beginning to end." – Blabbermouth
"…a raw exercise in riffing devastation and swirling, erratic tempo shifts…" — Loudwire
"This is gnarly and nasty… the music is as potent as ever. A storming return. – The Sludgelord
"SUPERJOINT's music is like a poison that you want to keep drinking, a spirit that doesn't age, and never heals – but it'll kill time. There is creative genius in these guys." – New Noise Magazine
"The volatile, acidic savagery that the band is known for is just as present now as it was before they went on hiatus over a decade ago…." – Metal Nexus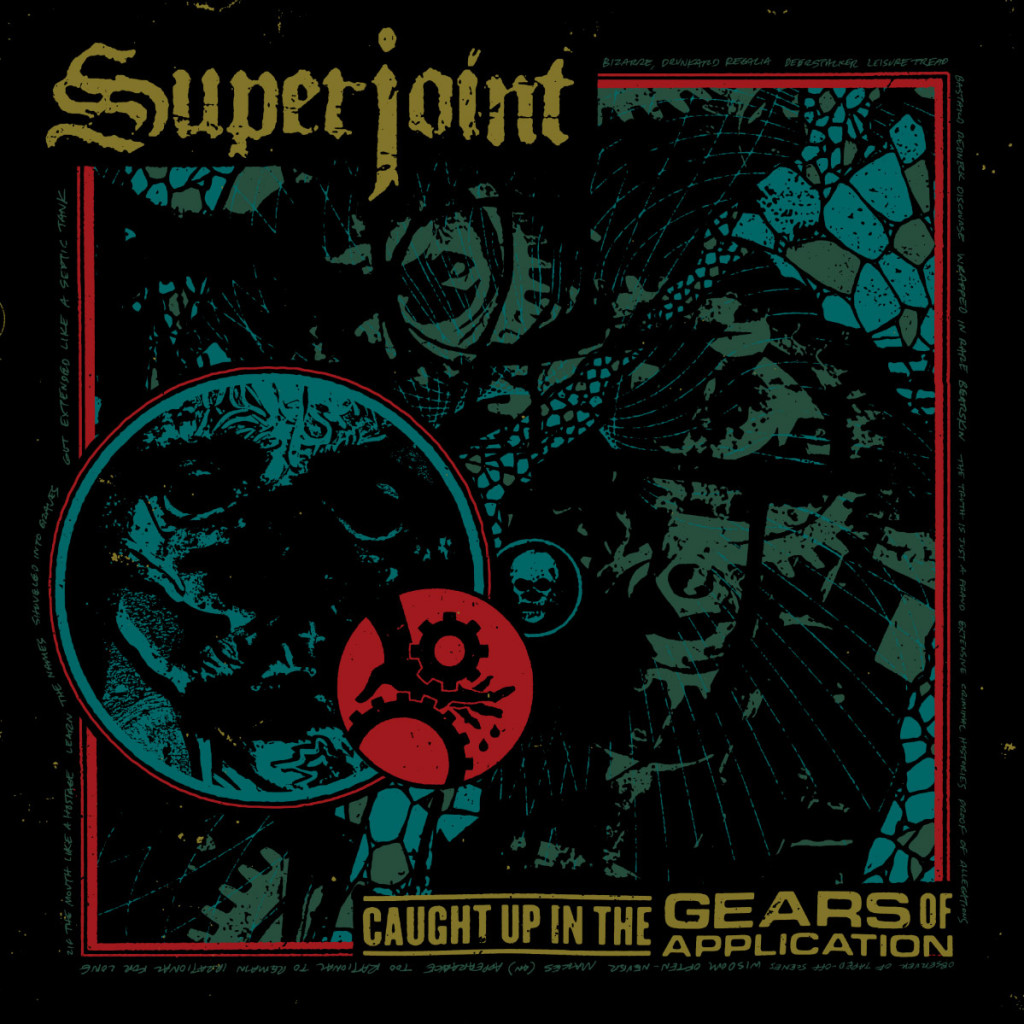 http://www.facebook.com/officialsuperjoint
http://www.thehousecorerecords.com
http://www.thehousecorestore.com
http://www.facebook.com/housecorerecords