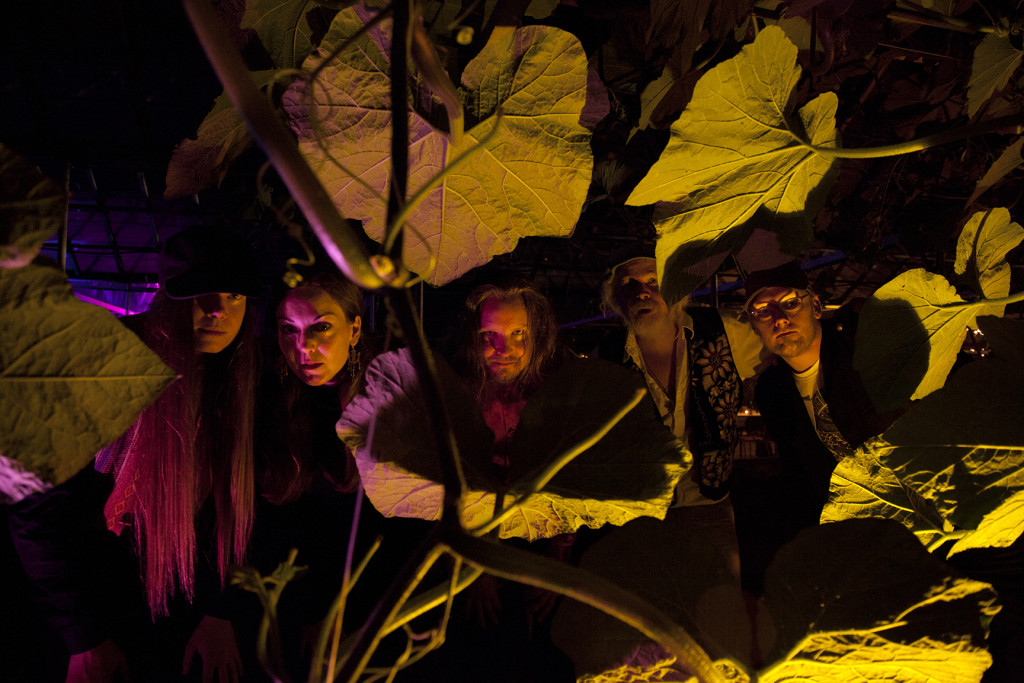 [photo by Julio Barcellos]
Swedish psychedelic/progressive rock alchemists AGUSA present their third full-length album, and second for Laser's Edge, simply titled Agusa. The label will release the sprawling new LP worldwide in late October, unveiling the record's artwork and information this week.
The follow-up to 2015's Agusa 2 (Två ) sees the AGUSA circle expanding their kaleidoscopic output which conjures images of nature and the cosmos, their extensive passages again leading the listener into fantastic realms of a possibly supernatural or parallel existence. While Agusa 2 (Två) engulfed forty minutes of music through two massive tracks, Agusa sees the band delivering their singular brand of trance-inducing, folk-inspired, occult rock through more traditional track lengths, offering five songs which range from five to ten-and-a-half minutes in length and are a bit heavier than the album's predecessors.
Agusa was recorded and mixed by Viktor Rinneby and mastered by Grammy-winning engineer Bob Katz, and completed with art by Danilo Stankovic and design by Peter Wallgren.
Laser's Edge will release AGUSA's eponymous third album on digital, CD, and LP formats on October 27th. This will be celebrated with release shows in Sweden and Denmark, after which the band will head east to play their first gigs on Russian soil. Watch for preorders, audio samples, and more to be released in the days ahead.
Agusa Track Listing:
1. Landet Langesen
2. Sorgenfri
3. Den Fortrollade Skogen
4. Sagor Fran Saaris
5. Bortom Hemom
In September 2016, AGUSA released their live disc Katarsis, which was recorded in Athens, Greece six months before. Following that release the band had hectic schedule with gigs in Scandinavia, Poland, and back to Greece. This proved to be too much for organ player Jonas Berge who left the band in January 2017, while recording the new Agusa album, which caused the band to take a pause in order to complete the album and replace Berge. Finding a talented organ player who would also fit into the group proved to be a difficult task, but finally Danish organ player Jeppe Juul was picked as Berge's successor. Juul is originally from Denmark but now lives in the deep woods of southern Sweden in primitive circumstances, where they must carry all water from a nearby well and occasionally get some electricity from some solar cells on the roof. He has previously played with many acts in different genres; Marcus Miller, Royal Danish Ballet, and Lili Haydn, among many others.
AGUSA has performed live throughout Europe, including the mighty Roadburn Festival and more. Preceding the new Agusa album, flute player Jenny Puertas gave birth to a daughter in May which saw the band performing sans-flute for several shows, and additionally, organist Jonas Berge rejoined the lineup for several performances, which saw them playing live with two organ players. As always, AGUSA performed vastly different versions of the new songs live compared to how they ended up on the album, continuing their ongoing mission of turning every concert into something unique.
AGUSA:
Tobias Petterson – bass
Jeppe Juul – organ
Jenny Puertas – flute
Tim Wallander – drums, percussion
Mikael Ödesjö – guitar
http://www.agusaband.bandcamp.com
http://www.facebook.com/agusaband
http://www.lasersedgegroup.com
http://www.facebook.com/TheLasersEdge
http://www.twitter.com/thelasersedge
https://lasersedge.bandcamp.com