[photo by Peter HoÃŒnnemann]
SUNN O))) has just announced a series of US tour dates for the Spring months, including several massive festival performances.
Following the band's run through Australia, with shows in Adelaide, Sydney, and Melbourne in mid-March, SUNN O))) will tour though the Southern US in April. First, the band will perform at Big Ears Fest in Knoxville on April 2nd, appearing as one of the main acts alongside the likes of Yo La Tengo, Sun Ra Arkestra, Andrew Bird, Wolf Eyes, and more. The festival will be immediately followed by shows in Nashville, Athens, Atlanta, Jacksonville, and Tampa through April 8th. Later that month, SUNN O))) will travel to Austin to take part in Levitation 2016, playing Saturday, April 30th with Brian Wilson, Animal Collective, The Black Angels, Boris, Sleep, The Thurston Moore Group, and countless more.
SUNN O))) will assemble again in May, with a set at Moogfest in Durham, North Carolina, performing alongside Odesza, Gary Numan, GZA, Laurie Anderson, Explosions In The Sky, and many other artists. Additional live performances are also being scheduled.
The SUNN O))) touring lineup for these shows will include founding members Greg Anderson and Stephen O'Malley, as well as longtime members Attila Csihar, Tos Nieuwenhuizen, and Steve Moore (Earth, Stebmo).
SUNN O))) Tour Dates:
3/12/2016 Adelaide Festival – Adelaide, AU w/ Magma [tickets]
3/15/2016 Manning Bar – Sydney, AU [tickets]
3/16/2016 Max Watts – Melbourne, AU [tickets]
4/02/2016 Big Ears Fest – Knoxville, TN [tickets]
4/03/2016 Exit/in – Nashville, TN [tickets]
4/05/2016 Georgia – Athens, GA [tickets]
4/06/2016 Terminal West – Atlanta, GA [tickets]
4/07/2016 Sun Ray Theatre – Jacksonville, FL [tickets]
4/08/2016 The Orpheum – Tampa, FL [tickets]
4/30/2016 Levitation – Austin, TX [tickets]
5/21/2016 Moogfest – Durham, NC [tickets]
In December, SUNN O))) closed a six-year gap in new studio albums, releasing the mighty Kannon. Consisting of three self-titled pieces of a triadic whole, the roots to SUNN O)))'s new album trace deeply into the sessions of their 2009-released Monoliths & Dimensions LP and recent collaborative recordings with Ulver (Terrestrials, 2014) and Scott Walker (Soused, 2015). Recorded and mixed with SUNN O)))'s close colleague and co-producer Randall Dunn at Studio Litho, Aleph and Avast!, the literal representation of Kannon is as an aspect of Buddha: commonly known as the Guanyin Bodhisattva (Chinese: 觀音菩薩) amongst a plurality of other forms. There is a rich lineage behind this idea tracing back through many Asian belief systems, with as many names and cultural personifications of the idea.
This Friday, February 5th, will also see the reissue of SUNN O)))'s 2008 live 2xLP, Dømkirke. Kannon, in its earliest incarnation, was spawned and inspired from live compositions of SUNN O))); elements of which were present at Dømkirke, Dømkirke itself was recorded at the Bergen Cathedral in Bergen, Norway during the Borealis Festival in 2007. The four-song double album was initially released in September 2008 and is available on vinyl only, with one track featuring on each side of the records.
Kannon, Dømkirke and other SUNN O))) titles and merch can be ordered through Southern Lord HERE and Southern Lord European store HERE.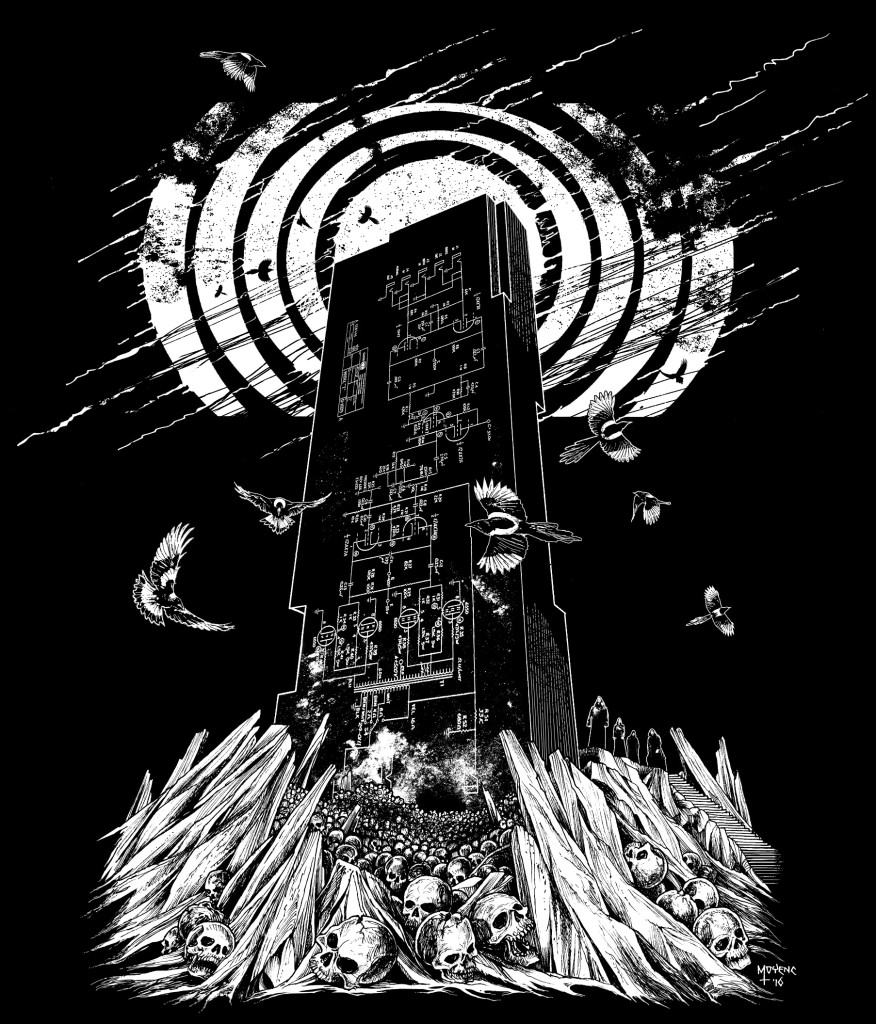 [artwork by Chris Moyen]
http://www.sunn-live.bandcamp.com
http://sunn.southernlord.com
http://sunn.bandcamp.com
http://www.southernlord.com