Gateway To The Antisphere, the leviathan sophomore LP from German death metal tyrants, SULPHUR AEON, is just a week from official release through Imperium Productions and Ván Records, and Cvlt Nation has released the album's lacerating third movement, "Titans." With one of the most epic building intros on the album and through a steady, mid-paced middle transition, "Titans" mutates into one of the most demoralizing of the gargantuan eleven songs on Gateway To The Antisphere, in the end delivering a whirlwind of apocalyptic percussion and an ominous Lovecraftian aura.
SULPHUR AEON's "Titans" will draw you into the abyss through Cvlt Nation at THIS LOCATION.
Also witness the astonishing cover artwork come writhing to life in the "Diluvial Ascension – Gateway To The Antisphere" visual trailer RIGHT HERE.
Through their deathly mélange of ferocious riffs, ultra-precise drums and sepulchral incantatory chants, combined with a high level of musical competence and songwriting to the most haunting and wicked death metal, SULPHUR AEON has attracted mass media and fan praise in the wake of their prior releases. Yet the winds of Springtime bring the stench of death, as the band unfurls their second LP, Gateway To The Antisphere. Calling the ancient ones are forth from the restless diluvial depths of timeless death, Gateway To The Antisphere was produced by Simon Werner, also responsible for the memorable sound of their earlier records, and the result is a catastrophic and instantly memorable work of extreme metal art. With fifty-two minutes of debilitating yet enthralling, black-tinged death metal, enshrouded in mind-blowing cover artwork created by Ola Larsson, Gateway To The Antisphere displays SULPHUR AEON's most stunning and monolithic material yet, and once again proves the band as a leading act in the modern innovation of the genre.
A must-have piece for followers of Ulcerate, Morbus Chron, Abyssal, Vanhelgd and the like, Gateway To The Antisphere, will be released in cooperation between Imperium Productions and Ván Records on massive, gatefold 2xLP, CD and digital download on April 3rd. The Aeon of Sulphur awaits. A crack in the sky. A threshold. The gateway to the antisphere…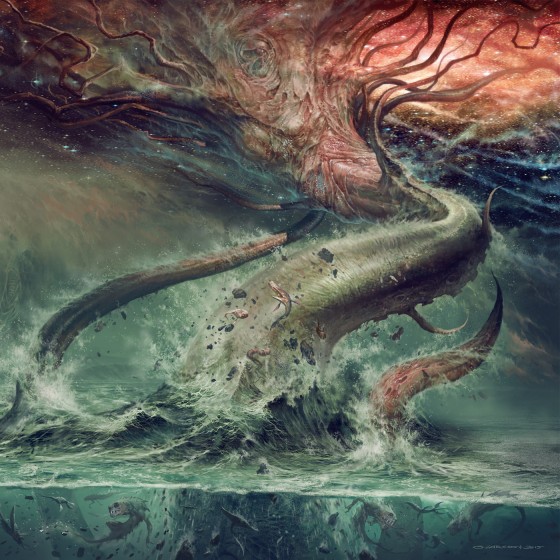 http://www.facebook.com/SulphurAeon
http://www.sulphuraeon.bandcamp.com
http://www.van-records.de
http://www.facebook.com/vanrecs
http://vanrecords.bandcamp.com