JADED STAR, the new act founded by former members of Visions Of Atlantis, Iced Earth and more, just released a brand new lyric video for "Stars," the fourth track from their upcoming Sensory Records debut album, Memories From The Future, which is nearing release mid-April. In addition to the lyric video, the album has been posted for CD and digital preorders, the latter of which includes the streaming of four additional new songs from the album, "The Mask," "Wake Up," "Into The End Of Time" and "In Memory."
View JADED STAR's lyric video for "Stars" RIGHT HERE, and stream the other four new tracks HERE.
With over forty-five minutes of JADED STAR's energetic forward-thinking melodic heavy metal, Memories From The Future was produced by vocalist Maxi Nil (ex-Visions Of Atlantis), mixed and mastered by Fredrik Nordstrom at the legendary Fredman Studios in Sweden (Arch Enemy, At the Gates, Dimmu Borgir, In Flames, Opeth, etc.), and features ten brand new epic anthems. The cover artwork for Memories From The Future was created by Lila Belivanaki, finalizing the album for release on April 14th in North America and April 24th in Europe through Sensory Records, a division of The Laser's Edge.
Preorders for the digital version have been released at THIS LOCATION, and the digipak CD with a massive 24-page booklet, HERE.
JADED STAR will supply direct support Dutch symphonic metal outfit, Epica, on two special shows in Greece this weekend as part of the band's The Greek Enigma Tour. Performances are confirmed for tomorrow, Friday, March 27th in Athens, and Saturday the 28th in Thessaloniki. Additional tour dates including a full Fall European tour and more are in the works.
JADED STAR Tour Dates:
3/27/2015 Fuzz – Athens GR w/ Epica [info]
3/28/2015 Fix Factory Of Sound – Thessaloniki GR w/ Epica [info]
Formed in 2013, JADED STAR was founded by vocalist Maxi Nil (ex-Visions of Atlantis) and drummer Raphael Saini (ex-Iced Earth), who recruited guitarist Kosta Vreto (Horizon's End, Wardrum) and bassist Babis Nikou (Astral DNA, Opened Paradise, Dia Mageias) to complete the lineup. The quartet instantly amassed a vast array of new material and began touring across Europe. Upon signing with Sensory, Maxi Nil issued, "We can't put down in words how excited and happy we are for signing with Sensory records, since it's very hard to find these days labels who truly help, support and believe in their bands. Memories From The Future is an album full of energy and emotions and personally, it's the best thing I've done so far. We're all very proud of it and we can't wait to share it with the world. Make sure to listen to it as loud as you can!" Added Sensory/The Laser's Edge owner, Ken Golden, "Recently I was approached a new band called JADED STAR. As soon as I learned that Maxi Nil was the band's vocalist I was immediately intrigued. I was quite familiar with her work with Visions Of Atlantis so I knew this would be quality metal. When I heard the album I was totally blown away." The elements are there, the forces have aligned, and the JADED STAR is ready to shine!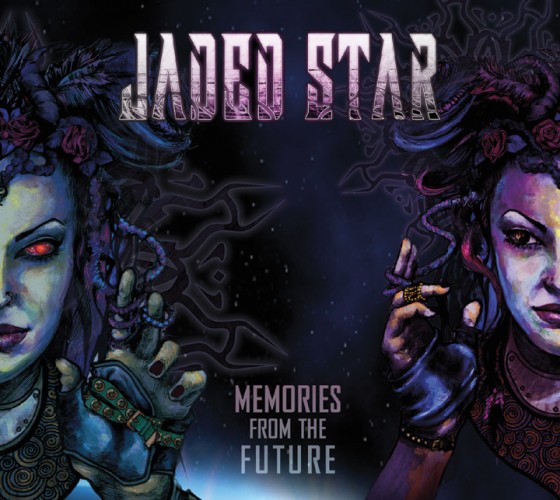 http://www.jadedstar.net
http://www.facebook.com/jadedstarofficial
http://twitter.com/JadedStarBand
http://www.lasersedgegroup.com/labels/sensory-records
http://www.facebook.com/TheLasersEdge
http://twitter.com/thelasersedge