[photo by Robert Fortenberry]
In less than a week, New Jersey-based Sensory Records will release modern progressive metal act IRIS DIVINE's debut full-length, Karma Sown, and the album today sees early public infiltration through an exclusive stream and feature now live at BraveWords.com.
Over recent years, the Washington DC-area act has amassed a diehard following through regional live performances, but on their first full-length release, Karma Sown, IRIS DIVINE dives headfirst into the international scene through an incredibly layered and expansive recording. Though a mere trio, the band unleashes waves of dynamic, top-tier progressive metal with dark, crunching undertones and intense storylines which unify the entire Karma Sown album, all the way through the cover art concept and overall delivery. Embodied by vocalist/guitarist Navid Rashid, drummer/programmer Kris Combs and bassist Brian Dobbs, IRIS DIVINE's glorious debut full-length, Karma Sown, is a triumph of a debut album, immediate and memorable but revealing layers and depth upon repeated listens. The record was produced by the band, engineered by Drew Mazurek and Farhad Hossain, mixed by Drew Mazurek, and mastered by Brian J. Anthony, and its cover art conceived by Kris Combs and executed by Visual Decay.
Alongside an interview with IRIS DIVINE, BraveWords.com is now playing the entire Karma Sown album in an exclusive stream AT THIS LOCATION.
Sensory Records will release Karma Sown worldwide on CD and digitally on March 31st, 2015. Physical preorders can be placed HERE and digital HERE.
IRIS DIVINE Live:
5/03/2015 Empire – West Springfield, VA w/ Haken
Additional IRIS DIVINE tour dates and other news will be released in the weeks ahead.
With a brand of emotional, progressive hard rock/metal not quite like anything else out there, IRIS DIVINE is musically rooted in the raw energy and rhythmic interplay of Rush and King's X. Fans of dark, guitar-driven rock bands from Alice In Chains, Deftones to the contemporary metal riffing of Lamb Of God and Pantera will connect to the heavy core of the band's modern sound. Add to that progressive complexity and moody synths inspired by Dream Theater and Porcupine Tree, and a liberal dose of memorable hooks and melodies, to understand some elements of the band's sound. And yet, the band has a distinct identity, not quite sounding like any of the aforementioned bands, and with an emotional urgency that pulls subtly from alternative and other influences. Nova Metal Review praised IRIS DIVINE's debut in an early review with a perfect review: "Most often I would pick a couple of tracks as favorites, but in this case that is a pointless exercise. All the tracks are standout and I can play them in any order and still walk away with a smile on my face… it is a no-brainer to score this a straight 10/10." Hardrock Haven championed the record with an early 9/10 review, including, "when you hear them you're simply stunned that they're not signed to a major label and making a huge impact on the scene. They're immensely talented, not content to stay within the genre lines, and have released an album that can go head to head with any of the 'name' prog metal albums this year." Another 9/10 write-up came in from We Love Metal: "There are a number of influences that jump out here and there, namely Rush, King's X, Sevendust, general Middle Eastern music, and the previously mentioned Redemption. IRIS DIVINE does a superb job of incorporating influences, but not really sounding like any one in particular other than themselves." This Is Not A Scene offered in part, "Even with its complex song structures, the songs on the album never get too over the top proggy," and Dead Rhetoric's review includes, "Be open-minded as Karma Sown is another amalgamation of the genre's past and present to develop tomorrow's vision."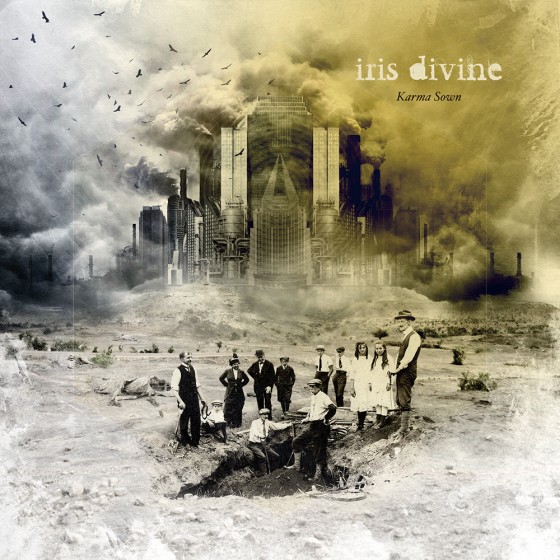 http://www.irisdivine.bandcamp.com
http://www.facebook.com/irisdivine
https://twitter.com/irisdivineband
http://www.lasersedgegroup.com/labels/sensory-records
http://www.facebook.com/TheLasersEdge
http://twitter.com/thelasersedge