Gateway to the doom/sludge/stoner/rock underground, The Obelisk, today opens a portal to the mammoth closing number from SORXE's debut LP, Surrounded By Theives, with the more than eight minute-long, "The Mountain Man."
"SORXE's Surrounded by Shadows draws on the best elements left from the largely washed out post-metal movement. They tradeoff atmospherics and churning, crushing riffs, vary their approach widely, and toy with structures and builds to create a full-album sensibility that each individual song feeds into," states The Obelisk's intense review of the album alongside the exclusive stream of its final destructive anthem. The review issues on the track itself massive accolades: "'The Mountain Man' has its stomp and plod in rounding out the nine-track/55-minute offering, and its initial explosion in chaotic, crushing noise is high among Surrounded by Shadows' most satisfying moments, but there's consciousness at work behind all that bludgeoning. It would be hard for any individual piece to completely sum up everything SORXE have on offer with their debut, but in providing the album with its apex, 'The Mountain Man' also provides a showcase for SORXE's burgeoning dynamic. It is encompassing in its heaviness."
Hear for yourself; blast "The Mountain Man" via The Obelisk RIGHT HERE.
The album-opener "Steamroller" is also playing at Cvlt Nation HERE.
SORXE will independently release Surrounded By Shadows via digital download and digipak CD on September 2nd, 2014. Digital preorders are now posted, including an instant download of "Steamroller," HERE. The CD will be available for preorder shortly.
Comprised of former members of Graves At Sea, Via Vengeance, Magnetplan, Daughters Of Fission and more, SORXE's dynamic assault is fueled by two and multiple styles of layered vocals. A sprawling, diverse eruption of crushing doom, at times incredibly beautiful and tranquil, and at others overwhelmingly harrowing, its earthmoving riffs penetrated with undertones of grunge, psychedelic and ambient textures, Surrounded By Shadows was recorded by the band's Tanner Crace in multiple sessions in June 2013 at Francisco Studios and February through June 2014 at The Vaulted Owl, the album mastered by Byron Villain Recording. Boasting a wide range of well-crafted tracks comparable in does along the way to Neurosis, Ufomammut, Yob, Hull and others, the album's cover art was constructed by Josh Graham.
SORXE is confirmed to perform at Tucson-based Southwest Terror Fest III: The Western Front, opening the main stage of the Rialto Theatre on Saturday, October 18th, supporting Author & Punisher, The Body, and headliners, Neurosis. Preceding SWTF, SORXE will trek through the Southwest with Godhunter, the dates to be announced in the coming days.
SORXE Live:
10/18/2014 Rialto Theatre – Tucson, AZ @ Southwest Terror Fest w/ Neurosis, The Body, Author & Punisher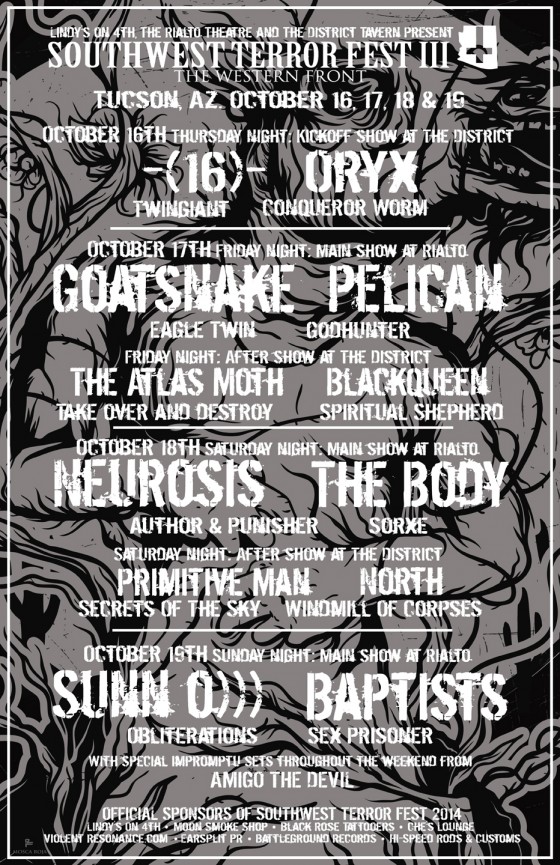 http://sorxe.com
http://sorxe.bandcamp.com
https://www.facebook.com/Sorxe