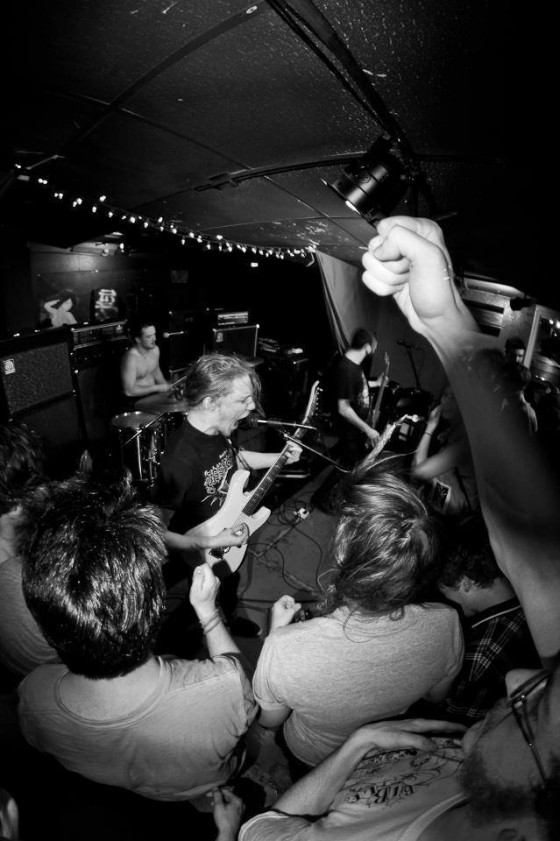 This afternoon, Nashville-based YAUTJA is on their way to Atlanta, beginning a new six-city tour with their inclusion at the inaugural Southern Darkness Festival this weekend the prime target. On the massive Southern Darkness lineup, YAUTJA joins the likes of Pelican, Phobia, Weekend Nachos, Bongripper, A Storm Of Light, Lord Mantis, Coke Bust, Centuries, Primate, Magrudergrind, Jungbluth, Mouth Of The Architect, Maruta and others at the Tampa-based, one-day/three-venue event, taking over tomorrow, Saturday, August 23rd. Following the festival, the band will rage New Orleans, Baton Rouge and Birmingham on the way home with one more show still being locked.
YAUTJA Tour Dates:
8/22/2014 Daniel's House – Atlanta, GA
8/23/2014 Crowbar – Tampa, FL @ Southern Darkness Festival [info]
8/24/2014 TBA
8/25/2014 Saturn Bar – New Orleans, LA w/ Heat Dust
8/26/2014 The Legendary Noise Floor – Baton Rouge, LA w/ Baby Boy
8/27/2014 The Forge – Birmingham, AL
YAUTJA is also currently devising a tour for October which will take them back up through the Northeast US and into Canada; the tour will be completed and announced in the coming days.
YAUTJA's output is nothing short of debilitating, as captured on their debut LP, Songs Of Descent. Released in February via Forcefield Records, the album delivers nearly forty minutes of the band's churning, gnarled and organic blend of grind/hardcore. Songs Of Descent was recorded at Dark Art Studios with Mikey Allred (Inter Arma, Accross Tundras, Hellbender) and released LP and digital formats, the digital version mastered by Mikey Allred and the vinyl mastered by Zack Allen of Obsidian Eye Studios (Loss, Recluse, Sky Burial).
"Only music with such a combination of smarts and tactile power can put your body in two places at once." – Invisible Oranges
"…Yautja incorporate imperial sludge riffs ala Neurosis with grind, math, crust and more. You'd think a mish-mash of influence like that would be jarring, but Yautja feels a lot more organic than their description leads on… Think Inter Arma without the southern bent and with more grind instead of black metal." – Noisey/Vice
"Mixing elements of hardcore and punk with doom-laden metal, Yautja's sound is simply punishing… There are so many moving pieces and varying sounds on this album, yet where Yautja excels is mashing them all together in a way that doesn't sound disconnected or forced." – Metal Insider
http://yautja.bandcamp.com
https://www.facebook.com/YautjaTN
http://www.forcefieldrecords.org
https://www.facebook.com/ForcefieldRecords