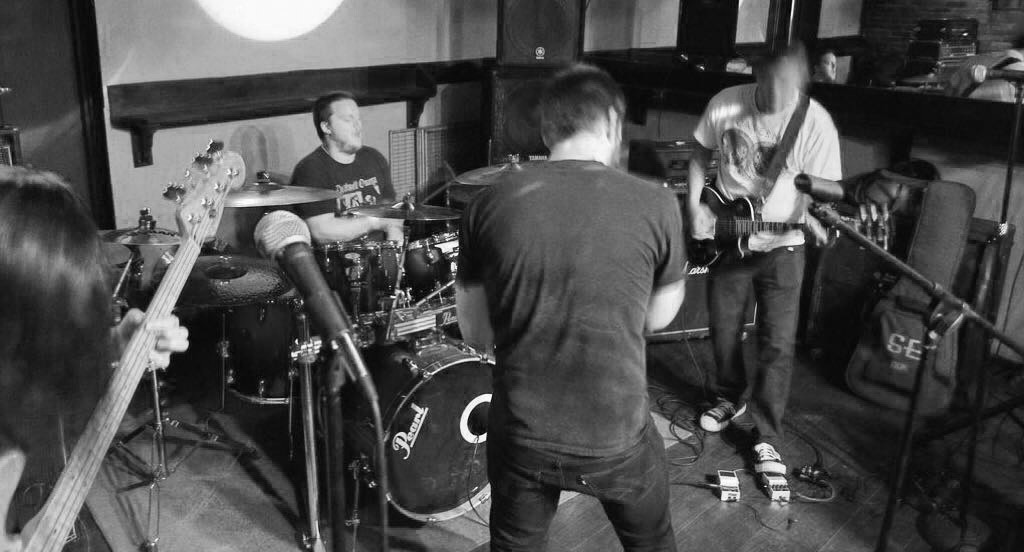 Maryland-based Grimoire Records proudly confirms the March release of SLOTH HERDER's merciless proper debut full-length recording, No Pity, No Sunrise. Alongside the album's details, an early premiere of the record's "Doli Incapax" has been premiered through Heavy Blog Is Heavy.
The follow-up to the obscure, but critically acclaimed 2012 EP, Abandon Pop Sensibility, SLOTH HERDER's No Pity, No Sunrise presents a monstrous, fourteen-track attack in just over thirty-five minutes delivered by vocalist Josh Lyon, bassist Luke Ibach, drummer Sean Wilhide, and guitarist Nick Craggs, and additional sounds by Ryan Neal. An unhinged surge of extreme metal that will appeal to a wide range of acts, from Antigama to Pyrrhon, Yautja to Gaza. No Pity, No Sunrise was recorded by Noel Mueller in the Fall of 2016, who also mixed and mastered the album.
Heavy Blog Is Heavy enthusiastically premieres the second track to the album for public consumption, "Doli Incapax," offering alongside the stream, "The record, to put it simply, lives up to its name. SLOTH HERDER never falls back on pop hooks or choruses, but instead chooses to conjure massive, misanthropic atmospheres in all of their songs. In doing so they may blast through crusty, grinding sections during one moment, then launch into sludgy, haunting post metal sections in the next."
Unload SLOTH HERDER's "Doli Incapax" only at Heavy Blog Is Heavy RIGHT HERE.
No Pity, No Sunrise will be released on March 24th on CD, pro-cassette, and digital download on Grimoire Records. Preorders are available HERE.
Offers Grimoire Records' Noel Mueller, who also handles the recording of the label's releases, "We've been talking to SLOTH HERDER and trying to record/release an album with them ever since we started Grimoire Records back in 2013. So yeah, we couldn't be more stoked that four years later, the band finally decided to step into the Grimoire studio and recorded their long anticipated full length with us. The payoff is that much sweeter given how long we've been waiting for this to happen."
Prior releases from the band have yielded excellent reactions from outlets everywhere, including Cvlt Nation who offers, "SLOTH HERDER's got this kind of thudding, hard to pin-down type of momentum that pulls you in with repeated listens and yet is always a bit unpredictable… lurching and dread filled." Deaf Sparrow praises their, "bizarre guitar shrieks, disheveled chords that hang loose on the limbs like rotting flesh, wavering back and forth from black metal to crust." Disposable Underground exclaimed, "Holy shit, I love this band. SLOTH HERDER have (perhaps unknowingly) assimilated the hulking dissonance of Souls At Zero-era Neurosis, the lysergic power violence of Gasp, and the idiosyncratic hardcore of Shikabane." Teeth Of The Divine hails the, "caustic mix of blackened grooves punctuated with surly grindcore and even a few moments of odd, experimental bass lines and brief moments of brooding atmospherics."
No Pity, No Sunrise Track Listing:
1. Antipathic Grades
2. Doli Incapax
3. Agnosiak
4. Anhedonic Pt. 1
5. Prijedor
6. Inner Dissolution
7. Ferric Air
8. No Adherence
9. Whoresblood
10. Burial Ethic
11. Anhedonic Pt. 2
12. Spectre Of The Absurd
13. A People's Dream
14. Privation
https://www.facebook.com/slothherder
http://slothherdermd.bandcamp.com
http://grimoirerecords.bandcamp.com
http://www.facebook.com/GrimoireRecords