New York City deathgrind practitioners, SKULLSHITTER, emerge from the crypts of slumber brandishing their bulldozing new full-length, Goat Claw, set to drop May 6th via Nerve Altar.
Spewing sixteen grave-tripping tracks of old-school grindcore steeped in mind-bending psychedelia, Goat Claw is a sonic declaration of intensity, focus, and acrimony, laced with a concentrated dose of Lucifer.
SKULLSHITTER's sound is that of Repulsion, Terrorizer, and Autopsy filtered through an acid-induced, black magic hallucination. Recognizing the true nature of inner freedom through hallucinogenics and rock 'n' roll, the power trio delivers a furious, three-headed vocal assault and thrive to make their every performance both in the studio and onstage a new, unapologetically soul-scorching event.
Declares the band, "Goat Claw is a fully realized Satanic grindcore experience."
In advance of the record's release, today the band unleashes "Angel Of Decay" for public consumption, noting, "This track showcases the full range of SKULLSHITTER: grind, punk and death metal boil over to a slow groove.
Stream SKULLSHITTER's "Angel Of Decay" at THIS LOCATION.
Goat Claw was recorded by Nolan Voss, mixed by Jamie Uertz at Silver Cord Studios, and mastered by Greg Wilkinson at Ear Hammer Studios and comes swathed in the cover art of Tas Danazoglou with layout by Robert Nelson and Aaron Nichols.
Goat Claw will be released on LP and digital. For preorders visit THIS LOCATION.
Goat Claw Track Listing:
Angel Of Decay
Mindpower
Auto Cannibal Nihilistic Creep
In The Grip Of The Goat Claw
Dripping Violence
Struggle To Die
Digitally Reproductive World
Axis Mundi
Ramlord
The Beast
Following
D.D.W.T.D.
Smoke Break
Bone Own
Morbid Tomb
Locus Of Death
SKULLSHITTER:
Sean Walsh – guitar, vocals
Ryan Kunimura – bass, vocals
Robert Nelson – drums,  vocals
Guest Musicians:
Nolan Voss – Vocals
Owen Rundquist – Vocals
Jessie Nelson – synths / keys
Mike Nichols – aux percussion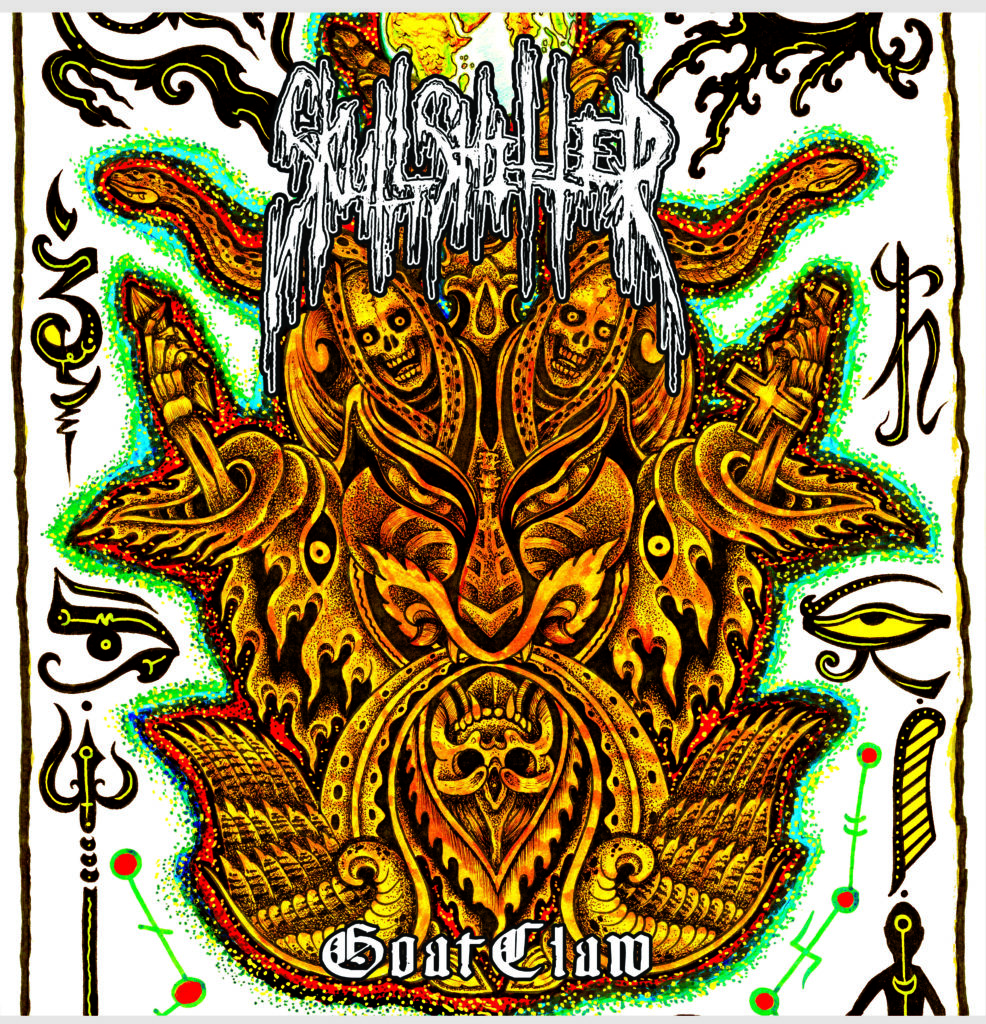 http://www.facebook.com/skullshitterband/
http://www.instagram.com/skullshitter
http://soundcloud.com/skullshitter
http://skullshitter.bandcamp.com/
http://www.facebook.com/nervealtar/
http://www.instagram.com/worsethanuseless
http://nervealtar.bandcamp.com/