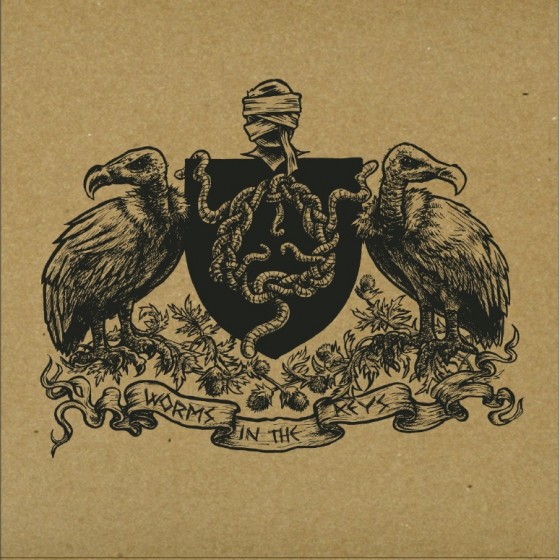 Experimental sound conjurors, SELF SPILLER, will reissue their confounding Worms In The Keys full-length on vinyl next month via Varia Records.
Led by Agalloch bassist Jason Walton who hand-picked fourteen people to make their mark on this monster of a record, SELF SPILLER's Worms In The Keys has been described as a marriage of Mr. Bungle's California and Arcturus' genre defying La Masquerade Infernale. A truly transcontinental undertaking, all contributing musicians composed and overdubbed their individual parts from across the world from the US to Japan to Norway to Canada. Much of the music was composed without the musicians hearing the entire piece or knowing what other members were adding thus chance played a fundamental role in the stitching together of Worms In the Keys. In the end, Walton sifted through dozens of hours of recordings, layered hundreds of tracks, and edited countless performances spanning six years, finally resulting in SELF SPILLER's debut.
The offering analyzes topics explored in the writing of Anthony Bourdain, the surreal world of Alejandro Jodorowsky, the bleak landscapes of Cormac McCarthy, and Walton's own struggles with health, travel, and loss of home. Worms In The Keys shares similarities with post black metal, ambient soundscapes, video games and even traditional Middle Eastern music all filtered through a metal background and a surreal Dada-esque approach to composition.
Originally released in 2012 on limited edition CD, Worms In The Keys was destined for obscurity. Now remastered for vinyl by James Plotkin (OLD, Scorn, Khanate, Khlyst) and re-released by Varia Records for the first time on vinyl, we hope this experimental gem finally acquires the recognition it deserves.
Worms In The Keys Track Listing:
1. The Event
2. Folds Of Skin To Lay
3. Like Three Asps
4. Therefore I Worship
5. Rot On Root
6. I Spit In The Stomach Of Zombies
7. Skite
8. Strong But Damaged
Worms In The Keys Cast:
Jason Walton (Agalloch, Sculptured, Celestiial)
Don Anderson (Agalloch, Sculptured)
Nick Loiacano (Climb To Zalem, El Rey)
Rob Kleiner (Tub Ring, Super 8 Bit Brothers)
Yamo (Patisserie)
Kuro (Patisserie)
Marius Sjoli (Formloff, Hollow Branches, Blekspetl)
Svein Egil Hatlevik (Fleurety, Dodheimsgard, Zweizz)
Robert Osgood (Hollow Branches)
Food Fortunata (Sockeye, Fossil Fuel)
Andy Winter (Winds, Age Of Silence)
Mirai Kawashima (Sigh, Necrophagia)
Dr. Mikannibal (Sigh)
Bernt Karsten Sannerud (Formloff)
Brock Bousfield (Nero's Day At Disneyland, Strip Mall Seizures)
SELF SPILLER's Worms In The Keys will be released May 5th, 2015 via Varia Records on 12″ black vinyl housed in a deluxe eco-friendly chipboard gatefold sleeve. Limited to 300 hand-numbered copies worldwide. Each copy will be unique and come with handmade artifacts. No two copies will be alike. Preorder now at https://selfspillerwitk.bandcamp.com. Each purchase comes with a free download code available for use on the release date.
http://www.facebook.com/pages/Self-Spiller/117487435403?fref=ts
http://www.facebook.com/variarecords
http://www.selfspillerwitk.bandcamp.com