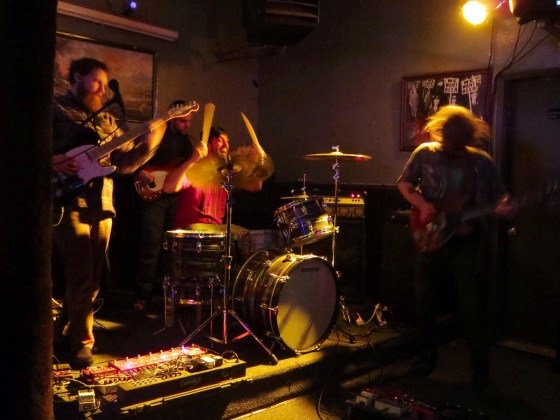 As The Eolian Empire prepares for HUMOURS' debut, The Onanist, to see release next week, and the band takes their tunes to the Northwestern US, Selective Memory Mag has premiered the impending EP, with "Happy Birthday, Alex Tucker."
The angle on The Onanist is Drive Like King Crimson; HUMOURS deploying post-hardcore prog, yet less mathy math rock, wherein the songs are still songs not wackoff seshes. The second of the four jacked tracks on the EP becomes part of the public domain, with Selective Memory issuing on the song itself, "'Happy Birthday, Alex Tucker' is a mandala of weird sounds swirling around with spontaneous order at the threshold that do not really fit comfortably in any genre. Taking jazz-like construction to their rock and burning the candle on both the punk side and the krautrock side, this group successfully refines a style that feels innovate, fresh and uniquely their own, even if you get thoughts of King Crimson, Big Black and June of 44 simultaneously pouring out of your mind."
Set aside a bit of alone time to HUMOURS' "Happy Birthday, Alex Tucker" RIGHT HERE.
The Onanist is available for preorder digitally and in a limited run cassette with download card via the Eolian Empire HERE.
HUMOURS' joyride through the Northwestern parts of the country is now underway, having raged Spokane last night, with Coeur D'Alene, Seattle and Olympia on the list for tonight and the weekend. Additional upcoming tour dates are pending.
HUMOURS Live:
4/10/2015 Hogwash – Coeur D'Alene, ID
4/11/2015 Company Bar – Seattle, WA
4/12/2015 Deadbeat Records – Olympia, WA
HUMOURS' ultra-tight delivery mangles composed, serene wanderings with dementia-enshrouded rampages in seemingly equal doses, stripping parts from dynamic '70s progressive acts and blown-out '90s post-hardcore, reassembling them into a Frankensteinian freak mobile that stands out in any genre's parking lot. Featuring members of 1939 Ensemble and engineer extraordinaire, Fester (Rabbits, Honduran, Usnea, Stoneburner), the outfit strips Crimsonesque prog to its stark elements and fuses it with the energy and abandon of Jawbox, Fugazi and Drive Like Jehu, flitting through complex movements with a mastery of dynamics and accented by strong, melodic vocals. The fascinating compulsion manifested is a technical, visceral, future look at rock for new and old-schoolers alike. The The Onanist EP was recorded and produced by Fester and the band at his Haywire Studios in Portland and tagged with cover art by Matt Stikker. The band is also writing their debut LP for release this Fall.
http://www.facebook.com/humoursPDX
http://www.eolianempire.com
http://goods.eolianempire.com
http://www.facebook.com/eolianempire