[photo by Janette Valentine]
Additional evidence of MARUTA's auditory war crimes has been exposed, with new, preemptive audio and visual documentation on the unit's Remain Dystopian LP spreading through media this afternoon. The first in a series of video reports from the clandestine recording sessions documenting the outfit's torturous experimentation with ultra-brutal audio frequencies has been leaked via YouTube, while the sources at Lambgoat have uncovered the entire second track from the impending release, appropriately titled, "Hope Smasher."
MARUTA's third full-length invasion, and first under the banner of Relapse Records, Remain Dystopian inarguably dispatches this infamous unit's most demoralizing and strenuous torture tactics to date. Recorded in various studios, including drums with Pig Destroyer's Scott Hull and vocals with Torche's Jonathan Nuñez, Remain Dystopian is a vicious, seventeen-song blast of infectious deathgrind mayhem, fueled by guest vocals from the legendary Tomas Lindberg (At The Gates, Disfear) and Pig Destroyer's J.R. Hayes, and wrapped with sporadic does of grueling noise from Agoraphobic Nosebleed's Jay Randall and apt cover artwork by Alex Eckman-Lawn.
Lambgoat has exposed Remain Dystopian's "Hope Smasher" through an exclusive reveal at THIS LOCATION, while visuals from MARUTA's regimented studio tactics can be viewed RIGHT HERE.
Remain Dystopian's "Stand In Defeat," is also available via YouTube HERE and Soundcloud HERE.
Additional sensory-decimating audio/video propaganda from MARUTA's Remain Dystopian campaign will continue to be released in the coming weeks in advance of its release on CD, LP and digital formats, June 2nd in North America, preceded by May 29th in Germany, Benelux and Finland, and June 1st in the UK and elsewhere. Preorders for the physical versions are available HERE and digital preorders HERE.
Innovating classic foundations forged by early offensives by Napalm Death, Extreme Noise Terror and Brutal Truth, MARUTA joins the likes of audio warmongers Nasum, Pig Destroyer, Misery Index, Nails, Discordance Axis and Cephalic Carnage in the upper ranks of contemporary death/grind. Named after a special project during World War II in which the Imperial Japanese Army used human beings for torturous scientific experiments, the band has pummeled the masses for the past decade, including two prior LPs via Willowtip Records, several tracks hitting Relapse's "This Comp Kills Fascists Vol 1" compilation and more. For the next phase of their extinction protocol, MARUTA signed with Relapse Records in August of last year, and the task of creating their next full-length atrocity began, now to rear its head as Remain Dystopian, an album which raises the bar for what 21st Century grind can accomplish!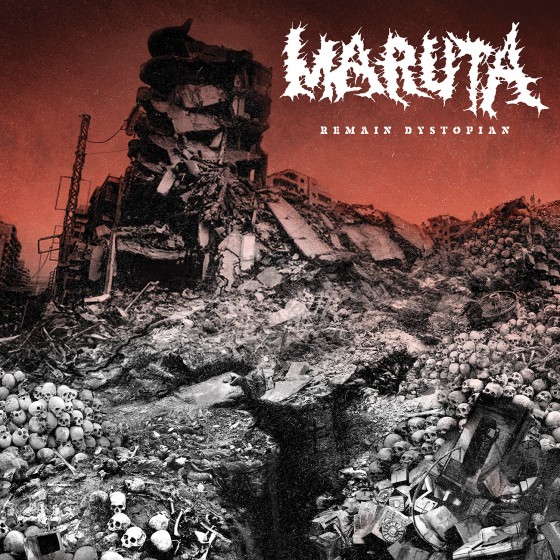 http://www.facebook.com/Marutagrindcore
http://twitter.com/marutagrindcore
http://maruta.bandcamp.com
http://www.relapse.com
http://relapserecords.bandcamp.com
http://www.facebook.com/RelapseRecords