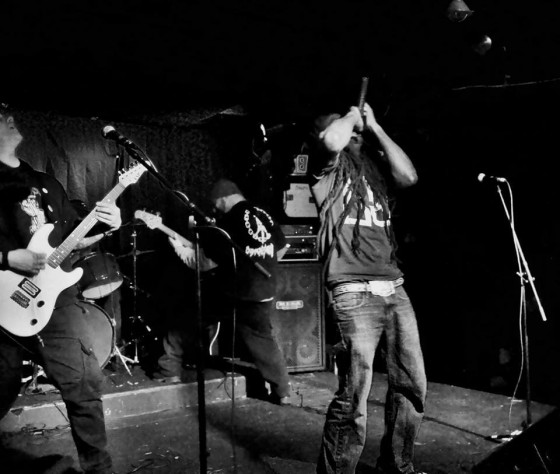 NYC-area hardcore collective, FULL SCALE RIOT, has just released their new Depopulation demo, the band coalescing current and former members of area bands of both local and worldwide visibility, and collectively unleashing a razor-sharp new release.
With their diversified yet focused twist on New York Hardcore, FULL SCALE RIOT infuses a punk approach to the society's systematic problems from a riotous lyrical standpoint, inciting forward-thinking rather than senseless violence on Depopulation. Merging classic and current influences, heavy elements of '90s NYHC icons Burn, Maximum Penalty, Inside Out, Orange 9mm and the like lay the foundation for this bulldozer squad. The alumni list for this outfit unites original M.O.D. guitarist Tim McMurtie, vocalist BJ Allen, drummer Evan Rossiter, and bassist Jeff Wood (Shat, Murder League All-Star, ex-The Dillinger Escape Plan live, ex-M.O.D.), yet in its delivery, only interworks the fundamentals of said acts in random strides.
Depopulation was recorded and mastered at Trax East during this brutal 2015 Winter — mixed by TSP and Eric Rachel, and engineered by Eric Rachel and Eric Kvortek — and unloading six point-blank anthems, sets a new bar for FULL SCALE RIOT, and their deluge of aggression aimed at unity through uprising.
Depopulation is streaming in its entirety and available digitally via BandCamp HERE, as well as via iTunes, Amazon and more.
Also check out the live video for "War" from the EP RIGHT HERE.
FULL SCALE RIOT is already heavily involved in the construction of new material for their next release to be determined, set to be recorded shortly and released later this year. In the meantime, the band takes their anthems to the stage whenever possible, with upcoming shows supporting Michaele Graves (ex-Misfits), The Murder Junkies (GG Allin's band) and much more already plotted. Live performances will continue to be FSR's primary objective in the coming months as their new material is being formulated.
FULL SCALE RIOT Live:
4/18/2015 The Blue Room Lounge – Secaucus, NJ @ NJ Metal Fest [info]
4/24/2015 WVOX – New Rochelle, NY *radio performance
5/14/2015 The Blue Room Lounge – Secaucus, NJ @ I'll Rock Fest
5/30/2015 Brighton Bar – Long Branch, NJ w/ Murder Junkies [info]
6/19/2015 Howdy's Presents – Buffalo, NY
6/20/2015 TBA – Rochester, NY
6/21/2015 Trick Shot – Clifton Park, NY w/ Michale Graves [info]
Depopulation Track Listing:
1. War
2. Sheeple
3. Betrayus
4. Shackles
5. Depopulation
6. I Can't Breathe
http://www.facebook.com/fullscaleriot
http://fullscaleriot.bandcamp.com