Due to a serious medical injury sustained by drummer Kelly Johnston-Gibson, Los Angeles' sound enigmas, IDES OF GEMINI, who were in the midst of a trek with acclaimed indie rock unit, the Mountain Goats, regret to announce their withdrawal from the tour as well as the cancellation of their post tour headlining. The announcement follows the cancellation of all New York City shows this past weekend.
In an official statement from the band: "It is with great sadness that we will have to drop off the Mountain Goats tour. Kelly, our drummer, has suffered a herniated disc in her spine and cannot continue. The Mountain Goats and their crew have been super cool to us and we're honored to have played with them. With some rest and healing, we plan to be in top form for our Summer tour dates."
IDES OF GEMINI features Johnston-Gibson, guitarist J. Bennett, and singer/bassist Sera Timms, also of dark-psych outfit, Black Mare. The trio released their critically-hailed, Chris Rakestraw (Danzig)-produced Old World New Wave full-length last September via Neurot Recordings and will unleash a special, limited edition Cathage/Strange Fruit seven-inch via Magic Bullet Records on April 18th, 2015 in honor of Record Store Day. The seven-inch is currently available for preorder on limited black and clear wax at THIS LOCATION. Desirers of the digitals visit Magic Bullet's BandCamp page HERE or iTunes HERE.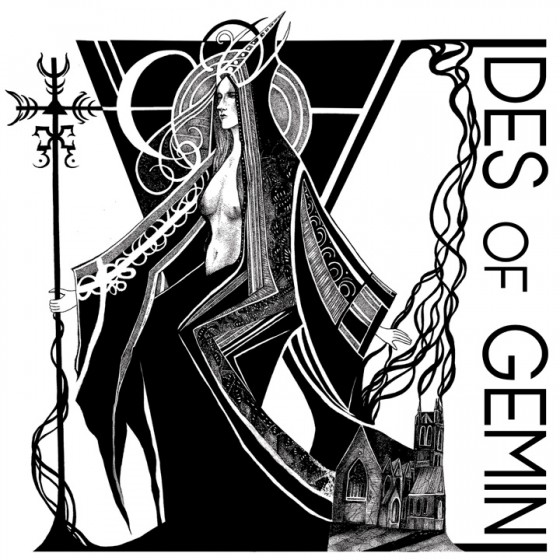 http://www.idesofgemini.blogspot.com
http://www.facebook.com/IdesofgeminI
http://www.idesofgemini.bandcamp.com
http://www.magicbulletrecords.com
http://www.facebook.com/magicbulletrecords
http://www.neurotrecordings.com
http://www.facebook.com/neurotrecordings