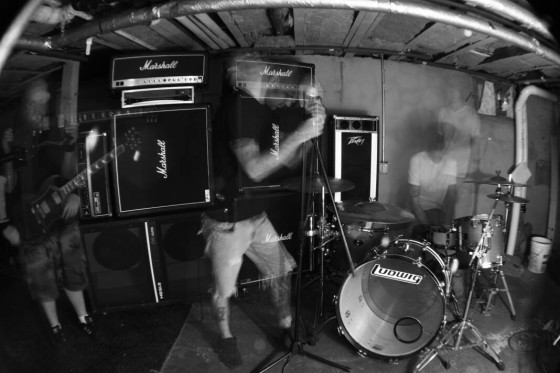 Bethlehem, Pennsylvania-based trio, SECRET CUTTER, has independently released their debut full-length LP, Self Titled.
Following SECRET CUTTER's debut EP, If You Don't Hate Yourself, You're Not Paying Attention, released on Square of Opposition Records, now crawls forth in the form of Self Titled, the band's first full-length release. With over twenty-six minutes of new material, fully produced by the band at drummer Jared Stimpfl's Captured Recording Studios, a maelstrom of their most forceful songwriting, and eclectic, brutal musical dementia comes alive with ten vigorous tracks.
Self Titled has already been picked up by random popular media outlets, including MetalSucks, who freaked over the LP: "They're taking what bands like Nails, Black Breath and The Body are doing and somehow making it even more visceral, even more intense." About.com was fully blown by trio's delivery, stating, "A three piece shouldn't sound this heavy, but Allentown, Pennsylvania's SECRET CUTTER manages to pull off the impossible… If you have even an inkling of a grind or sludge gene in your DNA, you need to check these guys out." Echoes And Dust described the album as "…heavy sludge/grind/doom that is judiciously laced with feedback and a bit of punk rock intensity. You won't believe it but the band is a three piece, with just a drummer, guitar player, and vocalist. Your jaw will be on the floor less than ten seconds into the first track."
Released through their own Bethlehem Rust label, Self Titled is available for digital download as well as LP, in three different colors of vinyl which all include a digital download is included.
Self Titled can be streamed in its entirety and purchased RIGHT HERE.
SECRET CUTTER is at once familiar — utilizing the unchained tactics of Deadguy or Converge but conveyed through a sludge-filled wall of sonic concentration in the ways of Eyehategod, Floor or Godflesh — yet their inimitable delivery is instantly infectious fully on its own accord. Their enraged, grimy anthems have devastated audiences across the East Coast the meager three-piece — vocalist Ekim, drummer Jared Stimpfl and guitarist Evan Morey — packing a backline sufficient to power a band twice their size, delivering a live show as intense as their recorded material.
Stand by for further updates on SECRET CUTTER in the coming weeks as the band confirms new live assaults throughout the tri-state area and more.
Self Titled Track Listing:
1. Mirror Mirror
2. Deformed Eye
3. 17.5 Dead Air
4. Craving the Silence
5. Vow of Poverty
6. Shake the Malevolent
7. Midtro
8. End of Sylvan
9. Headache Ball
10. Driftwood
http://www.secretcutter.com
https://www.facebook.com/SecretCutter
http://secretcutter.bandcamp.com
https://twitter.com/cutter_secret