Slaloming between valleys of sloping lethargy, rocky mountain peaks of noise and feedback and canyon sized, melodic riffs, SAMOTHRACE's crushing heaviness is suffused with psychedelic radiation, delivering the perfect bludgeoning atmospherics for spaced out headbanging. Amidst SAMOTHRACE's massive, slo-mo sludgy grooves the band molds a captivating thing of beauty from anguish, ugliness and misery. Add to that some glorious, almost classic rock driven guitar soloing, and you'll find sustaining strength and comfort in despair.
This week, the promoters of the massive annual Roadburn Festival confirm that SAMOTHRACE will bring their mesmerizing form of organic doom metal to the masses attending the 2014 installment of the gathering, the performance to take place on Thursday, April 10th at Hey Patronaat in Tilburg, The Netherlands. Stated the festival's head promoters on the announcement: "We cannot wait for Seattle's SAMOTHRACE to bring their psychedelic remorse to Roadburn Festival 2014 by performing Reverence To Stone in its entirety!"
"We are very excited to be a part of Roadburn 2014 in our second trip to European soil," states drummer Joe Axler. "We feel privileged to be able to share the stage with so many old friends, and not only be able to play at such an amazing festival but also to see so many of our favorite bands and to be introduced to new ones as well. For Roadburn 2014, Samothrace we will be performing Reverence to Stone in its entirety. We are looking forward to bringing our form of Heavy to this event!!"
Roadburn Festival 2014 will run for four days from Thursday, April 10th to Sunday, April 13th 2014 at the 013 venue in Tilburg, The Netherlands.
This announcement comes while SAMOTHRACE is already out on the road, currently embarked on their forage across the American continent through the rest of November.
SAMOTHRACE Tour Dates [ONGOING]:
11/12/2013 Rubber Gloves – Denton, TX
11/13/2013 The Conservatory – Oklahoma City, OK
11/14/2013 Bar Bar – Denver, CO
11/15/2013 Triple Nickel Tavern – Colorado Springs, CO
11/16/2013 Frank's North Star Tavern – Lawrence, KS
11/17/2013 Fubar – St. Louis, MO
11/18/2013 The Hideaway – Johnson City, TN
11/19/2013 Strange Matter – Richmond, VA
11/20/2013 Roger's Sports Pub – Chesapeake, VA
11/21/2013 Local 506 – Chapel Hill, NC
11/22/2013 Ground Zero – Spartanburg, SC
11/23/2013 The Handlebar – Pensacola, FL
11/24/2013 The Bakery – New Orleans, LA
11/25/2013 house show – Baton Rouge, LA w/ Thou, Barghest
11/26/2013 Hotel Vegas – Austin, TX
11/27/2013 Soundpony – Tulsa, OK
11/29/2013 The Shred Shed – Salt Lake City, UT
11/30/2013 The Shredder – Boise, ID
4/10/2014 Roadburn Festival – Tilburg, The Netherlands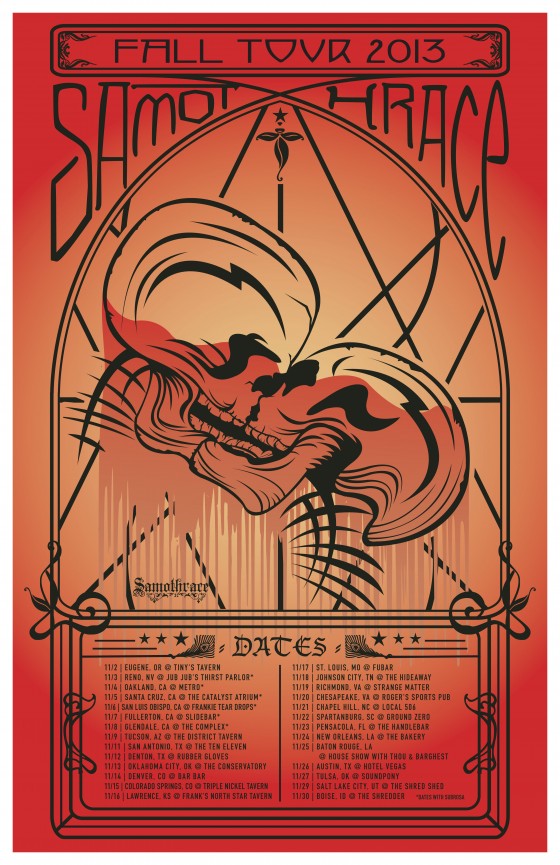 http://samothrace.bandcamp.com
http://www.facebook.com/pages/Samothrace/67987779185
http://www.20buckspin.com
http://www.facebook.com/20buckspin
http://twitter.com/20buckspinlabel