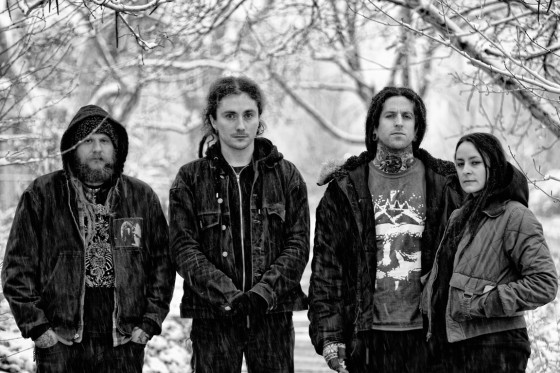 In the wake of several bouts of stateside tours supporting their highly praised second LP Reverence To Stone since its release nine months ago, Seattle doom quartet SAMOTHRACE will storm European shores on their maiden European tour this May.
The fifteen-city trek begins with SAMOTHRACE crushing the masses as one of the headliners of this year's Heavy Days in Doomtown, a D.I.Y. doom/sludge festival in Copenhagen, Denmark running from May 2nd through 5th. This year the gathering also features performances from Graves At Sea, Pagan Altar, Cough, Procession, Danava, Moss, Dark Buddah Rising, Conan, Lecherous Gaze, labelmates Mournful Congregation and loads more in addition to Bell With, who will support SAMOTHRACE for the duration of the tour which will steamroll its way hazily through Belgium, England, Holland, France, Switzerland, Italy, Slovenia, the Czech Republic and Germany.
The acclaimed Reverence To Stone was released in July of 2012 via 20 Buck Spin, the label also responsible for unveiling the band to the masses on the masterful 2008 debut SAMOTHRACE album, Life's Trade. Through two lumbering, expansive tracks, the band explores more cavernous realms of thunderous tone hand-in-hand with even more beautiful and organic elements than ever on Reverence To Stone, culminating in an incredibly real sounding psychedelic doom metal that continues to prove SAMOTHRACE as one of the leading bands of the genre.
SAMOTHRACE May European Tour w/ Bell Witch:
5/03/2013 Ungdomshuset – Copenhagen, Denmark @ Heavy Days In Doomtown Festival
5/05/2013 Wuustwezel, Belgium @ Puntpop Festival
5/06/2013 Black Heart – London, UK
5/07/2013 Star & Garter – Manchester, UK
5/08/2013 Scruffy Murphy´s – Birmingham, UK
5/09/2013 Winston Kingdom – Amsterdam, The Netherlands
5/10/2013 TBA – Paris, France
5/11/2013 Espace Autgére – Lausanne, Switzerland
5/12/2013 L´Usine – Geneva, Switzerland
5/13/2013 Blue Rose Saloon – Milano, Italy
5/14/2013 Channel 0 – Ljubljana, Slovenia
5/15/2013 007 Club – Prague, Czech Republic
5/16/2013 Zoro – Leipzig, Germany w/ Graves At Sea, Meth Drinker
5/17/2013 Koma F/Köpi – Berlin, Germany
5/18/2013 Vereinsheim Frankenweide – Stralsund, Germany
"…Samothrace position themselves on a weird axis between Sabbathian doom worship and psychedelic freak-out sludge (á la Cough or Rwake), along with an Isis-esque rhythmic complexity and molten tempo. 8/10" – Decibel
"…the second full-length from Seattle quartet Samothrace for 20 Buck Spin comprises only two tracks, but they're diverse and dynamic enough to prove that the breadth of doom is wider than a stylistic rut." – Pitchfork
"There is emotional comfort to be found in mutual despair, and there is no doubt that Reverence To Stone is a masterwork of shared woe. 4/5" – About.com
"A vital, forward-thinking entity in the ever-backwards and retrograde world of sludge, Samothrace are an absolute treasure. 8/10" – Blistering
"While there are a lot of bands working with a similar aesthetic palette, nobody sounds like Samothrace." – RVA Mag
Samothrace – When We Emerged from (((unartig))) on Vimeo.
http://samothrace.bandcamp.com
http://www.facebook.com/pages/Samothrace/67987779185
http://www.20buckspin.com
http://www.facebook.com/20buckspin
http://twitter.com/20buckspinlabel