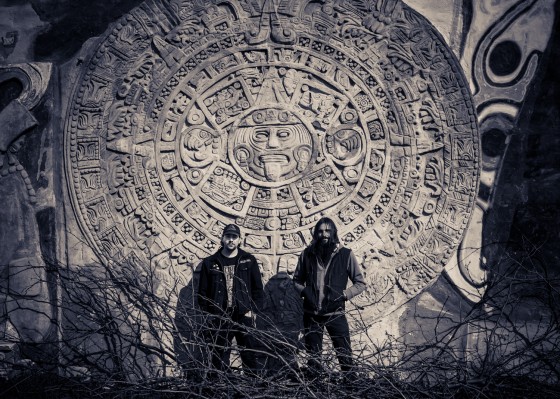 While still unpacking from their massive recent Summer trek which saw the duo occupying more than forty cities across the country with cohorts Hivelords, this week Philadelphia-based spiritualistic sludge duo SADGIQACEA confirms yet another new tour in support of their Candlelight Records debut False Prism.
Originating in Boston on Wednesday, September 18th, the new bout of East Coast performances will take SADGIQACEA on a six-city trek through Washington, Columbus, Indianapolis and Dayton before the final show in Pittsburgh on Sunday the 22nd. SADGIQACEA will be performing alongside their comrades Haethen for all shows except the Indianapolis Metalfest III where they'll play alongside the likes of Incantation, Decrepit Birth, Byzantine and more, but following their early set at the fest the duo will trek over to Dayton, Ohio to meet back up with Haethen for a second show that day.
SADGIQACEA Fall Tour w/ Haethen:
9/18/2013 Roggies – Boston, MA w/ The Binary Code, Scaphism, Brain Famine [info]
9/19/2013 The Pinch Bar – Washington, DC w/ Caustic Casanova [info]
9/20/2013 The Summit – Columbus, OH w/ Swarm
9/21/2013 Old National Centre – Indianapolis, IN @ Indianapolis Metalfest III [info] (*no Haethen)
9/21/2013 Blind Bob's – Dayton, OH w/ Half Ghost
9/22/2013 The Smiling Moose – Pittsburgh, PA w/ Dendritic Arbor, Wrought Iron, Dutchguts, Ubasute, Dope Lake [info]
SADGIQACEA draws from a melting pot of influences that together presents a lush yet tension-filled sound. Their debut full-length, False Prism, is a forty-minute journey bearing four mammoth tracks, captured without the use of overdubs to preserve the authentic recording quality of their live performances, recorded and produced by Chris Grigg of Woe. False Prism was released via Candlelight on CD and limited edition vinyl via Anthropic Records in May.
Stream False Prism at Invisible Oranges/BrooklynVegan HERE.
"The further one delves into the beguiling heterodoxy, rich atmospheres and intricate aural palette presented on False Prism, the more fittingly the otherworldly moniker of Philadelphia über-power-duo Sadgiqacea becomes." – Decibel
"Sadgiqacea make no bones about their love for all things trippy and psychedelic, and those leanings color many of the spacey, serpentine riffs that make up the bulk of False Prism…" – Pitchfork
"…contrasts a fat, wet guitar tone with crisp doom drumming and abrasive, blackened vocals… False Prism is a seething, captivating album that is out to draw blood." – Exclaim!
"The Philadelphia two-piece's epic sludge-doom sprinkles in moments of post-rock, Neurosis-y riffage and black metal…" – Invisible Oranges
"With False Prism, Sadgiqacea show their full potential and their debut album is only the very start of what this band can achieve." – Scene Point Blank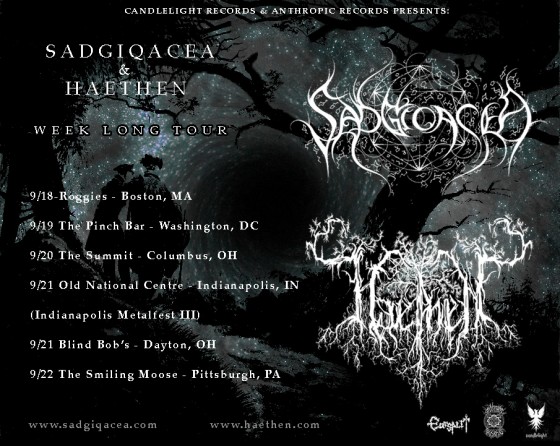 http://sadgiqacea.bandcamp.com
http://www.facebook.com/sadgiqacea
http://www.twitter.com/sadgiqacea
http://www.candlelightrecordsusa.com
http://www.facebook.com/candlelightrecordsusa
http://www.twitter.com/candlelightusa