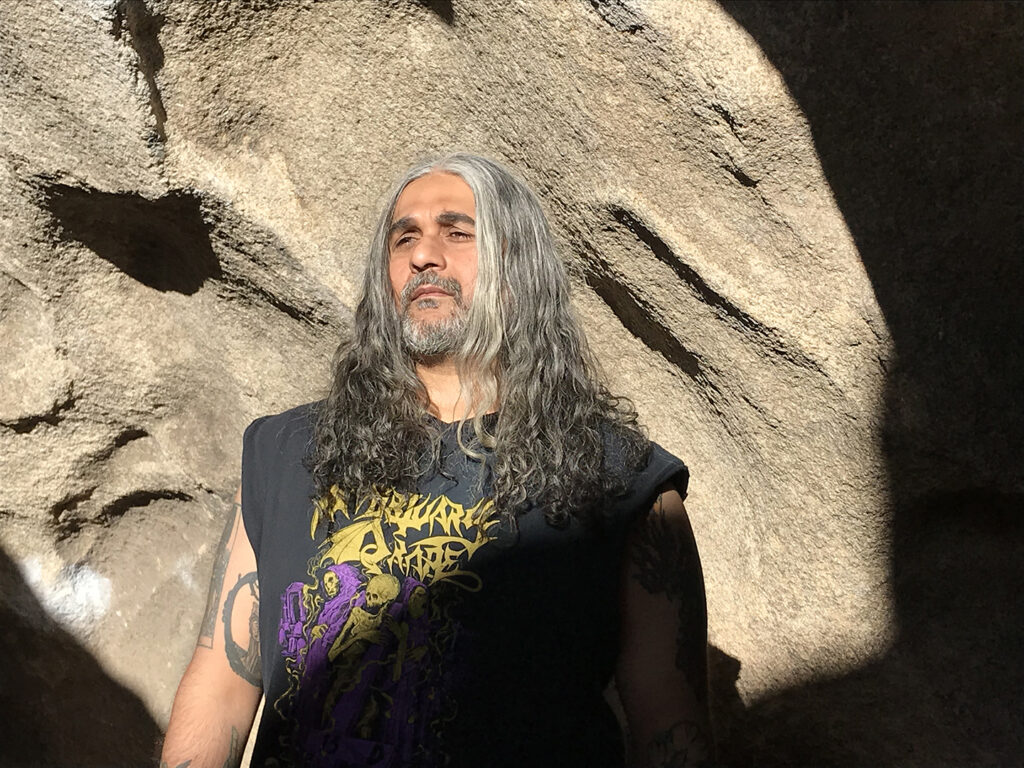 photos by Joelle Garson
"…cinematic sci-fi soundscapes that merge Blade Runner noir atmosphere with elements of jazz fusion and Tangerine Dream-like ambience." – Treble
This Friday, Oakland, California-based dark cinematic synthwave project S.C.R.A.M. will release its filmic new concept album, The Inner City. In advance, Treble is hosting an exclusive stream of the album paired with a track-by-track synopsis from its creator.
Formed in the isolation of the 2020 Covid lockdowns, S.C.R.A.M. (Safety Control Rod Axe Man) is the solo project of Pranjal Tiwari. Known for his work with the long-running cult doom metal band Cardinal Wyrm, Finnish-language hardcore band Ransu's Revenge, and more, Tiwari utilizes this project to create cinematic, experimental, ambient, electronic, and heavily instrumental passages, focusing tension and negative space to create immersive auras. Having released an EP, two prior albums, and a split with Gridfailure over the past two years, the soloist offers his most introspective material yet with the third full-length album, The Inner City.
With ten new songs on The Inner City, S.C.R.A.M. delivers a record that channels the soundtracks of 1970s-80s classic films such as Blade Runner, Tron, and even Taxi Driver, yet transcends dystopian and futuristic cliches with a very personal and reflective approach.
The Inner City was written, performed, and recorded by Tiwari, with crucial contributions from several guests, including trumpet on "Welcome To New Damascus," "Tomorrow Is Always Right Behind You," and "Never Could Live Like That," by Mac Gollehon (multi-platinum David Bowie, Duran Duran, Blondie, Onyx session player), trumpet on "A Rooftop Funeral" from Leila Abdul-Rauf (Vastum, Cardinal Wyrm, Ionophore), additional keyboards on "Never Could Live Like That" from Nathan Bishop-Bolin (Cardinal Wyrm), and field recordings on "A Rooftop Funeral" and "Never Could Live Like That" from David Brenner (Gridfailure, Diminishing). The album was mixed and mastered by Greg Wilkinson at Earhammer Studios and is fitted with artwork by the legendary UK sci-fi artist Chris Moore, photography by Joelle Garson, and layout and additional photography by David Brenner.
Tiwari writes, "This album is a labor of love that took me three or four years to complete. In writing the music I envisioned a story set in a retro future, Blade Runner-type megacity, the lives of its inhabitants playing out in the dark, brooding atmosphere of rain, neon, and shadow.
"It's that atmosphere that I wanted to create through the music, a place where the stories could percolate and play out in the listener's own imagination.
"I grew up in a giant city myself, and I used to love walking around with headphones on, often in the rain, taking everything in with a soundtrack in my ears. I've also loved listening to movie scores since I was a kid. I love how you can listen to a good movie soundtrack all the way through and conjure up your own images along the way. It flows like a story on its own, separate from any other media.
"There are specific ideas and images I had in mind when working on each track, you can read a bit about those in the track-by-track below. There are also common themes running through the album – the loneliness and alienation that one can feel in a city of millions, a gnawing feeling that the past never goes away no matter how much technology we try to bury it under, a realization that the grass might not always greener in our brave new world…
"But I believe that all these themes need to be experienced through the music rather than explained. So put on your headphones or turn up your speakers and come take a journey through The Inner City."
Treble writes, "The album is a set of cinematic sci-fi soundscapes that merge Blade Runner noir atmosphere with elements of jazz fusion and Tangerine Dream-like ambience. It's epic and haunted, pristine yet sinister, a soundtrack to a future at once fascinating and unsettling."
Explore S.C.R.A.M.'s The Inner City audio and track synopsis now at Treble RIGHT HERE.
The Inner City will be released digitally and on digipak CD through Tiwari's own Tumbril's Wedge label this Friday, October 6th. Find preorders at the label webshop HERE and Bandcamp HERE, and view the visualizers for "Slipstream Visions" HERE and "A Rooftop Funeral" HERE.
https://scramofficial.bandcamp.com
https://www.instagram.com/scramofficial
https://www.tumbrilswedge.com