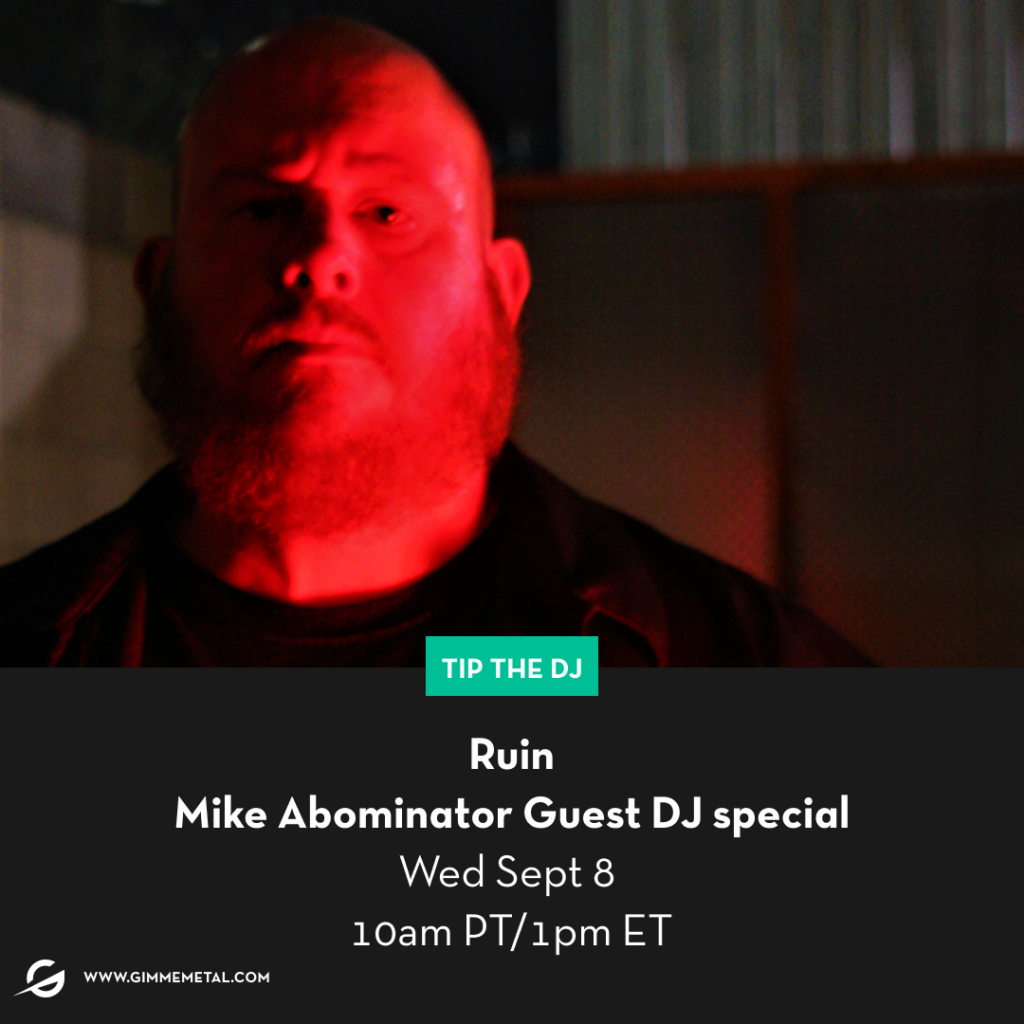 Following the late August release of their third LP, Spread Plague Death, Phelan, California death metal collective RUIN will overthrow Gimme Metal for a savage guest DJ slot this week. Tune in this Wednesday, September 8th at 1pm Eastern/10am Pacific HERE.
RUIN was spawned in 1991 by Mihail Jason Satan (Dead Conspiracy, ex-Gravehill). Many band members came and went and after incarcerations, deaths, and disappearances, the band went on an extensive hiatus until 2015, when MJS decided to get this dismal and rotting corpse back up and ready to kill again. Former member Phobic One was on board to release the demo Spread Plague Hell on his label Nero One Records in 2015. Live assaults started that year, and the band has since released a massive number of EPs, splits with Violation Wound, Anarchus, Anthropic, Absconder, Anatomia, and more, and two full-length albums, Drown In Blood and Human Annihilation. With MJS on vocals, the RUIN lineup currently is currently fleshed out with drummer D-Muerte (Aeternum, Oscuros, ex-Mictlantecuhtli), bassist Spine, and guitarists Carsten Brix (Destroyed in Seconds, ex-Gravehill) and Bodybag.
Spread Plague Death was recorded at Trench Studios by John Haddad and The Church Of Sacrifice by Carsten LaRoque in late 2020 and early 2021, with mixing handled by LaRoque at The Church Of Sacrifice as well as at the Ascension Falls Blk/Str Cabin at Apache Junction/Helican Gate. With mastering handled by Dan Randall at Mammoth Sound Mastering and completed with original paintings by Janine Wunsch and photography by Carmen Canchola/CSGF and The Death Metal Cult Spread Plague Death features additional assistance with soundscapes by Scott Lee Martin and Alex Allenruso.
Spread Plague Death is out now on vinyl and digital via Nameless Grave Records, on cassette through Nero One Records and Death Metal Cult, and on CD through Goat Throne Records.
RUIN's pillaging Spread Plague Death is streaming in its entirety and available on all formats at THIS LOCATION.
Also watch the band's videos for Spread Plague Death singles "At One With The Earth And Worms," "Slow Degradation," and "Ornaments Of Flesh" HERE.
Watch for more on the prolific act to be announced over the months ahead.
"When it comes to prolific, indiscriminate, and senseless brutality across all relevant formats, few bands can match RUIN's strength, vision or work ethic… Despite their relentless output, RUIN remain obstinately dedicated to their strain of death metal ultraviolence." – Decibel Magazine
"…it's an enticingly repulsive track–an offering to the sick that's eagerly devoured, maggots and all." – Invisible Oranges
"The arsenal of sonic weapons that RUIN bring to bear quickly become evident over the course of the album's first trio of tracks. By running that opening gauntlet you'll be subjected to the brutish stomp of gruesomely distorted, massively-heavy riffs and skull-popping snare work as well as queasy, quivering leads whose squealing spasms tell you immediately that madness awaits." – No Clean Singing
"If anything is clear, it is that RUIN knows how to make a great album. Each track has phenomenal drumming, ranging from blastbeats and double-bass drumming, to slow beats where the china cymbal is about ready to explode. The guitars and bass are heavy and sludgy, really making the listener wade through deep waters of sound, and appreciate everything that is put in it. 4/5" – New Noise Magazine
"Prepare to choke upon the gore-ridden morbidity of Ruin's latest offering upon the altar of all that is macabre. This is blundering, cacophonous and yet superbly crafted Death Metal with its own identity and inarguably punishing execution. 8.5/10" – Nattskog
"Not only does it hit the mark musically in the old-school-brutality department, the production, guitar sound, pummeling drums, indecipherable, guttural vocals, the soundscapes, as well as the overall presentation, give the record a creepy, unsettling vibe, giving Spread Plague Death, a unique take on an old-school approach." – The Sleeping Shaman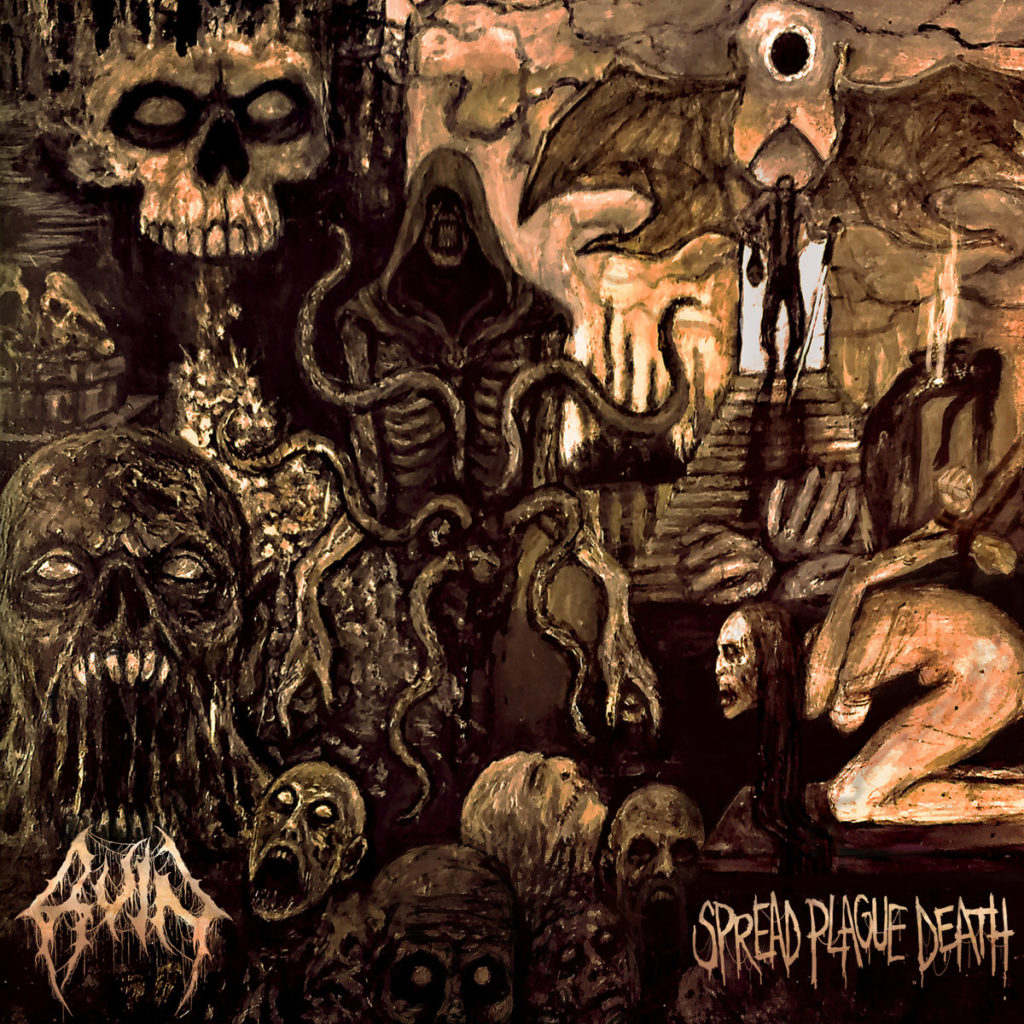 https://thedeathmetalcult.bandcamp.com
https://www.instagram.com/ruin_death_metal_cult
https://www.facebook.com/SPREADPLAGUEDEATH
https://www.facebook.com/NamelessGraveRecords
https://www.instagram.com/namelessgraverecords
https://namelessgraverecords.bandcamp.com