Having just released their apocalyptic fourth LP Dissimulant, through 20 Buck Spin at the end of September, New York City-based death/war metal collective RUIN LUST will play their hometown release show tonight, Wednesday, November 15th at Saint Vitus Bar in Brooklyn.
RUIN LUST has also just declared war on the entire Eastern Seaboard, announcing the Devouring Circle of Annihilation East Coast Tour. This trek runs from February 1st through February 9th, and sees the band playing alongside Portland, Oregon's Diabolic Oath on their first East Coast tour ever. See all confirmed RUIN LUST dates below and watch for additional dates to post over the months ahead.
RUIN LUST Tour Dates:
11/15/2023 Saint Vitus Bar – Brooklyn, NY *Dissimulant release show w/ Yellow Eyes, Frog Myst, Goat Piss
Devouring Circle of Annihilation Tour w/ Diabolic Oath:
2/01/2024 Saint Vitus Bar – Brooklyn, NY
2/02/2024 Kung Fu Necktie – Philadelphia, PA
2/03/2024 Pie Shop – Washington, DC
2/04/2024 Banditos – Richmond, VA
2/05/2024 Static Age Records – Asheville, NC
2/06/2024 Boggs Social – Atlanta, GA
2/07/2024 New Brookland Tavern – Columbia, SC
2/08/2024 The Golden Pony – Harrisonburg, VA
2/09/2024 Preserving Underground (DIY Room)– Pittsburgh, PA
Having dropped their third album, Choir Of Babel, in early 2020 just before the world shut down, the forces of the pandemic did not succeed in silencing RUIN LUST for good. Though confined to their fallout bunker, the band, with martial fervor, began work on what has now, three years later, emerged as their fourth album Dissimulant.
In the final phase of imperialist rot, RUIN LUST declares war against the festering delusions of a devolving species. The most withering aspects of modern death metal, grinding war metal, and black metal's more bestial tendencies compel this audial exorcism, poisoning the well like a bioweapon spread through open air, suffocating and contemptuous. By the time album closer "Chemical Wind" is done all that remains are parched bones and desiccated shadows.
Barbarically pestilent yet compositionally deliberate, Dissimulant casts a bitter pall and leaves an open wound on the death metal scene for 2023. A militant milestone in the RUIN LUST discography. This is a must-hear release for followers of Gravesend, Ascended Dead, Savage Necromancy, Kommand, Of Feather And Bone, Vermin Womb, Caustic Wound, Knelt Rote, Revenge, Disimperium, and the like.
Dissimulant was recorded and mixed by Nolan Voss, mastered by Dan Lowndes at Resonance Sound Studio, and completed with artwork by the band.
Dissimulant is out now LP, CD, MC, and digital formats at the 20 Buck Spin webshop HERE and Bandcamp HERE.
"…their most face-flayingly impactful material yet… Each song is poised in such a way that RUIN LUST sound memorable while still on the verge of all-out chaos… Dissimulant should herald greater attention from fans of Fulll Of Hell or Revenge as much as those dedicated to Incantation or (early) Anaal Nathrakh. 8/10″ – Decibel Magazine
"…RUIN LUST IS a death-first, blackened metal band that hits with the force of an earth borer churning through obsidian on overdrive." – Stereogum
"…an attack on all senses. A maniacal retort towards the world fueled by primordial hatred, obliging their compositions to seemingly become forces of nature." – PopMatters
"Dissimulant provides a more dynamic attack than its predecessors, and it's clear that RUIN LUST has refined their songwriting to its most potent level. Each of the eight tracks bludgeons and blasts in equal capacity but switches things up in how it achieves that, providing sections that stick with the listener even as everything around them gets reduced to dust. 9/10" – Metal Trenches
"To call this a ravenous album would be an astonishing understatement. There's something truly macabre and piercing regarding the band's performance… This is a record that will easily come to the decision that your teeth belong not in your mouth, but copiously smashed to ruin upon the floor." – The Razor's Edge
"… splits the skull and mystifies when they really get ripping and grinding in terms of pace and chaotic riffing. Fans of the blazing death metallic side of Archgoat or the grinding edge of the first Vermin Womb album who'd prefer screaming leads and tons of heaping layers to the experience will immediately warm to these violently beaten horrors." – Grizzly Butts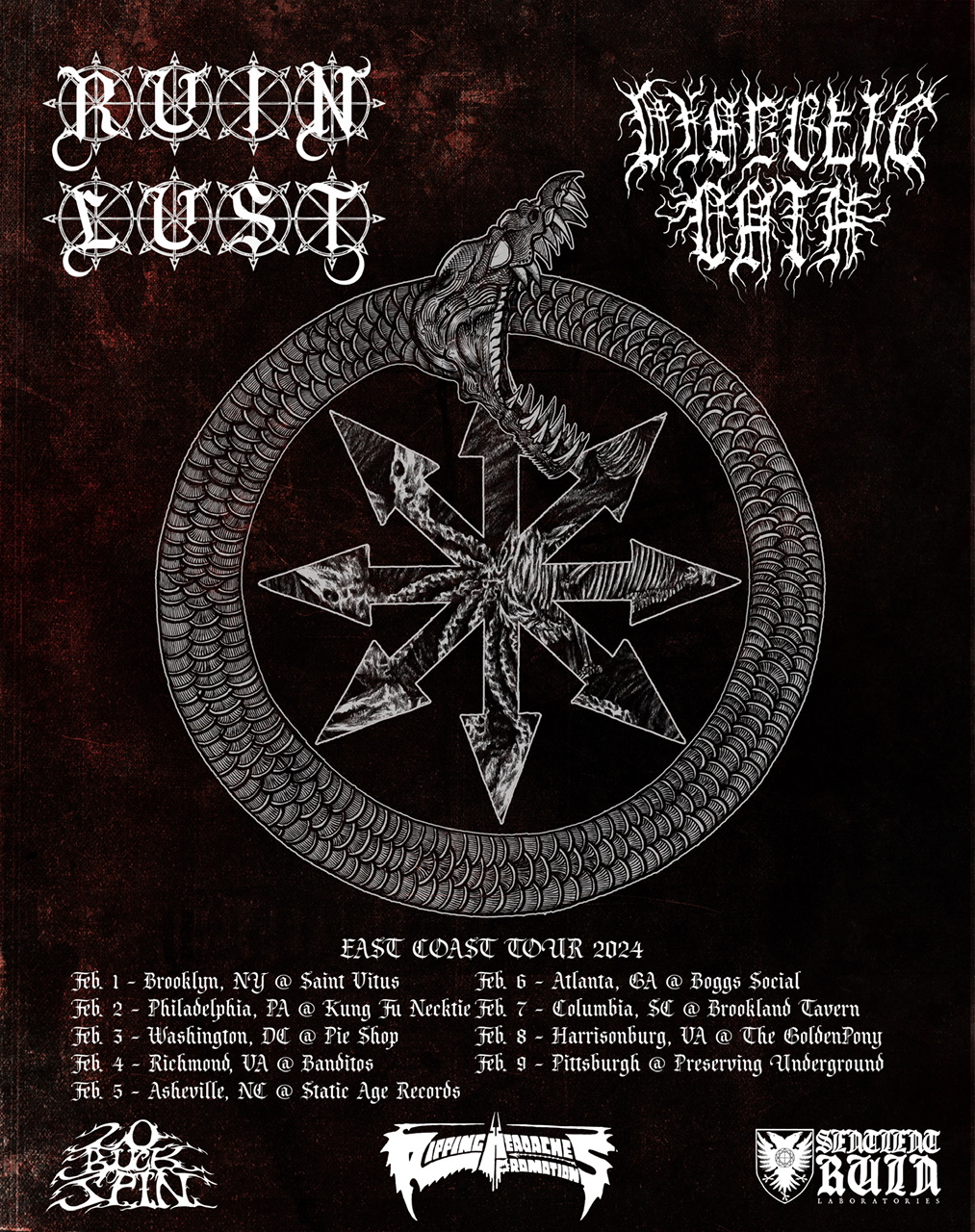 https://www.20buckspin.com
https://listen.20buckspin.com
https://www.facebook.com/20buckspin
https://twitter.com/20buckspinlabel
https://www.instagram.com/20buckspinlabel