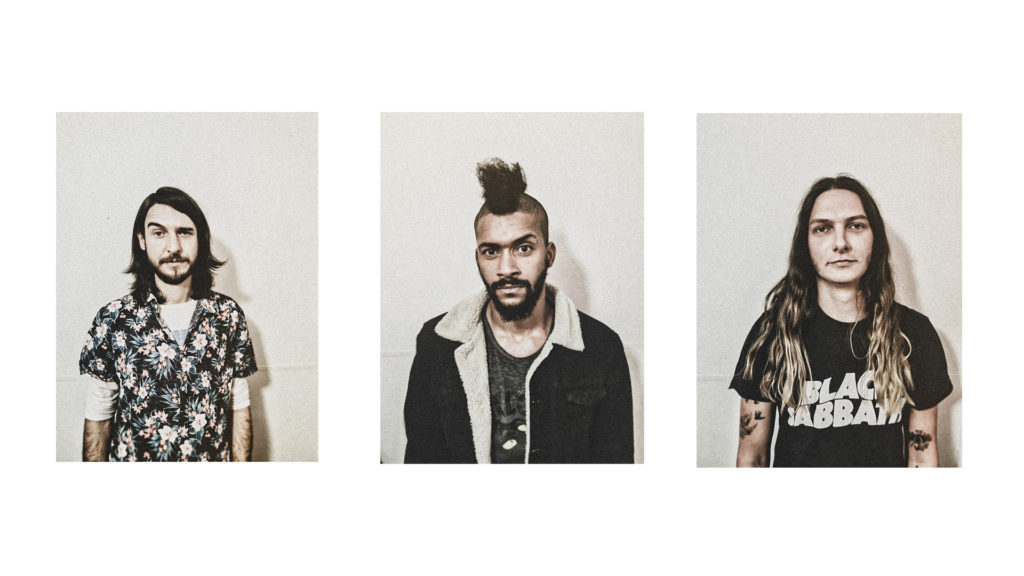 "When hell is full, the dead will walk the earth – turns out they like rock 'n' roll too." – RUFF MAJIK
"Lead Pills And Thrills" is the third single to be released from The Devil's Cattle, the upcoming full-length from South African stoner rock collective RUFF MAJIK. It's the first one to feature long-time producer and new member Evert Snyman plus founding member Johni Holiday front and centre on vocal duties. It's also the first time the band experimented with piano driven rock 'n' roll. Lyrically, the latest single song deals with crippling addiction to both lost love and alcohol.
The video is the conceptual follow up to the animated feature for previous single "Who Keeps Score." Comments guitarist/vocalist Johni Holiday, "Jimmy [Glass] and I are both out in the wasteland, being pursued by zombies. Evert [Snyman] has been taken hostage by a zombie horde to be the personal piano man for their bar – and we set out to rescue him. Once there, we discover we've have fallen right into a clumsily planned trap."
This music video (as with the previous videos and album art) is a love letter to B-grade horror and action movies, and this vision was captured perfectly by Tiger And Lilly Productions.
View RUFF MAJIK's "Lead Pills And Thrills," now playing at Ghost Cult, at THIS LOCATION. Buy or stream the track HERE.
View the band's previously released videos for "Who Keeps Score" HERE and "All You Need Is Speed" HERE.
RUFF MAJIK will release their The Devil's Cattle full-length on October 30th via Mongrel Records with preorders to be unveiled in the weeks to come.
RUFF MAJIK was originally formed in 2012 when the band moved from Lydenburg to the realm of Pretoria. They entered the city as a three piece (Holiday with bassist/guitarist Jimmy Glass, and drummer Benni Manchino) with no real experience in the scene, but a certain drive and ambition that only gods could counter. After three years of adjusting and playing a handful of shows, the band finally released some music in the form of 2015's The Bear.
Roughly inspired by the DIY ethos of black metal recording techniques, the EP was recorded with two mics in a garage which ultimately explains its grit and distortion. The following year RUFF MAJIK released The Fox which ultimately led to more shows, a spot within the then newly established South African doom/stoner scene, and a few small touring opportunities. 2016 was also the year of the track "Wax Wizard," a crowd pleasure to this day.
The Swan stuck its neck out in 2017 followed by Seasons, the record that earned the band international recognition. Freak Valley Festival reached out to the band which led to a German/Austrian tour with The Devil And The Almighty Blues in early 2018. Later that year, RUFF MAJIK played Sonic Blast Moledo in Portugal. The band composed Tǻrn shortly after their return. Recorded in October of 2018 and released through Lay Bare Recordings (Netherlands), the album was followed by a lengthy European tour which included appearances at such illustrious festivals as Smoke Over Warsaw (Poland), Rock In Bourlon (France), Bevrijdings and Sonic Whip (Netherlands), Desertfest (Belgium), and Keep It Low (Germany), as well as shared stages with the likes of Black Pyramid, Sleep, EyeHateGod, All Them Witches, and many others.
"Ever imagined what Uncle Acid & The Deadbeats might sound like after inhaling a load of Wolfmother records, then downing a large pot of really strong coffee?" – Classic Rock
"I'm beginning to pick up on a distinctive sound and style belonging to RUFF MAJIK and them alone." – Doomed & Stoned
"There's an authenticity to RUFF MAJIK that is just as valuable as the other metallic exports from their homeland even though no amount of gold can buy it." – Invisible Oranges
RUFF MAJIK:
Johni Holiday – guitar, vocals
Cowboy Van – guitar, bass, backing vocals, keys, harmonica
Jimmy Glass – bass, guitar
Evert Snyman – guitar, vocals, keys, percussion
Benni Manchino – drums, percussion
http://www.ruffmajik.com
http://www.facebook.com/ruffmajik
http://www.instagram.com/ruffmajik
http://twitter.com/ruff_majik
http://mongrelrecords.com
http://www.facebook.com/mongrelrecords
http://www.instagram.com/mongrel_records