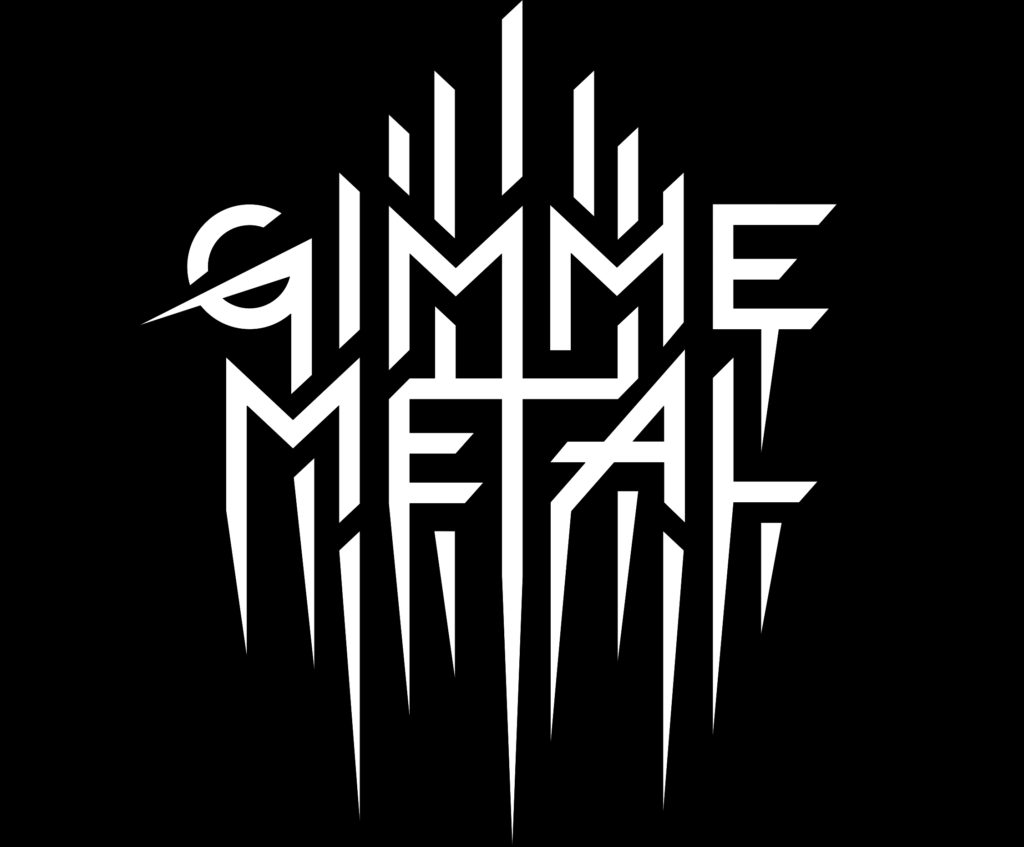 Each week, GIMME METAL publishes its radio chart listing the top 40 tracks played on the station. Already the best metal discovery service online, the GIMME METAL chart is a powerful tool for listeners, labels, and artists for staying up to date on the best new metal released by established greats and up-and-coming underdogs, all handpicked by GIMME's knowledgeable DJ roster and editorial team.
GIMME METAL Chart – September 25th, 2020:
1. Expander – "Waste Ranger"
2. Obsidian Kingdom – "The Pump"
3. Emma Ruth Rundle & Thou – "Ancestral Recall"
4. Anaal Nathrakh – "The Age Of Starlight Ends"
5. Necrot – "Sinister Will"
6. Pig Destroyer – "Cameraman"
7. Skeletal Remains – "Dissectasy"
8. Undeath – "Lord Of The Grave"
9. Mr. Bungle – "Raping Your Mind"
10. Uniform – "Shame"
Click HERE for the full Top 40 List.
Upcoming Shows on GIMME METAL:
Anaal Nathrakh Guest DJ Special – Vocalist Dave Hunt and multi-instrumentalist Mick Kenney's longrunning project has taken leaps and bounds with their evolution and assault, continuing to sculpt their feral sound into more layers of cohesion while simultaneously tearing at its own fabric. An always interesting project, Anaal Nathrakh's obviously hardened doom-and-gloom stance on the world is evidenced in the latest LP title Endarkenment (the opposite of enlightenment) and drops today on Metal Blade Records. Many thanks to Hunt for helping GIMME METAL celebrate with a very special guest DJ set!
Michael Alago Guest DJ Special – New episode with guest visits from Alex Richichi of The Offering and Philip H. Anselmo (Down, En Minor, Scour et al)! Michael Alago spent the mid-1970s as a denizen of Max's and CBGB, revelling in newfound musical freedom and how it related to him as a gay Latino kid growing up in Brooklyn. He started a Dead Boys fanclub and grew into a downtown music scene fixture, eventually booking gigs at The Ritz. He then found himself ascending to an A&R position at Elektra ultimately signing Metallica to the label, as well as working with countless other legends. Drew Stone's 2017 documentary film Who The F*** Is That Guy? chronicles Alago's travels, trials, new resurgence in life, and his outlook. Having been a guest numerous times, at last GIMME METAL is pleased to welcome Alago to the DJ seat!
Undeath Guest DJ Special – Generating considerable buzz from old-school death metal fans and younguns alike, Undeath puts the rot in their homebase of Rochester. Their newest LP, Lesions Of A Different Kind, drops October 20th and what a bucket of bile it is. Blood dripping riffage, total chaos, confusion, and mad scrambling behind the drumkit… Trevor Strnad of The Black Dahlia Murder even gets in on the action during the title track.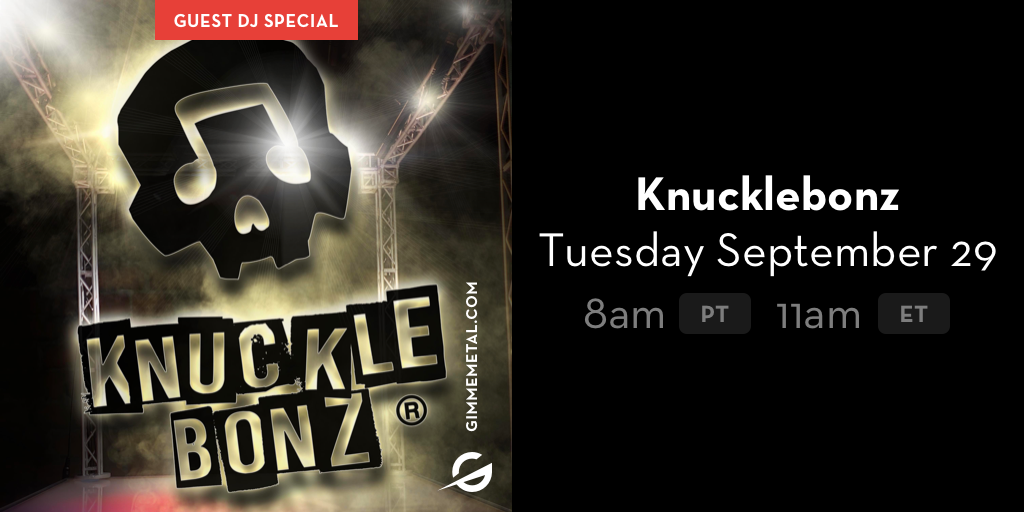 KnuckleBonz Guest DJ Special + Pantera Giveaway – Knucklebonz was established in 2003 with a focus on music collectibles. They take great pride in their authenticity. Fans first, the team started Knucklebonz because they wanted to create something for other music fans that would honor the musicians and rock/metal music legends they admire. GIMME METAL is thrilled to team up with Knucklebonz for a guest DJ special featuring all their favorite bands PLUS an exclusive giveaway. Head to the GIMME METAL Instagram page to find out how to enter and we'll "see" you in the live chat!
Rob Halford interviewed by Alex Kayne on The Slaughterhouse – Coming up on The Slaughterhouse with Alex Kayne is The Metal God himself, Rob Halford to talk about his new autobiography, Confess! It's Turbo time, ladies and gentlemen! Don't miss it!
Gimme 5 With Kelsey Chapstick – Alas it's our last episode with Kelsey, but she goes out with a barnburner of an episode featuring interviews with Necrot (Mortal), Enslaved (Utgard), Cult Of Lilith (Mara), Atomic Bitchwax (Scorpio), and Raven (Metal City)!
Incantation Guest DJ Special – For over thirty years, Incantation has consistently remained one of the underground's most influential and respected artists in the genre. True to form, latest record, Sect Of Vile Divinities recently released via Relapse Records, sees the legendary band adhering to the ways of the old-school, unleashing twisted, mangled, and utterly disgusting death metal once again. A pitch-black mix of unrelenting death metal and imposing funeral doom, each track on Sect Of Vile Divinities is a dirge dedicated to different ancient evils across various cultures. At a point where the world's most vile converge, tracks such as "Propitiation" see the band's driving riffs and pummeling drums crush the very foundations of religious zealotry, while standouts such as "Entrails Of The Hag Queen" and "Fury's Manifesto" champion no-frills death metal in its purest form. Three decades of death metal still the funeral procession carries on. Tune in to Incantation's DJ special and get your questions ready for the live chat!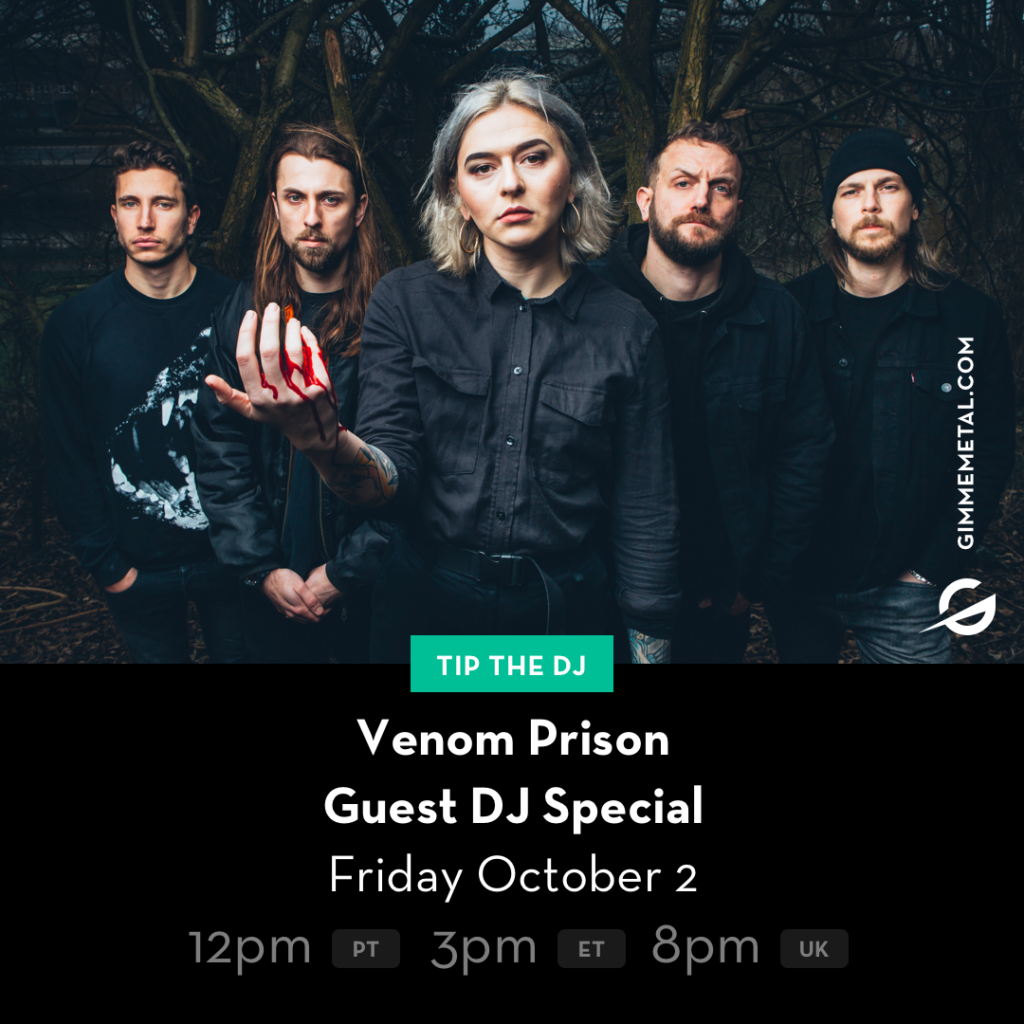 Venom Prison Guest DJ Special – Ash Gray from Venom Prison returns to the booth to guest DJ next Friday to celebrate the impending release of Primevil on October 9th via Prosthetic Records. . Featuring re-recordings of their debut EPs plus two brand new tracks, Primeval harks back to the force that underpinned the band's momentum as well as demonstrates the thirst that Venom Prison possesses to continue their unprecedented growth during turbulent times. Join Gray and Larissa Stupar in the chat!
Upcoming Guest Specials on GIMME METAL:
Hinayana 10/06
Goatwhore 10/07
Hellripper 10/09
Exciter 10/12
Plague Years 10/13
Geld 10/15
GWAR 10/16
Ripple Music label 10/17
Enterprise Earth 10/19
DevilDriver 10/20
Thou 10/21
River Of Nihil 10/26
No Clean Singing site 10/28
Armored Saint 10/29
Enslaved 10/30
Possessed 11/06
Halloween specials with Witch Taint + MT Casket 10/31
Sarcator 11/02
Possessed 11/06
Don't miss it! Visit GIMME METAL: http://gimmemetal.com.
About GIMME METAL:
Founded by digital music veterans from Apple Music, Google Play, Beats Music, and Napster, parent company Gimme Radio builds highly engaged communities for the passionate fan on a genre-by-genre basis. The company launched its first community in June of 2017: the world's first 24/7 metal-focused service. Fans tune in to hear world class DJs playing metal they can't hear anywhere else – for free. The GIMME METAL app and streaming radio service allows the fans and the DJs/artists to communicate directly with one another in a live feed, in real-time, while they listen. Its roster of 70-plus DJs includes Dave Mustaine of Megadeth, Jessica Pimentel, star of Orange Is The New Black, Brian Posehn, and Randy Blythe of Lamb Of God among many others.
http://gimmemetal.com
http://www.facebook.com/gimmemetal
http://twitter.com/gimmeradio
http://www.instagram.com/gimmeradio