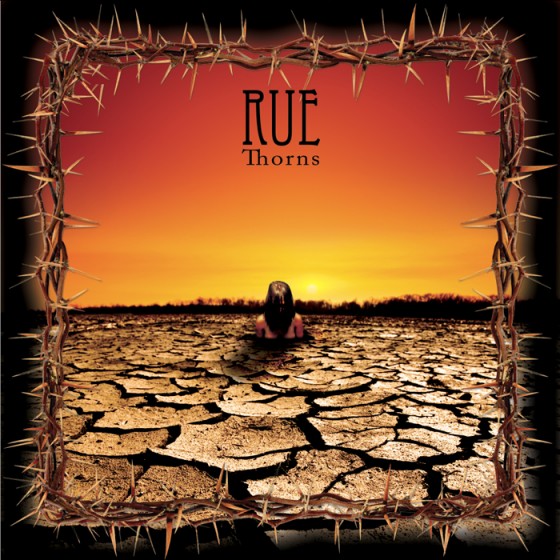 Akron, Ohio's sludge metal bastards RUE are preparing to unleash Thorns, their first full-length album in over seven years, via Shifty Records. A street date of November 15th now officially confirmed for the CD release, with a full-on vinyl pressing to follow in early 2012. Bearing over an hour of RUE's gritty, low-end debauchery, Thorns takes the band's sound in some new directions, the band having spent the last four years below the public radar honing their craft, cultivating influences and focusing wholly on crafting their most potent tunes to date.
Today, thanks to the fine folks manning The Obelisk, the first taste of what RUE brings forth on Thorns is available for public molestation, in the form of a premiere of the track "Brown," streaming RIGHT HERE.
RUE will take their corruptive thunder to the streets in support of Thorns over the coming months, with several newly confirmed gigs locked down for the first half of November, including a record release show for the album on November 12th in Kent, Ohio.
RUE Confirmed Shows:
11/4/2011 Howlers Coyote Cafe – Pittsburgh, PA w/ Vulture, Rebreather, Sistered
11/5/2011 Mulligan's Pub – Grand Rapids, MI w/ Beast In The Field, Mountain Goat & Bert
11/6/2011 PJ's Lager House – Detroit, MI w/ Beast In The Field
11/12/2011 The Outpost – Kent, OH w/ Chapstick, The Unclean, Breakneck Creek, Vulture, Rebreather, Sistered
Promos of Thorns as well as interviews with and live coverage of RUE are available to journalists worldwide via the Earsplit Compound right now. Please get in touch immediately if you want to get down with the sickness.
http://ruetheday.net
http://www.facebook.com/rueakronohio
http://www.myspace.com/zeerue
http://www.shiftyrecords.com