The Obelisk is currently streaming "Holy Ghost" from Portland psychedelic stoner doom alchemists ROBOTS OF THE ANCIENT WORLD. The track comes off of the band's 3737 full-length, set for release on Small Stone Recordings on November 17th.
ROBOTS OF THE ANCIENT WORLD released their Mystic Goddess full-length in 2021. The high-octane recording offered up a hallucinatory sound excursion through a wide range of styles that kept listeners engaged while never losing focus or sacrificing flow. Noted The Sleeping Shaman accurately, "This record touches on all aspects of stoner/doom/riff rock, blending them all together, in eyebrow-raising fashion. Desert rock, cosmic swirling psyche, Swedish-style stoner rock, as well as some grungy riffage…"
Two years later, the band is back and more potent than ever. With the assistance of renowned engineer, Billy Anderson, ROBOTS OF THE ANCIENT WORLD delivers a relentless rock 'n' roll album spanning thirty-seven minutes and thirty-seven seconds. But the title is more than just the duration of the recording, and the band took notice of the number's significance. There exists a theory in numerology that guardian angels attempt to communicate through divine numbers – specifically the repetition in numbers, and this one specifically is to remind us that, "magic and manifestation are knocking at your door," and that, "you are about to attract your inner most desires." Emerging from the pandemic and coping with the loss of loved ones, heartache, and mental anguish, the band decided to harness this energy and pour it into 3737.
As a result, we are left with an album rich with addictively heavy riffing complimented by pummeling drums, groovy bass lines, and Caleb Weidenbach's raw and commanding vocals. ROBOTS OF THE ANCIENT WORLD intended to deliver something meaningful, not only to the band but to the world. 3737 is the answer.
Notes Weidenbach of the band's latest single, "'Holy Ghost' has a long history with ROBOTS OF THE ANCIENT WORLD. When I joined Nico and [former members] Laven, and Mike, 'Holy Ghost' was the first song they had started writing and has been a definitive song for the band since day one. We have probably recorded this song four times now and each time it has not only been better but different. Every member that has ever existed in the band, whether still active in the band or not, has had their hand in this song's creation and we think that's pretty cool. 'Holy Ghost' represents the evolution and growth of ROBOTS OF THE ANCIENT WORLD as a whole. It represents the birth of the band and our future. It remains a staple in our setlist and we still love playing this song. When we were trying to figure out what songs to include on 3737, someone mentioned that we should do a new version of 'Holy Ghost.' This is the result. Enjoy."
Writes The Obelisk in part in, "As one would hope, one of the aspects carried over from Mystic Goddess to the newer six-tracker is a lack of pretense. Dudes aren't trying to be anything other than the fuzz-toned weirdos they are, and with the returning lineup of vocalist Caleb Weidenbach, guitarists Nico Schmutz and Justin Laubscher, bassist Trevor Berecek and drummer Harry Silvers (now also in Hippie Death Cult), that particular brand of quirk is all the more identifiable… 'Holy Ghost' takes off with due thrust and a sharp edge to its riff. The guitars split in the verse, one channel chugging, the other strumming, but they align in the chorus to emphasize the message being sent about songwriting — namely that ROBOTS OF THE ANCIENT WORLD are on it — and find their way back with renewed vigor, Silvers in back pushing the entire thing forward. While maybe not as outwardly catchy as [first single] 'Hindu Kush' or 'Creature,' 'Holy Ghost' pulls the listener deeper into 3737 and maintains the standard of craft, the mix of influences at work showing metallic flashes in the solo, some maybe-organ in there maybe-prefacing the closer, scorch and toms building to a head, pushing, pushing, finally crashing. Side A over…"
Read more and stream ROBOTS OF THE ANCIENT WORLD's "Holy Ghost," courtesy of The Obelisk, at THIS LOCATION.
3737 was written and recorded by the band, mastered by Justin Weis, and comes wrapped in the cover art of Zaiusart. The record will be released on CD and digital formats via Small Stone Recordings and on limited edition vinyl by Kozmik Artifactz.
For preorders, visit THIS LOCATION where first single, "Hindu Kush," can be streamed.
ROBOTS OF THE ANCIENT WORLD:
Caleb Weidenbach – vocals
Nico Schmutz – guitar
Justin Laubscher – guitar
Trevor Berecek – bass
Harry Silvers – drums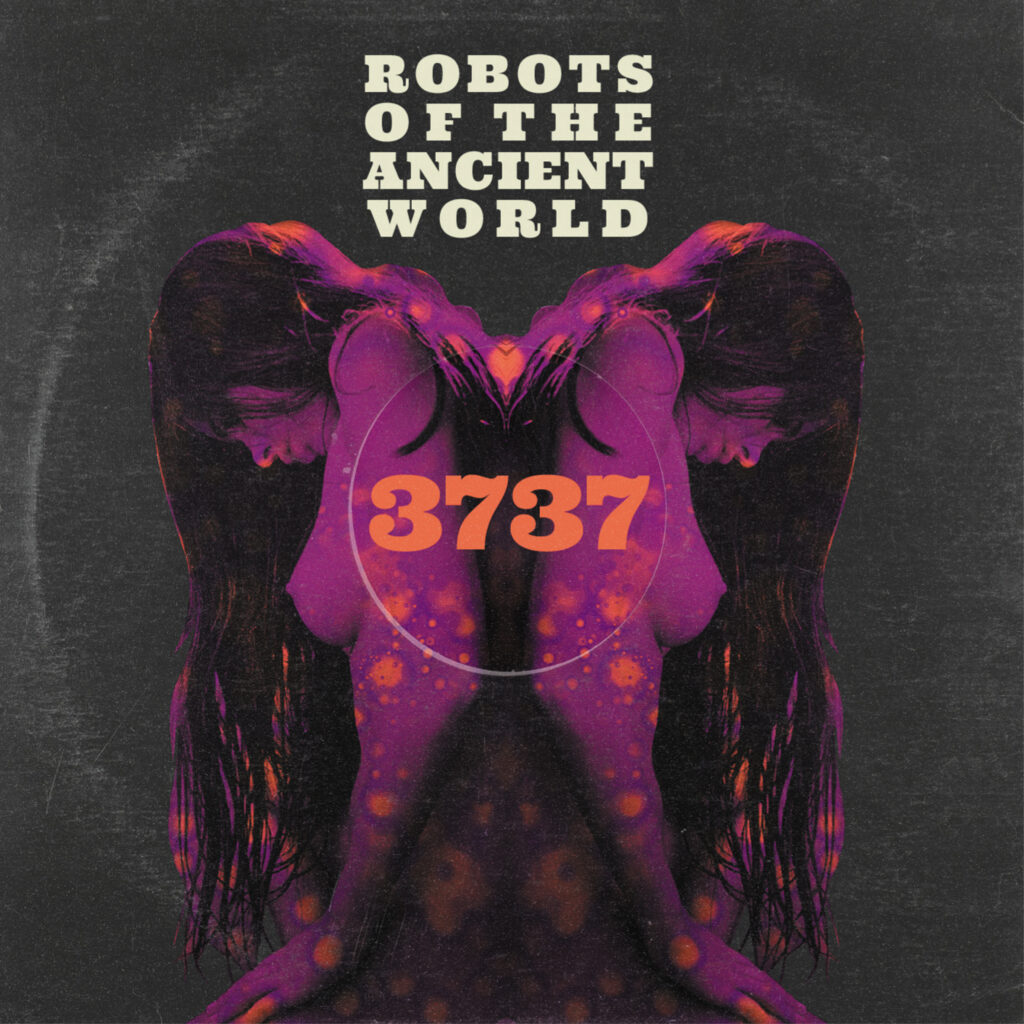 http://www.facebook.com/RobotsoftheAncientWorld
http://www.instagram.com/rotaw_official
http://robotsoftheancientworld.bandcamp.com
http://www.smallstone.com
http://www.facebook.com/smallstonerecords
http://twitter.com/SSRecordings
http://www.instagram.com/smallstonerecords