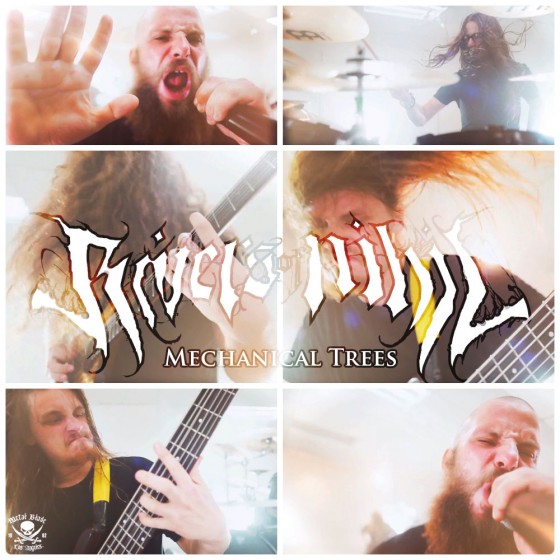 Pennsylvania death metal assassins, RIVERS OF NIHIL, have launched a brand new music video for "Mechanical Trees" on their official YouTube channel at THIS LOCATION. The Dave Brodsky-directed performance clip comes by way of the band'sThe Conscious Seed Of Light full-length. Fast, yet melodic and ambient, the tune evokes as much groove as it does relentless death metal speed and serves as a stellar introduction for the uninitiated as well as an ideal illustration of the brand of musically tight and heavy hitting live show fans can expect on RIVERS OF NIHIL's upcoming tour.
Guitarist Brody Uttley comments: "Working with David Brodsky on this video was a truly awesome experience. This guy has shot so many of our favorite bands over the years and to be able to work with him on something for our own band was truly surreal. We are also beginning our trek out to Los Angeles where we will be meeting up with Death To All, Obituary, and Massacre. We are super excited to be touring with bands that we all grew up idolizing! See you soon."
The Reading natives will play a string of shows leading up to their tour with Death (DTA Tours)! The Swamp Leper Stomp Tour '14, also featuring Obituary and Massacre, begins Friday November 14, 2014 in Los Angeles,. All confirmed tour dates are listed below.
In related news, Uttley is offering guitar lessons while the band is on tour! Fans/aspiring guitarists can sign up for a lesson via Brody's profile on bandhappy.com. Visit bandhappy.com/profile/Brody to sign up and to see when RIVERS OF NIHIL will be in your area.

RIVERS OF NIHIL:
11/10/2014 Dirty Dog Bar – Austin, TX
11/11/2014 The Rail Club – Fort Worth, TX
11/13/2014 LVCS – Las Vegas, NV
RIVERS OF NIHIL on Death's (DTA Tours) Swamp Leper Stomp '14
w/ Obituary, Massacre:
11/14/2014 Club Nokia Los Angeles, CA
11/15/2014 Ramona Mainstage – Ramona, CA
11/16/2014 DNA Lounge – San Francisco, CA
11/18/2014 Studio Seven – Seattle, WA
11/19/2014 The Rickshaw Theatre – Vancouver, BC w/ Untimely Demise
11/21/2014 MacEwan Ballroom – Calgary, AB w/ Untimely Demise
11/22/2014 Riddell Centre – Regina, SK w/ Untimely Demise
11/23/2014 Park Theatre – Winnipeg, MB w/ Untimely Demise
11/24/2014 Amsterdam Bar & Hall – St. Paul, MN w/ Untimely Demise
11/25/2014 The Metro – Chicago, IL
11/26/2014 Agora Theatre and Ballroom – Cleveland, OH
11/27/2014 The Opera House – Toronto, ON
11/28/2014 Club Soda – Montreal, QC
11/29/2014 Brighton Music Hall – Allston, MA
11/30/2014 Best Buy Theatre – New York, NY
12/03/2014 Empire – North Springfield, VA
12/04/2014 Tremont Music Hall – Charlotte, NC
12/05/2014 The Masquerade – Atlanta, GA
12/06/2014 Orpheum – Tampa, FL
12/07/2014 Grand Central – Miami, FL
RIVERS OF NIHIL will be touring in support of their debut full-length, The Conscious Seed Of Light. Recorded in March of 2013 at Mana Recording Studios in Florida with famed metal producer/musician Erik Rutan, the band began their project with the idea that they would release four separate albums tied together by one common theme, each reflecting a particular season of a year. Bassist Adam Biggs elaborates: "The Conscious Seed Of Light is intended to be representative of Spring and explores various themes concerning new beginnings, growth, and an attachment to the natural world in a post-human Earth. Unlike some concept records however, we wanted to allow each song to work on its own terms. Rather than have the songs rely on each other to move a specific story structure forward, they work within their own separate narratives, but ultimately serve the album's broader concept."
http://www.facebook.com/riversofnihil
https://twitter.com/riversofnihil
https://www.youtube.com/riversofnihilpa
https://soundcloud.com/rivers-of-nihil