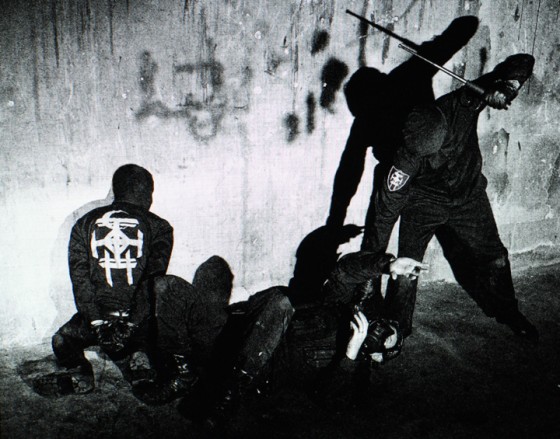 CORRECTIONS HOUSE – the bastard sound manipulations of Mike IX Williams (Eyehategod), Scott Kelly (Neurosis), Bruce Lamont (Yakuza), Sanford Parker (Minsk) and their recently abducted minister of propaganda, Seward Fairbury – are readying for another round of US live incursions. Set to commence on November 30th in Boston, Massachusetts, the collective will raze nineteen metropolises, with the journey coming to a ceremonial close on December 20th. The tour follows the band's crushing performance at this year's Housecore Horror Film Fest.
CORRECTIONS HOUSE Tour 2014:
11/30/2014 Brighton Music Hall – Boston MA
12/01/2014 St. Vitus – Brooklyn, NY
12/02/2014 Café 9 – New Haven, CT
12/03/2014 Metro Gallery – Baltimore, MD
12/04/2014 Strange Matter – Richmond, VA
12/05/2014 Grog Shop – Cleveland, OH
12/06/2014 Pro Arena – Dayton, OH
12/07/2014 Magic Stick Lounge – Detroit, MI
12/08/2014 Cobra Lounge – Chicago, IL
12/09/2014 The High Tone – Memphis, TN
12/10/2014 Siberia – New Orleans, LA
12/11/2014 Fitzgeralds – Houston, TX
12/12/2014 Hotel Vegas – Austin, TX
12/14/2014 Three Links – Dallas, TX
12/16/2014 Club Red – Mesa, AZ
12/17/2014 Complex – Los Angeles, CA
12/18/2014 Soda Bar – San Diego, CA
12/19/2014 DNA – San Francisco, CA
12/20/2014 Rotture – Portland, OR
CORRECTIONS HOUSE released their Last City Zero debut full-length via Neurot Recordings last year. Produced by Parker at Electrical Audio, Soma Studios, 60 Psycho Hum and Nodferatu's Lair, Last City Zero is the audio end product of government conspiracies, societal ruin and psychological decay. Traveling far beyond the traditional confines of any one specific genre, Last City Zero is at once beautifully hideous, graceful and terrifying and continues to raise the brows of exploratory fans and critics globally. Said About.com, "On Last City Zero, CORRECTIONS HOUSE survey the world with a bleak outlook, as much with scorn as sadness. The industrial/mechanical side feels indicative of how the soul is being ripped from the chest of society, whereas the cleaner side represents the need to hold on to our own individuality. The angry screams voice the fight to maintain what is ours and to retake what has been taken, and the spoken voices of reason and honesty instill reflectiveness and a lack of ignorance…," Exclaim gushed, "Last City Zero is brooding, raw and corrosive, as well as breathtakingly beautiful," while Crave agreed, "CORRECTIONS HOUSE have created something wholly original, incredibly touching, and most likely alienating. Bravo gentlemen, bravo." Added Metal Hammer, "Whether it's Mike IX Williams' grim spoken word poetry or Scott's coarse, monotone groan overlaying the clangorous soundscapes, it's the utter bleakness that binds."
CORRECTIONS HOUSE recently put the finishing touches on their forthcoming new full-length, set for release sometime in 2015. In the meantime, check out a live version of (half of) CORRECTIONS HOUSE's cover of Neil Young's "Cortez The Killer" from Roadburn below.
Further CORRECTIONS HOUSE news to be revealed as it develops. Stay tuned.
http://www.facebook.com/CorrectionsHouse
http://www.neurotrecordings.com
http://www.facebook.com/neurotrecordings