Currently wrapping up their stateside tour with Dying Fetus, Thy Art Is Murder, Enterprise Earth, and Sanction, RIVERS OF NIHIL will take to the streets again this summer on a Canadian headlining trek run (which includes select US shows) with Alterbeast and Inferi. See confirmed dates below.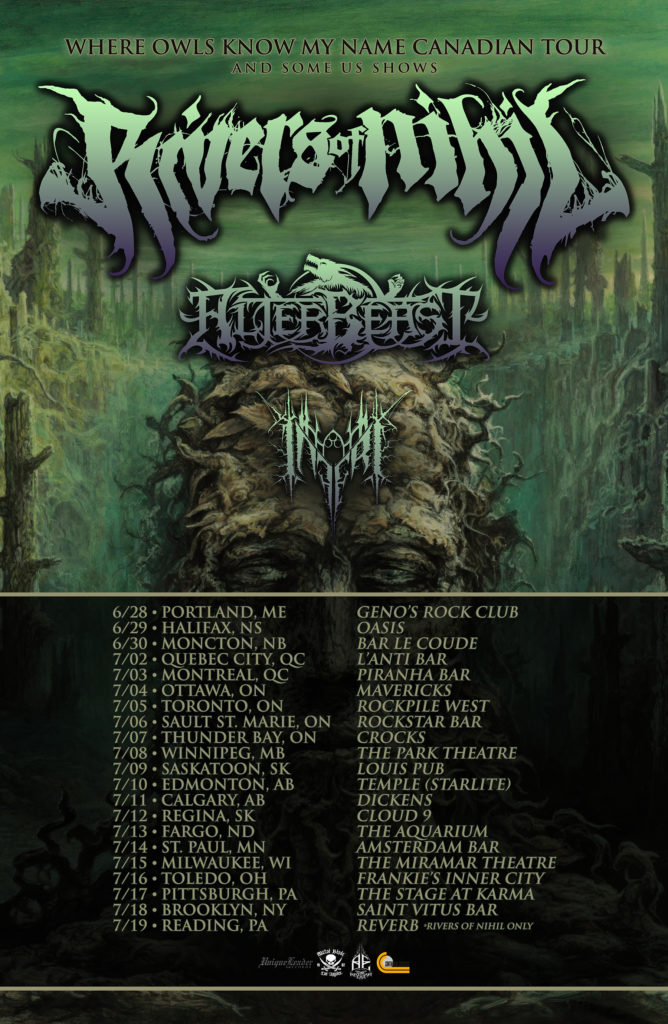 RIVERS OF NIHIL w/ Alterbeast, Inferi:
6/28/2018 Geno's Rock Club – Portland, ME
6/29/2018 Oasis – Halifax, NS
6/30/2018 Bar Le Coude – Moncton, NB
7/01/2018 L'atni Bar – Quebec City, QC
7/03/2018 Piranha Bar – Montreal, QC
7/04/2018 Mavericks – Ottawa, ON
7/05/2018 Rockpile West – Toronto, ON
7/06/2018 Rockstar Bar – Sault St. Marie, ON
7/07/2018 Crocks – Thunder Bay, ON
7/08/2018 The Park Theatre – Winnipeg, MB
7/09/2018 Louis Pub – Saskatoon, SK
7/10/2018 Temple (Starlite) – Edmonton, AB
7/11/2018 Dickens – Calgary, AB
7/12/2018 Cloud 9 – Regina, SK
7/13/2018 The Aquarium – Fargo, ND
7/14/2018 Amsterdam Bar – St. Cloud, MN
7/15/2018 The Miramar Theatre – Milwaukee, WI
7/16/2018 Frankie's Inner City – Toledo, OH
7/17/2018 The Stage At Karma – Pittsburgh, PA
7/18/2018 Saint Vitus Bar – Brooklyn, NY
7/19/2018 Reverb – Reading, PA *
* RIVERS OF NIHIL only
RIVERS OF NIHIL will be touring in support of their new album, Where Owls Know My Name, which debuted on the Billboard and Canadian music charts upon its release: #3 Top New Artist Albums (Billboard/US), #9 Current Hard Music Albums (Billboard/US), #57 Top 200 Current Albums (Billboard /US), #61 Top 200 Albums (Billboard/US), #50 Top 200 Chart (Canada), and #10 Top Hard Music Charts (Canada). Named, "one of the best progressive death metal albums in years," by Heavy Blog Is Heavy and one of, "2018's best metal albums…so far," by Loudwire, Where Owls Know My Name can be previewed and purchased at: metalblade.com/riversofnihil.
http://www.facebook.com/riversofnihil
http://twitter.com/riversofnihil
http://www.youtube.com/user/Riversofnihilpa
http://www.metalblade.com/riversofnihil