Death metal defenders of the old, GRUESOME, have partnered with Decibel Magazine to share their cover of "Legion Of Doom" by Chuck Schuldiner's pre-Death project, Mantas. The recording will be included in the magazine's June 2018 issue as a special pictured flexi disc.
Comments vocalist/guitarist Matt Harvey, "We did 'Legion Of Doom' to highlight the through-line from the early Mantas days all the way to Spiritual Healing. That signature riff just oozes heaviness. After working on the more melodic and developed album material, it was a lot of fun and a great way to blow off steam by jamming some nasty, primitive death metal."
Stream the exclusive track via Decibel Magazine HERE. A limited number of issues containing the flexi are available HERE.
GRUESOME – featuring current and former members of Exhumed, Possessed, Malevolent Creation, etc. – will return with its second full-length, Twisted Prayers this June. The eight-track offering follows Death's paradigm shift during the Spiritual Healing era, incorporating more cerebral, melodic instrumentation with elements of thrash and thought-provoking, socially conscious lyrics. Recorded at New Constellation Studios in Orlando, Florida with producer Jarrett Pritchard (Exhumed, 1349, Goatwhore, Wolvhammer) who has been instrumental in crafting the band's sonic homage, Twisted Prayers features GRUESOME doing what they do best across over forty minutes of unholy hymns with lurid melodies and vulgar atmospheres. The band has once again teamed up with the legendary artist Ed Repka (Death, Atheist, Massacre) for the album's blasphemous cover art in addition to legendary Death guitarist James Murphy (Death, Obituary, Testament) for a pair of special guest guitar solos. Bow your heads and worship at the altar of GRUESOME!
Watch GRUESOME's previously released lyric video for new song "A Waste Of Life" below.
GRUESOME's Twisted Prayers is due out June 1st on CD, LP, deluxe LP, cassette, and digital formats via Relapse Records. Physical packages are available via Relapse.com HERE and digital downloads/streaming services at THIS LOCATION.
GRUESOME has announced two exclusive shows in Florida with labelmates Exhumed before kicking off a European headlining tour this summer. Beginning July 19th, the trek will travel through two dozen cities and includes appearances at Obscene Extreme 2018, Wacken Open Air, Partysan Open Air and more. See all confirmed dates below.
GRUESOME:
7/14/2018 Crowbar – Tampa, FL w/ Exhumed
7/15/2018 Will's Pub – Orlando, FL w/ Exhumed
7/19/2018 Obscene Extreme 2018 – Trutnov, CZ
7/20/2018 Red & Black – Warzawa, PL
7/21/2018 Hydrozagadk – Chorzow, PL
7/22/2018 Modra Vopice – Prague, CZ
7/23/2018 Free & Easy Festival – Munich, DE
7/24/2018 Durer Kert – Budapest, HU
7/25/2018 Metaldays – Tolmin, SL
7/26/2018 Viper Room – Wien, AT
7/27/2018 Master Of The Unicorn – Ernsthausen, DE
7/28/2018 Stonehenge Festival – Steenwijk, NL
7/29/2018 Bastard Club – Osnabruck, DE
7/30/2018 Immerhin – Wurzburg, DE
7/31/2018 Nomansland – Volmerange-les-mines, FR
8/01/2018 7er Club – Mannheim, DE
8/02/2018 Wacken Open Air – Wacken, DE
8/03/2018 Klubb Dissonans – Jonkoping, SE
8/04/2018 The Crypt – Linkoping, SE
8/05/2018 Underwerket – Valby/Copenhagen, DK
8/07/2018 Chemiefabrik – Desden, DE
8/08/2018 Musik und Frieden – Berlin, DE
8/09/2018 Partysan Open Air – Schlotheim, DE
8/10/2018 Das Bett – Frankfurt, DE
8/11/2018 Helvete – Oberhausen, DE
8/12/2018 Alcatraz Open Air – Kortrijk, BE
Multi­-state death metal monster GRUESOME was born out of guitarist/vocalist Matt Harvey and drummer Gus Rios' mutual involvement with the Death To All tours (Harvey served as frontman for the original mini­tour and Rios performed "Baptized In Blood" and worked with DTA drummer Sean Reinert on the following US tour where Harvey's other band Exhumed filled in as support). After discussing and discarding the idea of putting together another incarnation of DTA to focus exclusively on the first two albums, Harvey half-jokingly suggested that the pair write their own songs in intentional homage to Death. It wasn't long before the idea gained traction, and the band soon had five tracks written. With Harvey writing in California, Rios recruited Possessed guitarist Daniel Gonzalez and Derketa bassist Robin Mazen to record the material in Florida, while Harvey tracked his vocals on the West Coast.
Gruesome released a pair of single-song demos in 2014 and were quickly signed by Relapse Records. The band's debut full-length Savage Land, a truly gruesome slab of Leprosy-styled death metal, was released in April 2015. As evidenced by the Ed Repka (Death, Vio-lence, Megadeth, Massacre, etc.) cover art, GRUESOME was humbly determined to keep the classic sound of Death alive as faithfully as possible.
After the very positive reception of their debut from fans and critics alike, GRUESOME continued their homage to the Death catalog, promptly sinking their teeth into the savagery of Scream Bloody Gore. Their second release, the Dimensions Of Horror EP, was a six-song slab of grisly, bone-breaking anthems that proved that no matter the decade, old-school death metal is always relevant, brutal, and irresistible. The music video for the title track perfectly captured the record's VHS horror sensibility and further raised the band's profile, leading to shows across the US and Europe. The band followed Dimensions… up with a 7″ titled Fragments Of Psyche, which showcased their versatility. With guest drummer Sean Reinert (Death, Cynic), the band dove head-first into the more technical Human era of Death's sound, which was a sharp contrast to the band's first two releases, which exclusively reveled in old-school g(l)ory.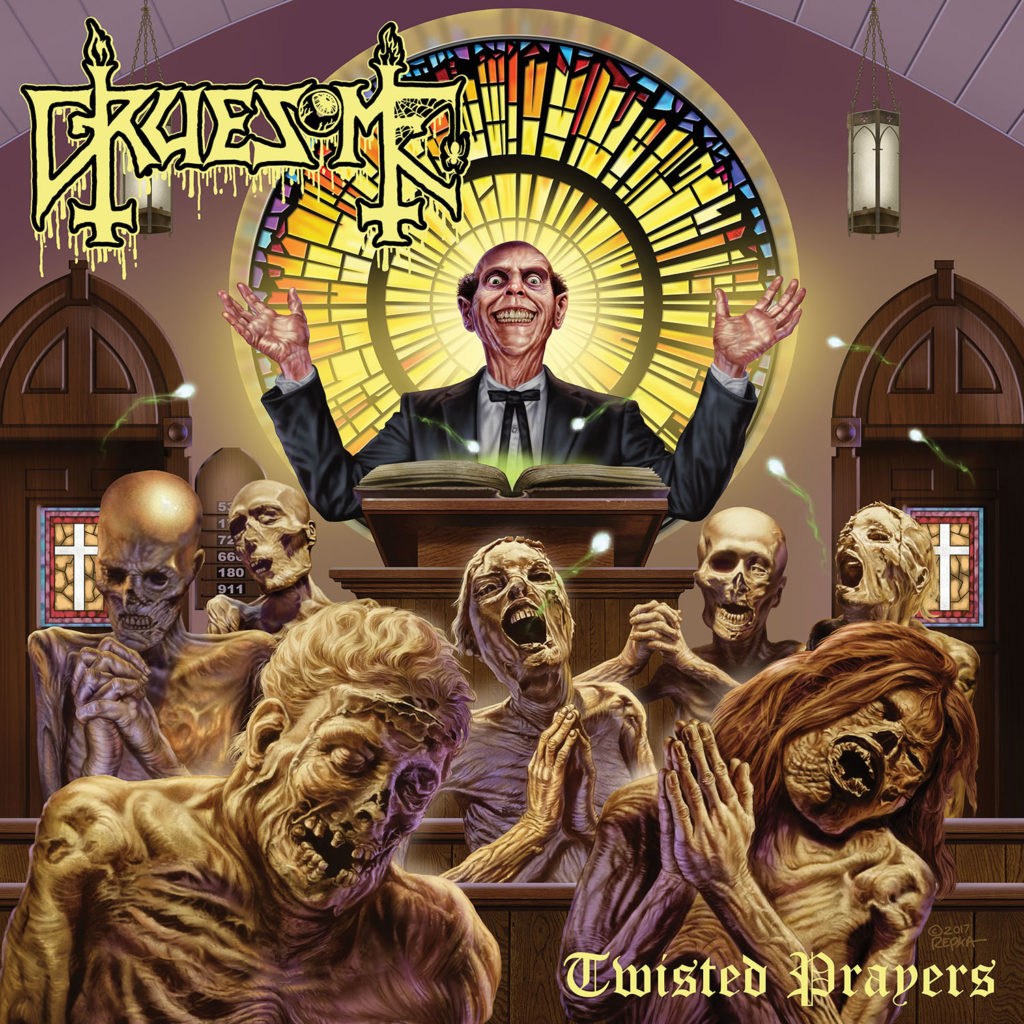 http://www.facebook.com/gruesomedeathmetal/
http://www.instagram.com/gruesome_death_metal/
http://www.gruesomedeathmetal.bandcamp.com/
http://www.relapse.com
http://www.facebook.com/RelapseRecord