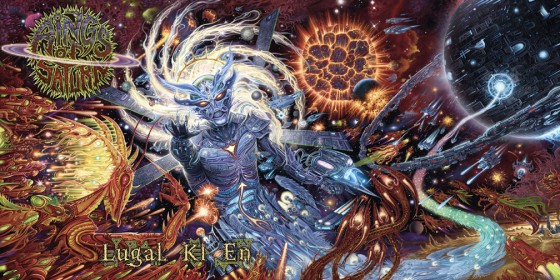 Bay Area technical death metallers and self-proclaimed masters of "aliencore," RINGS OF SATURN, will unleash their forthcoming new full-length this October via Unique Leader Records. Titled Lugal Ki En, the twelve-track offering was produced by Brette Ciamarra at Studio 344 (Kamikabe, Those Who Fear, Trophies et al) in Pittsburgh, Pennsylvania and features the drum prowess of Black Tongue/Infant Annihilator basher Aaron Kitcher, guest solo work by Day Of Reckoning guitarist Rusty Cooley and custom artwork by Mark Cooper of Mind Rape Art, who crafted the band's seminal Dingir cover.
Comments guitarist, Lucas Mann of the album concept, "The concept of the album in a nutshell is that long after the Aliens conquer humanity, they evolve to a point where they transcend space, time and reality to take their conquest into the realm of the gods where they wage war on angels and demons. The album title Lugal Ki En translates from ancient Sumerian cuneiform to mean 'King Of The Earthlings, Lord Of The Cosmic World.' The Sumerian cuneiform is visible behind the English pronunciation of the album title."
Lugal Ki En Track Listing:
1. Senseless Massacre
2. Desolate Paradise
3. Lalassu Xul
4. Infused (Feat. Rusty Cooley)
5. Fractal Intake
6. Natural Selection
7. Beckon
8. Godless Times
9. Unsympathetic Intellect
10. Eviscerate
11. The Heavens Have Fallen
12. No Pity For A Coward (Suicide Silence cover)
In advance of the record's official release, RINGS OF SATURN will embark upon The Face Implosion Tour with Arsonists Get All the Girls, Auras and AEnimus. Set to commence on July 9th in Sacramento, the near-month long run will wind its way across the US and back again, coming to a close on August 3rd in San Jose. Additionally, RINGS OF SATURN will bring their extra-terrestrial sounds to Mexico in November for four special shows with Lack Of Remorse and Victim Of Greed.
RINGS OF SATURN – The Face Implosion Tour 2014
w/ Arsonists Get All the Girls, Auras, AEnimus
7/09/2014 The Boardwalk – Sacramento, CA
7/10/2014 Soma – San Diego, CA
7/11/2014 Anaheim Music Hall – Anaheim, CA
7/12/2014 The Nile – Mesa, AZ
7/13/2014 Lowbrow Palace – El Paso, TX
7/14/2014 Korova – San Antonio, TX
7/15/2014 Walters – Houston, TX
7/16/2014 Tomcats West – Fort Worth, TX
7/17/2014 Vanguard – Tulsa, OK
7/18/2014 Fubar – St. Louis, MO
7/20/2014 Bonnie Kate Theatre – Elizabethton, TN
7/21/2014 Metro Gallery – Baltimore, MD
7/22/2014 Coco 66 – Brooklyn, NY
7/23/2014 Outpost Concert Spot – Kent, OH
7/24/2014 Paychecks Lounge – Detroit, MI
7/25/2014 Penny Road Pub – Barrington, IL
7/26/2014 Metal Grill – Milwaukee, WI
7/27/2014 Vaudeville Mews – Des Moines, IA
7/28/2014 Marquis – Denver, CO
7/29/2014 The Shred Shed – Salt Lake City, UT
7/30/2014 The Hop – Spokane, WA
7/31/2014 El Corazon – Seattle, WA
8/01/2014 Branx – Portland, OR
8/02/2014 Musicians Co-op – Santa Rosa, CA
8/03/2014 San Jose Rock Shop – San Jose, CA
w/ Lack Of Remorse, Victim Of Greed:
11/20/2014 Morfos Bar – Monterrey, MX
11/21/2014 Black Dog – Queretaro, MX
11/22/2014 Salon Bolivar – Mexico City, MX
11/23/2014 Bar Un Mundo Raro – Leon, MX
Lugal Ki En will be released on the US on October 14, 2014 and in Europe on October 17, 2014. Preorders to be announced in the coming weeks.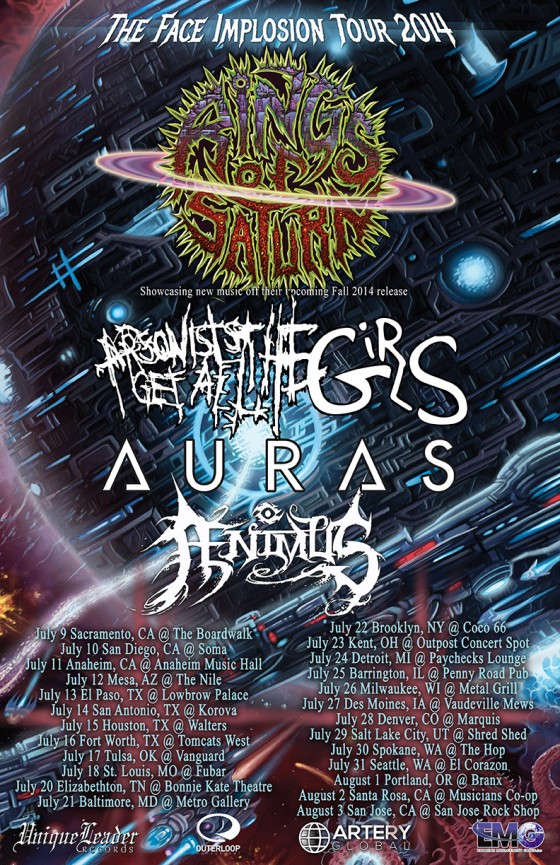 http://www.facebook.com/RingsofSaturnband
http://www.uniqueleader.com
http://www.facebook.com/UniqueLeaderRecords