photo by Paul Goon
Decibel Magazine today premieres a new video from Akron, Ohio doom/sludge metal quartet RADIAN and their song "They Look Like Good Strong Hands," which is found on the band's second album, Discordian.
RADIAN is guitarist Mike Burns (Osi And The Jupiter, Rue, Sofa King Killer), bassist Bill Govan (Goosed, Ravenna Arsenal), vocalist Jeff Fahl (Rue), and drummer Derek Vaive (Ommnus) who just joined the band in recent months.
Discordian delivers six new songs with an elevated sense of living in a perilous world wrought with political discontent and societal unrest. The record was recorded and engineered at Akron Recording Company September of 2020 by Sanford Parker (Voivod, Eyehategod, YOB) who provides synth elements to the album. Parker mixed the album at his Hypercube Studio, after which it was mastered by Colin Jordan at Boiler Room Mastering (Ministry, Helen Money, Spirit Adrift) and released in June 2022 on Burns' Elburno Records.
The new video for "They Look Like Good Strong Hands" was filmed by Paul Goon and a dude named Chris at an undisclosed location in Cleveland and edited by Elyse Hirch. Bill Govan reveals, "Spirits are high, and all cylinders are firing which unequivocally shines through in the new 'They Look Like Good Strong Hands' video. The transition to Derek playing drums was seamless; he's a professional with an inspiring work ethic and a pleasure to be in the presence of. This incarnation of RADIAN has stoked a fire in us enough to start writing some pretty fucking heavy material. This incarnation has also been grinding away at a set for the May run of shows with Drifter in support of our current release, Discordian, and it is shaping up to be an absolute Hammer. We've coalesced into a true force and really cannot wait to ride this pony onward."
Decibel writes, "Yessir, this thunderous, groovy, ear-catcher is fine way to stir the pot (and the pit, but in kinda slo-mo)."
RADIAN's new "They Look Like Good Strong Hands" video can be viewed first through Decibel Magazine now at THIS LOCATION.
Discordian is available on two vinyl variants – Transparent Beer and Green/Black Splatter – at Bandcamp HERE and through all digital services. Also watch the video for "The Discordian" HERE.
RADIAN is using 2023 to tour on Discordian through multiple regional mini-tours and local shows, including a short Northeastern tour coming up with their allies in Drifter, hitting Atlanta, Asheville, Richmond, Philadelphia, Buffalo, and Youngstown May 4th through 9th. See all confirmed dates below and watch for updates to post over the months ahead.
RADIAN Tour Dates:
2/25/2023 Counsel Of The Weirds @ Zephyr – Kent, OH w/ Moth Cock
5/04/2023 Sabbath Brewing – Atlanta, GA w/ Order Of The Owl, Drifter
5/05/2023 Fleetwoods – Asheville, NC w/ USX, Drifter
5/06/2023 The Camel – Richmond, VA w/ Thunderchief, Drifter
5/07/2023 Kung Fu Necktie – Philadelphia, PA w/ Oktas, Drifter
5/08/2023 Mohawk Place – Buffalo, NY w/ Goron, Drifter
5/09/2023 Westside Bowl – Youngstown, OH w/ Drifter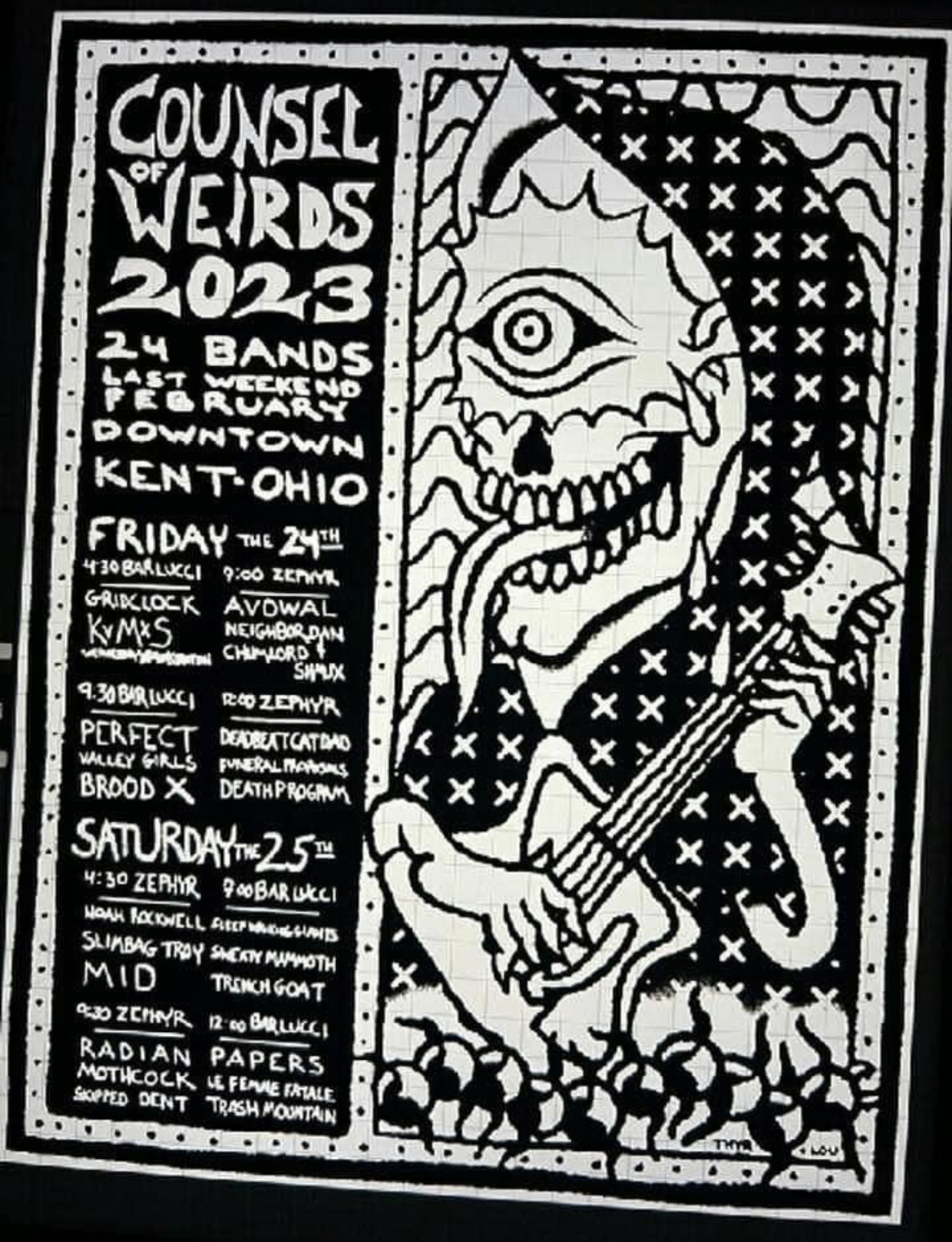 http://www.linktr.ee/radian_akron
https://www.facebook.com/RadianAkron
https://radianakron.bandcamp.com
https://www.instagram.com/radian_akron