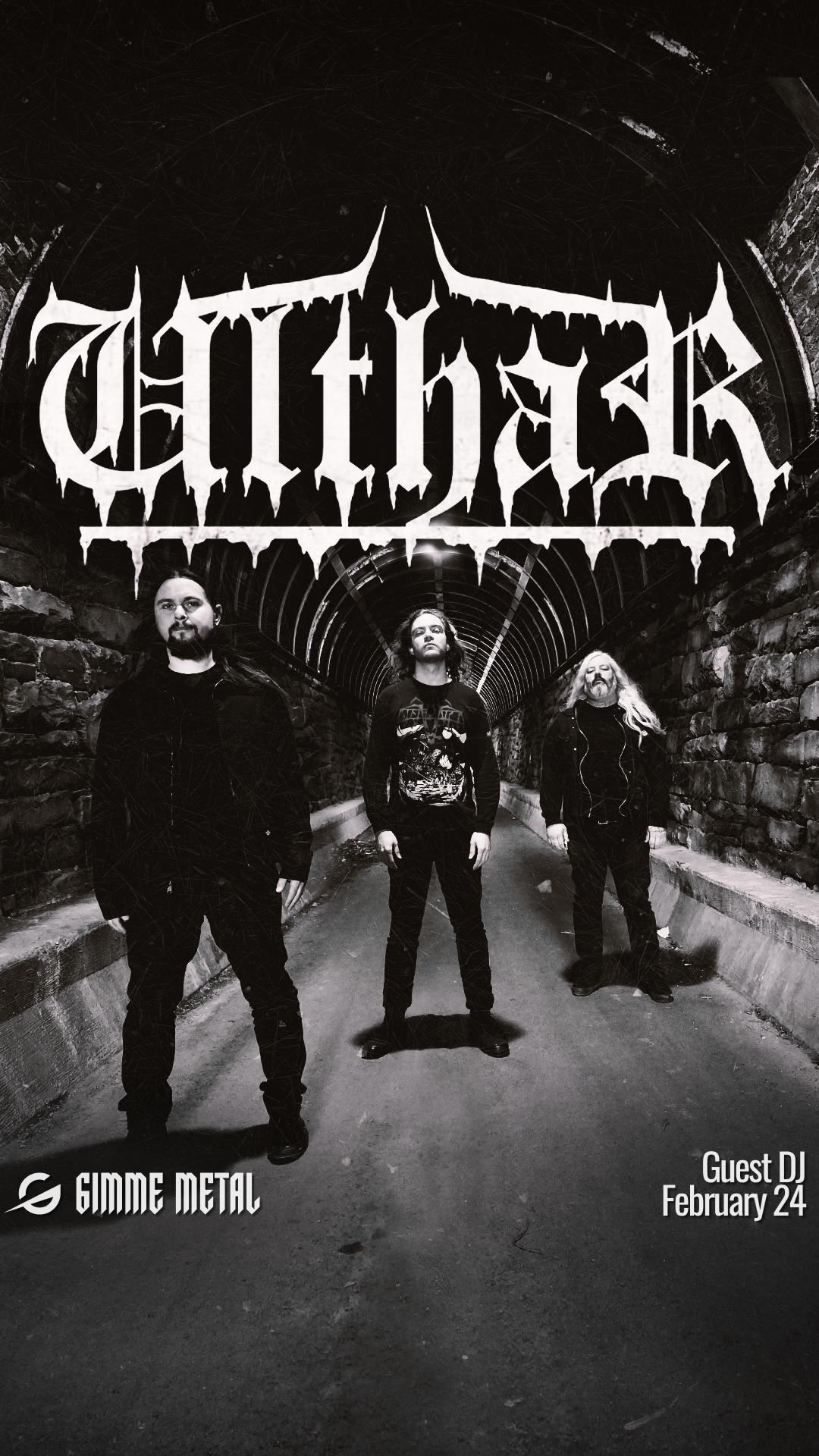 West Coast blackened death metal trio ULTHAR will host a two-hour Gimme Metal guest DJ show on Friday, February 24th at 12:00pm PST / 3:00pm EST!
Don't miss it! Join the band in the live chat! Find more info at gimmemetal.com.
The band's Gimme Metal appearance follows the recent release of their two full-lengths, Anthronomicon and Helionomicon, via 20 Buck Spin.
Anthronomicon embodies the continued progression of ULTHAR's mastery over its art. From the opening blasts and twisting mania of "Cephalophore," ULTHAR baffles with angular warped riffage, dipping in and out of various dimensional spheres. Each of Anthronomicon's eight tracks represent a fractious piece of a larger puzzle, each a maze unto itself that when taken together allows one to traverse this inverted surrealist conundrum.
Where its sister album Anthronomicon presents an eight-piece puzzle of labyrinthine tumult, Helionomicon takes those elements and creates two towering twenty-minute monoliths of radiant avant-garde immensity. Each track, appropriately titled "Helionomicon" and "Anthronomicon," transports the listener on a vast journey of psycho-cerebral spectacle where hitherto unimagined landscapes take shape and strange intangible structures pierce the disintegrating firmament.
Anthronomicon and Helionomicon were each recorded in April 2022 at Developing Nations in Baltimore, Maryland by Kevin Bernsten and mastered at Signaturetone in Minneapolis, Minnesota by Adam Tucker. Each album cover is half of a larger original piece created for ULTHAR by Ian Miller (Stormkeep, Bolt Thrower, Games Workshop). Additional artwork was created by the bad's Steve Peacock.
Anthronomicon and Helionomicon are available on CD, LP, cassette, and digital formats. Find physical orders at THIS LOCATION. Find digital orders for Anthronomicon HERE and Helionomicon HERE.
"There are certainly riffs aplenty in both albums, twisting and writhing like the surreal cosmic horrors the lyrics and artwork so viciously illustrate, which is really not a surprise if you've heard ULTHAR before. With these guys, you might not know what you're getting, but you know what you're getting…" — Decibel Magazine
"…a vast labyrinth of charred black metal atmosphere, twisted death metal riffage, dizzying time signatures, harrowing vocals, and unnerving synth work, cloaked in a conceptual shroud of unfathomable cosmic horror." – Bandcamp Daily
"Anthronomicon expertly layers chugging death metal riffs, propulsive thrash rhythms, black metal bile and undulating bass without straying too far in any one direction or giving listeners much of a break." – Invisible Oranges
"ULTHAR have achieved their most prolific output thus far in terms of creativity and balance on Helionomicon." – Dead Rhetoric
"ULTHAR have blown the doors off of the year with their two-album jab and cross and have put the metal scene on notice. They have long been an above average band with a unique set of skills, but what they have done here is something otherworldly." – Everything Is Noise
"…an overwhelming display of the band's unique ability to master two styles under one coherent vision…" – Sputnik Music
"ULTHAR make extreme music with immeasurable ingenuity." – Heavy Music HQ
"Each song is so different from one another and from death metal as a whole, that you never really know where it's going, but it always gets more exciting as the song progresses. This album is so exhilarating to listen to… Somehow, the geniuses behind ULTHAR continue to break new ground in death metal to keep it fresh, exciting and different… one of the best death metal albums of the past five years." – Hellbound
http://www.facebook.com/Ulthar
http://www.instagram.com/ulthar_oakland
http://ulthar666.bandcamp.com
http://www.20buckspin.com
http://www.facebook.com/20buckspin
http://twitter.com/20buckspinlabel
http://www.instagram.com/20buckspinlabel
http://listen.20buckspin.com