With the dust barely starting to settle following the release of their third LP, Untoward, Portland noiseshredders, RABBITS, are packing up their shit (album-related pun) as their brutalizing trek across the European continent in support of the record begins this Monday.
While some of the members' previous acts like The VSS and others have crossed the Atlantic in the past, this is the first time RABBITS will be crossing into any of these countries. With the final details of only a handful of shows still being locked down, the Noise Rock On Parade through Belgium, the United Kingdom, France, Spain, And Portugal will see the band less than covertly rampaging through the five countries from October 13th through November 2nd, with the kickoff show in Brussels as a part of Magasin 4's twentieth anniversary celebration. Several of the previously announced shows have been updated since earlier news blasts, and the newly released Iberian dates on the second half of the tour are sponsored and booked by Wombat. On this crushing crusade, the clique will be washing the European peoples in waves of their filthy aggro amplification and slaughterhouse riffage alongside with Norwegian Grammy-winning experimentalists, Ã…rabrot — whom RABBITS released a split 7″ with last year — currently promoting their new I Modi EP, and Norwegian rockers, MoE, who are touring on their new album, 3.
An appropriately gnarly poster by Portland artist Violet Aveline has been released for the upcoming venture; check it, as well as new live footage of RABBITS razing Portland-based anti-fest Festicide this Summer, the official video for "So Fake It's Real," constructed by Whitey McConnaughy (Red Fang, OFF!, ZZ Top) and more below.
A rad new gear feature on guitarist/vocalist Joshua Hughes' vomit-inducing guitar tone is up at PureGrainAudio HERE.
RABBITS's third full-length album, Untoward, was released in August through Lamb Unlimited, the label spawned of Chris Spencer of Unsane and Alan Schneider of No More Records, the album exhaustingly tracked live to tape at Type Foundry, Portland in one day and mixed in two. The engineering duties on Untoward were tag-teamed by Jeremy Romagna (Trees, Tecumseh, Wives) and Fester (Nux Vomica, Usnea, Stoneburner), both of whom have recorded the majority of the band's previous material, the tracks mastered by Ryan Foster at Foster Mastering, and the cover artwork hand-sewn by Anne Mersereau. Through RABBITS's already unwelcoming tsunami of blaring amplification and sarcastic, parasitic methodology, the outsider trio unloads nearly a half-hour of their most centered but dynamic aggravation yet on Untoward.
Stream all of Untoward and place orders for the digital and 150-gram LP cut at 45 RPM guaranteed to rip your face off RIGHT HERE.
RABBITS Noise Rock On Parade European Tour w/ Ã…rabrot, MoE:
10/13/2014 Magasin 4 – Brussels, BE w/ El Yunque [no MoE] [info]
10/14/2014 Maguires Pizza Bar – Liverpool, UK
10/15/2014 Star & Garter – Manchester, UK w/ Bastard Of The Skies [no MoE] [info]
10/16/2014 13th Note – Glasgow, UK w/ Clocked Out, Holy Motors [no MoE]
10/17/2014 The Windmill – London, UK w/ Meadows, Ghold [info]
10/18/2014 Green Room Store – Brighton, UK [no MoE]
10/19/2014 The Pits – Kortrijk, BE [info]
10/20/2014 La Zone – Liège, BE w/ Minot [info]
10/21/2014 Terminus – Rennes, FR [info]
10/22/2014 Le Parvis De Bagnolet – Paris, FR w/ Missfist [info]
10/23/2014 Mogambo – Pasaia, ES
10/24/2014 Sentinel Rock Club – Erandio, ES
10/25/2014 TBA – EH/Berriz, ES
10/26/2014 Antiguos Almacenes de La Mina – La Gándara, ES
10/27/2014 A Reserva – Carballo, ES
10/28/2014 Stairway Club – Cascais, PT
10/29/2014 TBA – Madrid/Salamanca, ES
10/30/2014 Ibu Hots – Gasteiz, ES
10/31/2014 TBA – Madrid/Zaragoza, ES
11/01/2014 Orbeko Etxea – Laudio, ES
11/02/2014 Ceferino – Barcelona, ES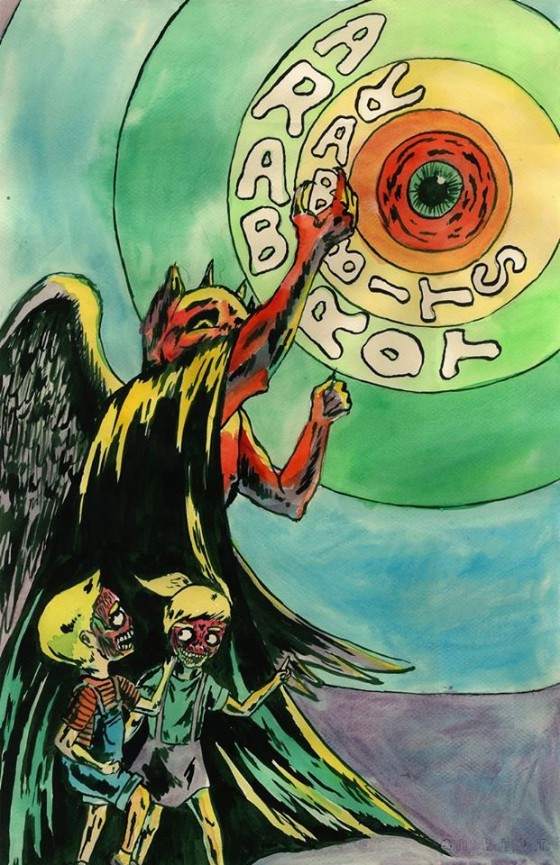 http://rabbitusmaximus.com
https://www.facebook.com/RabbitusMaximus
http://rabbitusmaximus.bandcamp.com
http://lambunlimited.com
https://www.facebook.com/LambUnlimited