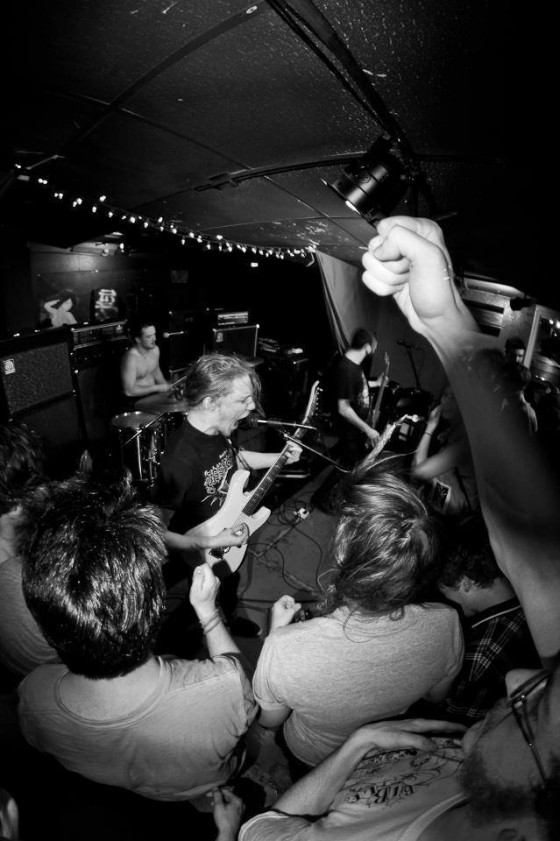 Resting for brief intervals in between attacks, Nashville's wicked trio, YAUTJA, has been touring steadily for nearly the past year in support of their debut LP, Songs Of Descent, released in February of this year via Forcefield Records.
Following YAUTJA's most recent Eastern US trek this Summer to Southern Darkness Fest and beyond, this week the band takes back to the streets on another brutal haul. The mayhem begins tomorrow, Friday, October 10th, in the band's hometown, then crushes straight up through the Midwest, into Canada for three nights, then back into the US and down the East Coast over the next three weeks. With seventeen gigs confirmed at press time, more shows are being confirmed and will be leaked over the coming days. Additionally, YAUTJA has been confirmed to play at the second day of Suckfest in Greensboro, North Carolina on November 8th, joining Cop Problem, Distrust, Empire, Priapus, Born Hollow, Holder's Scar and more that evening.
YAUTJA Fall Tour Dates:
10/10/2014 The East Room – Nashville, TN w/ Jail Solidarity, Watcher
10/11/2014 The Lost Cross House – Carbondale, IL
10/12/2014 The Fremont – Des Moines, IA
10/13/2014 Hexagon Bar – Minneapolis, MN
10/14/2014 Quarters Rock 'n Roll Palace – Milwaukee, MN w/ No Brainer
10/15/2014 The Funk – Chicago, IL
10/16/2014 Jumbo's – Detroit, MI w/Cloud Rat
10/17/2014 Doors Pub – Hamilton, ON w/ Greber
10/18/2014 TBA – St. Catherines, ON
10/19/2014 Soybomb Hq – Toronto, ON w/ Greber
10/20/2014 Barfly – Montreal, QC
10/21/2014 Distant Castle – Worcester, MA
10/22/2014 O'Brien's Pub – Boston, MA
10/23/2014 Panty Haus – New Haven, CT
10/24/2014 Millcreek Tavern – Philadelphia, PA
10/26/2014 TBA house show – Washington, DC
10/27/2014 Skanktuary – Asheville, NC
11/08/2014 Suckfest – Greensboro, NC [info]
YAUTJA's output is nothing short of debilitating, as captured on their debut LP, Songs Of Descent. Released in February via Forcefield Records, the album delivers nearly forty minutes of the band's churning, gnarled and organic blend of grind/hardcore. Songs Of Descent was recorded at Dark Art Studios with Mikey Allred (Inter Arma, Across Tundras, Hellbender) and released LP and digital formats, the digital version mastered by Mikey Allred and the vinyl mastered by Zack Allen of Obsidian Eye Studios (Loss, Recluse, Sky Burial). Stream and purchase the album RIGHT HERE.
http://yautja.bandcamp.com
https://www.facebook.com/YautjaTN
http://www.forcefieldrecords.org
https://www.facebook.com/ForcefieldRecords