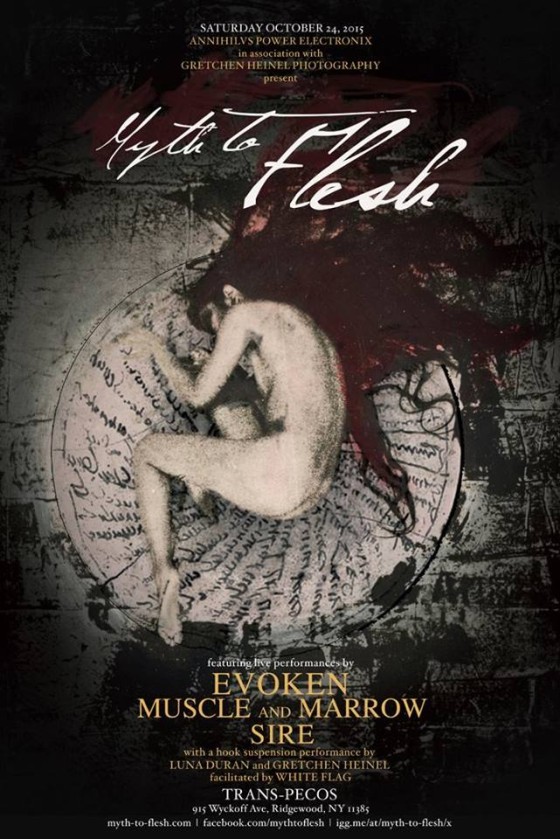 This October, a special event dubbed MYTH TO FLESH will take place in Queens, New York, bringing together underground photography installations, extreme music, hook suspension and more under one roof.
MYTH TO FLESH is a collaborative photographic journey exploring sacred pain, undertaken by performance artist Luna Duran and photographer Gretchen Heinel and presented by Annihilvs Power Electronix. At the October 24th unveiling of the project, Gretchen Heinel's intensive photographic series, Lilith: From Myth To Flesh, featuring Luna Duran as Lilith, will be on display. Additionally, live sets from Evoken, Muscle And Marrow and Sire are confirmed, which will take place with a simultaneous hook suspension performance by Duran and Heinel and facilitated by White Flag, with DJ sets by Derek Rush filling in between sets.
The story behind MYTH TO FLESH including a video trailer is available with advance tickets and perks for a limited time at THIS LOCATION.
MYTH TO FLESH:
10/24/2015 Trans-Pecos – Queens, NY [info]
w/ Evoken, Muscle And Marrow, Sire
DJ sets by Derek Rush
Photography/hook suspension by Luna Duran and Gretchen Heinel
http://www.myth-to-flesh.com
http://www.facebook.com/mythtoflesh
http://www.gretchenheinel.com
http://www.lunaduran.com
http://www.whiteflagsuspension.com