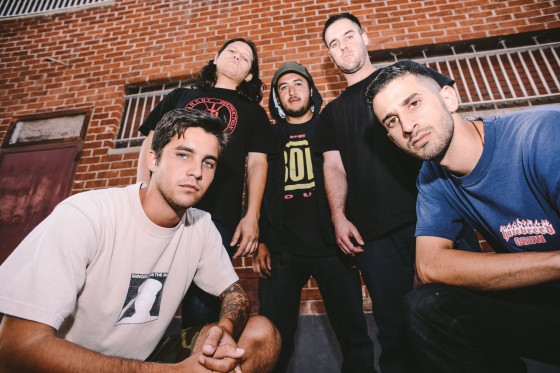 [photo by Kiabad Meza]
Vanished Crusade, the debut full-length album from FORCED ORDER, is now playing in its torrential entirety through an early stream at Decibel Magazine, a week-and-a-half ahead of its street date through Revelation Records next Friday, August 7th.
Churning with a 1990s grip on brutal metallic hardcore, FORCED ORDER's scorching divebomb leads heavy-chugging hooks and breakdowns form a lethal alloy romanticizing the works of Cleveland-heroes Integrity, Ringworm and In Cold Blood and the works of kingpins Cold As Life, Merauder, early Hatebreed and the like. While the members of the band also individually hail from Twitching Tongues, Disgrace, Soul Search, and others, with FORCED ORDER their bleak views of the planet are delivered with a different, primal sense of impenetrable conviction. Jaw-clenching angst fuels every minute of the band's debut LP, Vanished Crusade, with fourteen tracks packed full of infectious, punishing grooves enveloped in a haunting, ill-omened aura, produced by Taylor Young at The Pit (Nails, Xibalba, Twitching Tongues). Vanished Crusade is now playing in full courtesy of an early album stream at Decibel Magazine.
Furiously unload FORCED ORDER's Vanished Crusade through Decibel now at THIS LOCATION.
Revelation Records will issue Vanished Crusade on CD and digital platforms on August 7th, with the vinyl version to follow in the Fall. Preorders for all physical formats– with 500 copies of the LP on Coke Bottle Clear and 1200 on Clear Gold – including merch bundles, are now available through RevHQ RIGHT HERE.
Having just taken part in This Is Hardcore in Philadelphia, on August 1st, FORCED ORDER will cross back to the East Coast with shows in Arizona, Oklahoma and Virginia between August 1st and 5th on their way to the start of The Life & Death Tour. Featuring headliners Bane and Turnstile, FORCED ORDER will join Backtrack, Mizery and Heavy Chains for the entire twenty-six city tour of North America, with regional sets from Power Trip, Death Threat, Bitter End and Crown Of Thornz on select dates. The tour starts in Rochester, New York on August 6th and ends in Amityville, New York on August 31st.
FORCED ORDER Tour Dates:
8/01/2015 The Nile Theatre – Mesa, AZ
8/03/2015 Boulevard Trash – Tulsa, OK
8/05/2015 Strange Matter – Richmond, VA
FORCED ORDER on The Life & Death Tour 2015 w/ Bane, Turnstile, Backtrack, Mizery, Heavy Chains:
8/06/2015 The Harmony House – Rochester, NY
8/07/2015 The Waterfront Tavern – Holyoke, MA w/ Death Threat
8/08/2015 Gamechanger World – Howell, NJ
8/09/2015 Baltimore Soundstage – Baltimore, MD
8/10/2015 Greene St – Greensboro, NC
8/11/2015 The Orpheum – Tampa, FL
8/12/2015 Underbelly – Jacksonville, FL
8/13/2015 The Drunken Unicorn – Atlanta, GA
8/14/2015 Walter's – Houston, TX w/ Crown Of Thornz
8/15/2015 Sons of Herman Hall – Dallas, TX w/ Crown Of Thornz
8/16/2015 The Korova – San Antonio, TX w/ Crown Of Thornz
8/17/2015 Club Red – Phoenix, AZ
8/18/2015 Epicenter – San Diego, CA
8/19/2015 Chain Reaction – Anaheim, CA
8/20/2015 Jewel's Catch One – Los Angeles, CA
8/21/2015 Oakland Metro – Oakland, CA
8/22/2015 Jub Jub's – Reno, NV
8/23/2015 Club Sound – Salt Lake City, UT
8/24/2015 Marquis Theater – Denver, CO w/ Power Trip
8/25/2015 Aftershock Bar and Grill – Merriam, KS w/ Power Trip
8/26/2015 Bottom Lounge – Chicago, IL w/ Power Trip, Bitter End
8/27/2015 Legends – Cincinnati, OH w/ Power Trip, Bitter End
8/28/2015 Majestic Cafe – Detroit, MI w/ Power Trip, Bitter End
8/29/2015 The Rockpile – Toronto, ON w/ Power Trip, Bitter End
8/30/2015 Les Foufounes Electriques – Montreal, QC w/ Power Trip
8/31/2015 Revolution – Amityville, NY
*Mizery on dates 8/06-8/25 only
http://www.forcedorder.bandcamp.com
http://www.revelationrecords.com
http://www.revhq.com
http://www.facebook.com/revelationrecords
http://www.twitter.com/revelationrecs
http://www.youtube.com/user/REVELATIONRECORDS