"What we learn about history is only the recorded account, but the truth is eventually unearthed through the passing of centuries…"
Tenebrosum is the forthcoming new full-length from Garden State folkloric black metal alchemists, WINDFAERER. Named after the archaic term for the Atlantic Ocean ("Mare Tenebrosum"), meaning "sea of darkness," with Tenebrosum WINDFAERER casts off the edge of black metal and takes the listener on a spiritual journey of discovery, embarking into unknown, treacherous seas.
The followup to 2012's critically-adored Solar EP, which Stereokiller dubbed, "absolutely spectacular," and The Metal Crypt wondered, "How a band with this much talent and ability remains unsigned is a mystery to me…," is adorned in commanding violins immersed in a tidal wave of dynamic metal riffing. The sounds on Tenebrosum can be used as a soundtrack to venerate Gaia or as a rousing heavy metal battle cry. Tracked at Frightbox Recording throughout 2014 and mixed and mastered by Rob Torres, with their latest manifestation, WINDFAERER have truly forged "a monument to the iron within our veins."
In advance of its official release this Fall, today the New Jersey natives, in cooperation with the pavement-rumblers at Heavy Blog Is Heavy, are very pleased to unveil the official new lyric video for second movement, "Finisterra."
Elaborates the band of the dramatic track, "The lyrics to 'Finisterra' are about discovery and seclusion. What we learn about history is only the recorded account, but the truth is eventually unearthed through the passing of centuries. The lyrics are inspired by legends of medieval Basque fishermen who sailed across the Atlantic Ocean to North America, always returning with cod and never revealing the secret origin of their bounty."
Adds Heavy Blog Is Heavy, "The track starts off at a brooding crawl, allowing the listener to soak in the song's lush sound and ambiance, then quickly speeds up into a powerful and soaring ride through a melodic odyssey. The band's unique approach to blackened doom, allowing the listener to soak in the atmospheric side instead of bludgeoning them with riffs on riffs on riffs, works wonders to instantly set this band apart from their peers. The drums crash rhythmically like waves pummeling a cliff, and the vocals are deep, drawn-out, and gloomy. The guitars work wonders in both their melodic riffing and atmospheric tremolos, creating a duality wherein both sides of this dichotomy strengthen each other instead of tearing the music into two incongruous sections at the seams.
Witness "Finisterra," courtesy of Heavy Blog Is Heavy, at THIS LOCATION.

And if you missed it, sample "Celestial Supremacy," still streaming at No Clean Singing, at THIS LOCATION.
A portmanteau meaning, "one who travels with the wind," like a vessel lost at sea, the name WINDFAERER sets a melancholic atmosphere of longing for a return to a homeland, yet with hopeful eyes set toward the unknown. It is the animus of guitarist and frontman, M. Gonçalves as an epic black metal paean to his ancestral homeland of the Iberian Peninsula (Spain and Portugal). The band debuted their well-received demo, Glorybound, in 2009. According to Nocturnal Cult, "the carefree and laid-back rural countryside of hilly and forested European landscapes finds new life and breathes once again within the structure of WINDFAERER's songs." The demo set the pathway for their first full length, Tribus (2010), and hefty critically-acclaimed EP, Solar (2012), in which they artfully combined epic folk with the allure of Gothenburg-style death metal and the grit of Scandinavian black metal.
WINDFAERER continues to levy their sonic savagery upon East Coast stages, with their latest ceremony to take place at the Pocono Folk Metal Fest in Stroudsburg, Pennsylvania next month. Additional live actions to be announced in the coming weeks.
WINDFAERER:
8/01/2015 Pocono Folk Metal Fest – Stroudsburg, PA
Tenebrosum will be released independently on September 22nd, 2015. Preorders are currently available at THIS LOCATION.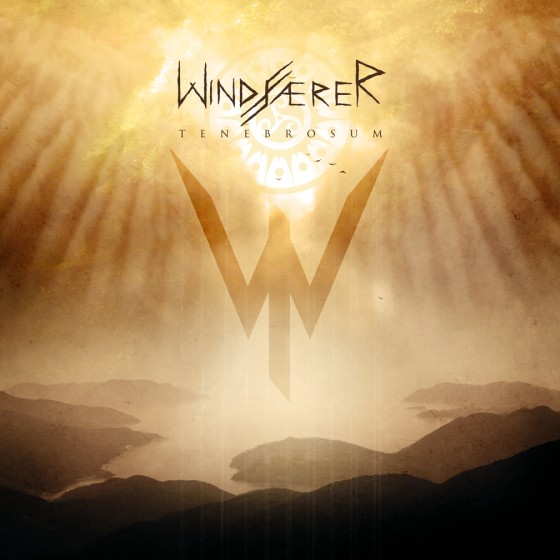 http://www.facebook.com/windfaerer
http://www.windfaerer.bandcamp.com/album/tenebrosum