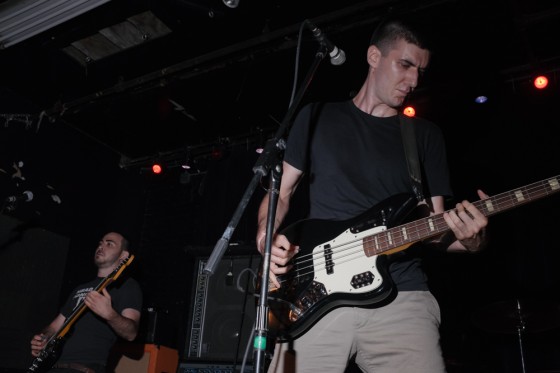 Pitchfork has leaked the first public track from NYC-based duo PSALM ZERO, the project aligning Andrew Hock, of Castevet, and Charlie Looker, of recently-disbanded Extra Life.
Pulsing with a vibrant blend of genres and style into a mesmerizing style of their own, the A-side and title track of the act's debut 7″, "Force My Hand" seems to build with underlying tension, at first resonating with a tranquil albeit creepy flow which slowly and steadily uncoils, the song growing more haunting and portentous when the crescendo comes. Alongside the entrancing tune, Pitchfork states, "Looker's metallic bass tone is well-suited towards this music, but it usually hangs back and lets Hock's hypnotic guitar work and the duo's interweaving vocals shine through. Hock also lets some of Castevet's knotty nature creep into the second the half of the song."
Force My Hand will see release on Looker's own Last Things Records on November 19th; preorders have gone live in conjunction with the track premiere today and are available HERE. While the duo have confirmed that they'll be releasing an LP with eclectic metal label Profound Lore in the Spring, the tracks on the 7″ will be exclusive to this release.
Catch PSALM ZERO perpetrating their craft live at a record release show in Brooklyn on November 22nd joining the eclectic sets of Kayo Dot and Vaura, followed by a gig in Queens on December 5th supporting avant-noise technicians, Gnaw.
PSALM ZERO Live:
11/22/2013 285 Kent – Brooklyn, NY – 7″ record release show w/ Kayo Dot, Vaura
12/05/2013 Trans Pecos – Queens, NY w/ Gnaw
From within a wall of drum machines, programming and synth gear and electronics, Looker (bass) and Hock (guitars) both contribute equally to the vocal delivery of PSALM ZERO's musical vision, unifying the industrial coldness of Godflesh and Big Black, the dissonant guitar atmospheres and tortured screams of experimental black metal, and the dark, melodic song-craft of Dead Can Dance and the Cure seemingly as one. Hock's guttural, barked vocals and Looker's clean singing play equally important leading roles. The Force My Hand single's B-side features a cover of "Willpower", the brutal 1994 classic by noise-rock/metal titans Today is the Day. PSALM ZERO completely re-envisions and performs the song as an experimental neo-folk dirge, with delicate acoustic guitars, orchestral percussion, synth drones, and Medieval vocal harmonies.
http://www.facebook/psalmzeronyc
https://twitter.com/PsalmZeroNYC
http://lastthingsrecords.bandcamp.com
http://soundcloud.com/lastthingsrecords