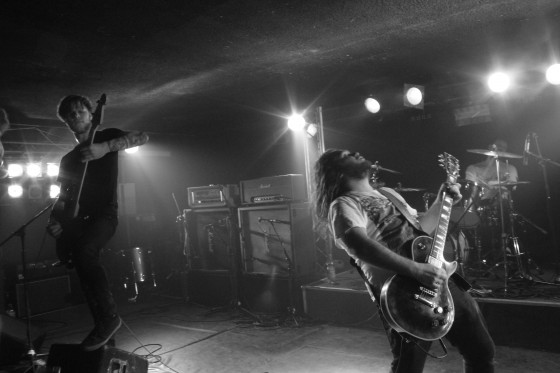 Abominor, the conquering, sophomore full-length album from Danish crew, RISING, is today officially available through the band's own newly-formed label, Indisciplinarian.
Bursting with just under forty minutes of jacked-up metallic thunder, Abominor presents a more aggressive and gritty side to the RISING sound while remaining true to the heavy, melodic tendencies that have been trademarks of the band since inception. Dynamic elements of contemporary stoner/sludge kingpins like Torche and Mastodon go head-to-head with infectious old-school riffery surging with ominous, Lovecraftian low-end thunder and incredibly infectious hooks, like Thin Lizzy covering Master Of Puppets, all with a black-blooded back-alley punk/crust vibe infiltrating the mix. To give the humans fair warning of Abominor's unveiling today, the Taskmaster over at The Obelisk has racked up a stream of the entire LP alongside some exclusive commentary from the band on the new label venture and current state of the band.
Go unload all of Abominor at The Obelisk now AT THIS LOCATION.
In addition to the download delivery via all major digital retailers and the band directly, Indisciplinarian has also constructed a quality vinyl pressing, the LP constructed out of 180-gram black vinyl with a heavy inner sleeve and limited to three hundred copies worldwide. Pick it up direct from the RISING camp RIGHT HERE or North American fans can place orders via the sole stateside outlet to carry the wax at Earsplit Distro HERE.
http://www.facebook.com/risingdk
http://www.indisciplinarian.com
http://www.facebook.com/indisciplinarian
http://www.indisciplinarian.bandcamp.com
http://www.earsplitdistro.com