"Hell is here, right now." – PRIMITIVE MAN
PRIMITIVE MAN
today unveils their long-awaited
Immersion
full-length. Out now on Relapse, the record is at once extreme, terrifying, and confrontational. Stream it in its entirety at
THIS LOCATION
.
In conjunction with the release of the record, the band has unveiled a video for "Consumption," now playing at Decibel Magazine. Issues the magazine in part, "Immersion… is the album 2020 deserves. A six-song, thirty-five-minute descent into Hell, Immersion stares down the state of current world affairs: distrust among people, existential crises, and the race for mutually-assured destruction… By the time album closer 'Consumption' fades out, PRIMITIVE MAN has assailed the listener with so much anger, depression, tension, misery and pure, grating noise that there isn't much left in the tank…"
Read more and view "Consumption," now playing at Decibel Magazine, at THIS LOCATION.
View PRIMITIVE MAN's previous videos for "Menacing" HERE, "Entity" HERE, and "The Lifer" HERE.
Immersion is available on CD, LP, cassette, and digital formats. Physical orders are available HERE. For digital downloads and streaming services go HERE.
True to the trio's ethos, every moment of PRIMITIVE MAN's Immersion is overwhelming; from the sonic pummeling of the album opener "The Lifer" to the brooding, unnerving guitars whirring throughout "Entity," Immersion builds and builds. The tension throughout the record is palpable. Hair raising tracks such as "Menacing" push and pull constantly, shifting from passages of harsh doom to an endless corridor of horrid screaming, blast beats, and a formidable low end.
Adding to the album's darkness, a pervasive lyrical anxiety erodes throughout the record. A stark look at a mirror, Immersion's themes tackle sobering views on existential crises, a general distrust among another, and the current state of the world. McCarthy elaborates, "souring your view on your existence and everything you had worked towards… allowing yourself become possessed by the darkest parts of your mind that you have carried around your entire life and not dealt with." Fitting to these dark times, Immersion is an introspective look into ruin and undoing. As McCarthy explains, Immersion dives into the point of no return. "Now you're a grown man and you're fucked."
"There is no band heavier than doom torturers PRIMITIVE MAN in the simpler sense of ear-piercing tones and gigantic, subwoofer-toasting riffs, and there is also no band heavier in reflecting ugly realities." – Spin (50 Best Rock Bands Right Now #15)
"Immersion is an album perfectly suited to our uncertain, volatile moment – a soundtrack not to your escape… but to dissonant subversion and transformational confrontation." – Decibel
"A doomy, industrialized trudge through the depths of human despair, nihilistic, noisy and gnarled." – Revolver
"A dense, unrelenting mix of suffocating industrial textures and cranium-crushing doom riffage." – The Pit
"The album feels like being grinded between two millstones. Five songs full of merciless nihilistic death-sludge in nerve-wrecking slow motion and with ultra-low roars. An extraordinarily mean record." – Visions Magazine
"Their third record reaffirms and cements PRIMITIVE MAN as one of the best doom bands on the planet." – Echoes And Dust
"Immersion is heavy in almost every conceivable sense of the word. It's the creative result of hatred and disgust and malice, of embracing the downfall of human civilization with a bitter sneer and a complete lack of remorse. It's the sonic equivalent of a black hole – dark, violent, unfathomably dense – rapaciously devouring all light and matter, ripping apart the very fabric of spacetime." – Exclaim
"…it's abrasive but also tasteful and artistic. It's supremely heavy music that goes beyond pure heaviness. The attention to detail is staggering." — BrooklynVegan
"…this album once again proves that this band represents the end of doom metal's arms race of flattening riffs and unholy sentiments." – Riff Magazine
"Haunting, beautiful, vile, and utterly addictive, it demands to be explored." – V13
"…the heaviest metal band going." – Astral Noize UK
"Through peddling a brand of sound that is on its face intentionally repulsive, abrasive, and unrelentingly punishing, PRIMITIVE MAN have constructed a work of musical extremity that not only serves as a fiery soundtrack to the utter human disaster that is 2020, but speaks boldly to the broader historical failures of our species as a whole." – Heavy Blog Is Heavy
"At 35 minutes, Immersion is about half as long as the band's last album, Caustic, but twice as purposeful. It's humanity unfurled, a premature autopsy on the voids that consume us on all levels, splayed out via standard Y-incision. The scariest part? The voids are simple reflections, our own self-made reckoning as a species – PRIMITIVE MAN only provide the mirror." – Everything Is Noise
"Led as always by one of the most tormented vocal performances in the game, I can think of few more appropriate albums to drop at this present moment than Immersion. PRIMITIVE MAN have once more perfectly captured all of the darkest facets of human existence and laid them bare for all to see." – Metal Trenches
"…an album that is both frightening and accessible…" – Heavy Music Headquarters
PRIMITIVE MAN:
Ethan Lee McCarthy – guitars, vocals
Jonathan Campos – bass
Joe Linden – drums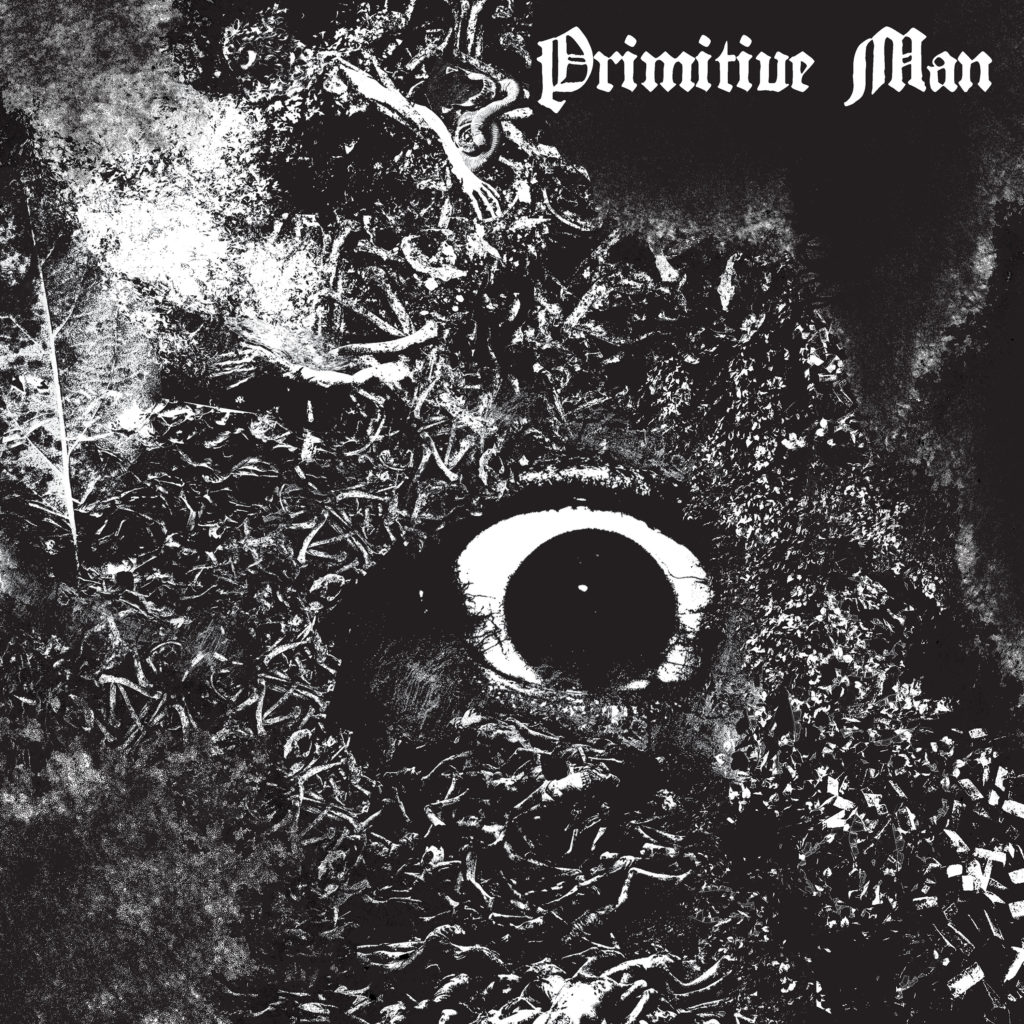 http://www.primitivemandoom.com/
http://www.facebook.com/primitivemandoom/
http://www.instagram.com/primitivemandoom/
http://twitter.com/PRIMITIVEMANE
http://primitivemandoom.bandcamp.com/
http://www.relapse.com
http://www.facebook.com/RelapseRecords
http://www.twitter.com/RelapseRecords
http://www.instagram.com/relapserecords