photo by Gianluca Grasselli
ANNA VON HAUSSWOLFF shares the title track from her forthcoming new album, All Thoughts Fly, set for release through Southern Lord in late September. Here, in solo instrumental mode, the entire record consists of just one instrument – the pipe organ – and represents absolute liberation of the imagination.
Offering further insight into the title track the artist writes, "I wanted to play with dissonance and polyrhythms to create a harmonic landscape that is constantly changing and expanding into something else. Everything you hear in this track, every little overtone and all ambience is entirely made through the organ. We used EQ but that's it. The overall idea was to create an illusion of flying thoughts, intertwining and entangling into each other. Different words and worlds happening at the same time, affecting each other and changing each other's directions and courses."
Listen to ANNA VON HAUSSWOLFF's "All Thoughts Fly" RIGHT HERE.
Southern Lord will release All Thoughts Fly on LP, CD, and digital formats on September 25th. Following a sell-out of the initial run of colored vinyl exclusively via Bandcamp last Friday, preorders are available from today via the Southern Lord US shop (black vinyl and CD) HERE, the European shop (color vinyl only) HERE, and digital, CD, and black vinyl LP preorders are now available via Bandcamp HERE. Also preorder digitally via Spotify and iTunes.
All Thoughts Fly radiates a melancholic beauty and is distinguished by fluid transitions of contrasting elements; calmness and drama, harmony, and dissonance, much like Sacro Bosco ("Sacred Grove"), the place that inspires the music.
Sacro Bosco is a garden, based in the center of Italy, containing grotesque mythological sculptures and buildings overgrown with vegetation, situated in a wooded valley beneath the castle of Orsini. Created during the 16th Century, Sacro Bosco was commissioned by Pier Francesco Orsini, some say to try and cope with his grief following the death of his wife Guilia Farnese, others speculate the purpose was to create art.
About the album Anna explains, "There's a sadness and wilderness that inspired me to write this album, also a timelessness. I believe that this park has survived not only due to its beauty but also because of the iconography, it has been liberated from predictable ideas and ideals. The people who built this park truly set their minds and imagination free. All Thoughts Fly is a homage to this creation, and an effort to articulate the atmosphere and the feelings that this place evokes inside of me. It's a very personal interpretation of a place that I lack the words to describe. I'd like to believe Orsini built this monumental park out of grief for his dead wife, and in my Sacro Bosco I used this story as a core for my own inspiration: love as a foundation for creation."
Revisit the accompanying video for the first single "Sacro Bosco" which is, just like the music, an interpretation of the park with an imaginary twist. Directed by Gustaf and Ludvig Holtenäs, the video is playing HERE.
Anna summarizes, "Sacro Bosco in Bomarzo is a creation carved out from one man's head. A frozen thought lasting throughout time and touching people across generations. All Thoughts Fly, Ogni Pensiero Vola, is about this: the importance of sharing for surviving, creating space and evolving. Once you've shared your words, they are not only yours anymore."
All Thoughts Fly ultimately embodies the exploration of any and all possibilities, and the audience is invited to listen, liberate the mind and let it wander.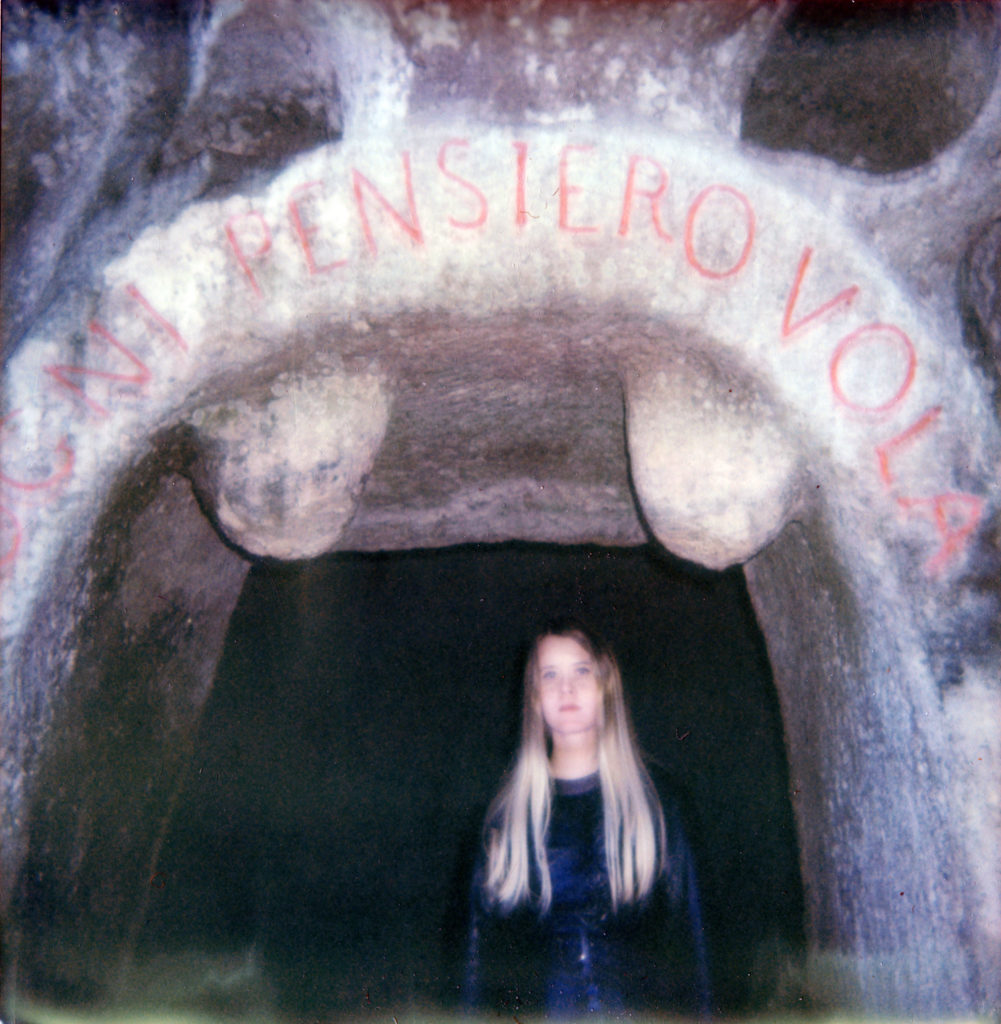 "All Thoughts Fly" single art
All Thoughts Fly LP art
https://www.facebook.com/annavonhausswolff
https://twitter.com/avonhausswolff
https://annavonhausswolffmusic.bandcamp.com
http://www.southernlord.com
http://southernlord.bandcamp.com
http://twitter.com/twatterlord
https://www.facebook.com/SLadmin