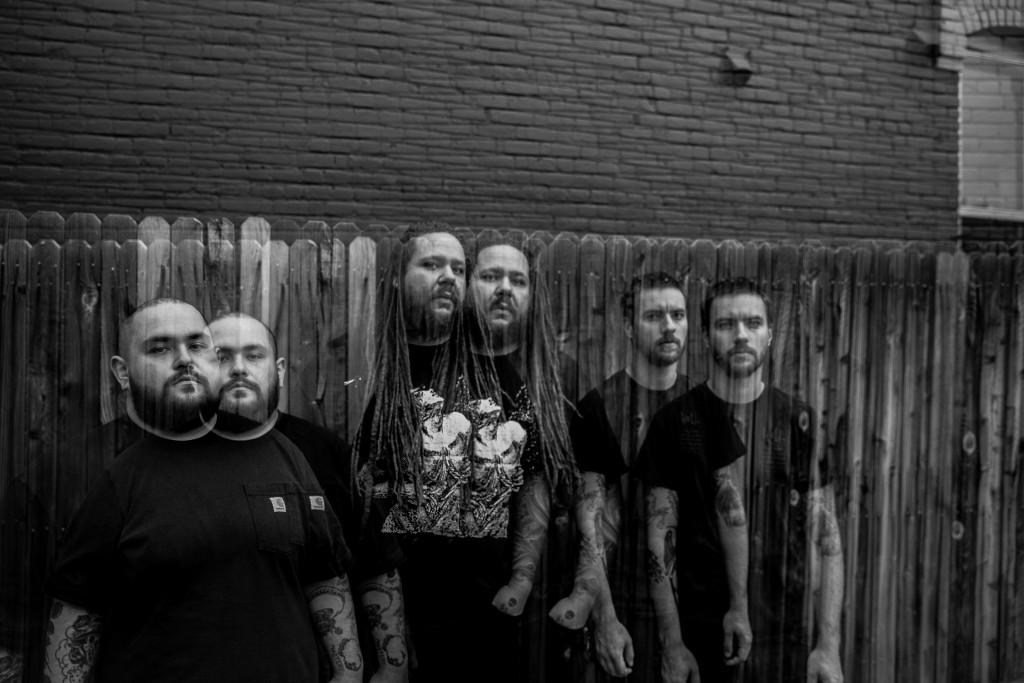 Denver's favorite doom practitioners PRIMITIVE MAN will kick off a North American headlining tour this weekend. The journey, which runs from May 19th in Fort Collins, Colorado through June 19th in Oklahoma City, Oklahoma, includes appearances at Northwest Terror Fest and Austin Terror Fest. Direct support will be provided by Infernal Coil, Celeste, Wayfarer, and Forn on select dates. See all confirmed performances below.
The road warriors in PRIMITIVE MAN continue to tour in support of their nihilistic Caustic full-length issued via Relapse Records. Captured at Flatline Audio by Dave Otero (Cobalt, Cephalic Carnage, Cattle Decapitation et al), the record delivers over seventy-five minutes of bloodcurdling howls, abysmal tones, and dense, unsettling feedback, spewing forth a cesspool of utter misery. With lyrical themes ranging from political corruption, personal struggle, and the crumbling social climate facing the world today, Caustic serves as a cataclysmic soundtrack for a world gone awry.
Watch PRIMITIVE MAN's previously released videos for "Victim," "Commerce," and "Sugar Hole" via YouTube HERE. Stream Caustic HERE.
Caustic is out now on CD, 2xLP, cassette, and digital formats via Relapse Records. Physical packages and digital orders are available via Relapse.com HERE and HERE.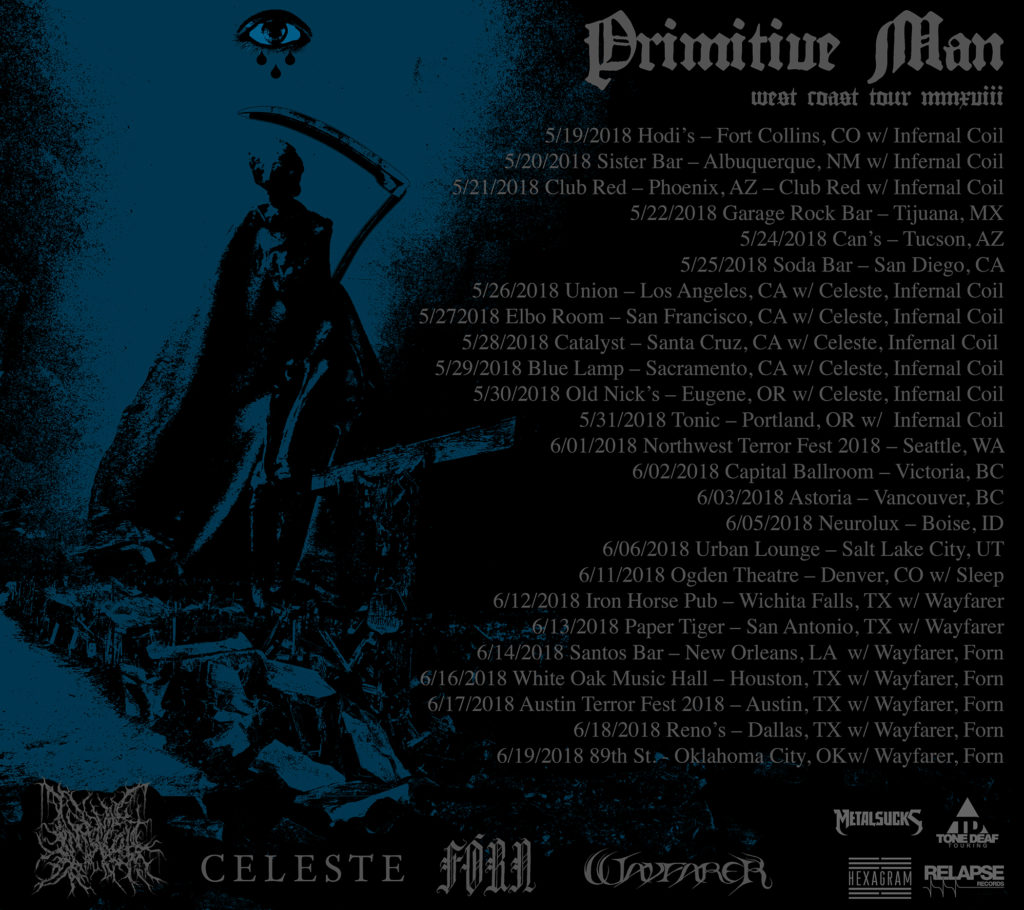 PRIMITIVE MAN:
5/19/2018 Hodi's – Fort Collins, CO w/ Infernal Coil
5/20/2018 Sister Bar – Albuquerque, NM w/ Infernal Coil
5/21/2018 Club Red – Phoenix, AZ – Club Red w/ Infernal Coil
5/22/2018 Garage Rock Bar – Tijuana, MX
5/24/2018 Can's – Tucson, AZ
5/25/2018 Soda Bar – San Diego, CA
5/26/2018 Union – Los Angeles, CA w/ Celeste, Infernal Coil
5/272018 Elbo Room – San Francisco, CA w/ Celeste, Infernal Coil
5/28/2018 Catalyst – Santa Cruz, CA w/ Celeste, Infernal Coil
5/29/2018 Blue Lamp – Sacramento, CA w/ Celeste, Infernal Coil
5/30/2018 Old Nick's – Eugene, OR w/ Celeste, Infernal Coil
5/31/2018 Tonic – Portland, OR w/ Infernal Coil
6/01/2018 Northwest Terror Fest 2018 – Seattle, WA
6/02/2018 Capital Ballroom – Victoria, BC
6/03/2018 Astoria – Vancouver, BC
6/05/2018 Neurolux – Boise, ID
6/06/2018 Urban Lounge – Salt Lake City, UT
6/11/2018 Ogden Theatre – Denver, CO w/ Sleep
6/12/2018 Iron Horse Pub – Wichita Falls, TX w/ Wayfarer
6/13/2018 Paper Tiger – San Antonio, TX w/ Wayfarer
6/14/2018 Santos Bar – New Orleans, LA w/ Wayfarer, Forn
6/16/2018 White Oak Music Hall – Houston, TX w/ Wayfarer, Forn
6/17/2018 Austin Terror Fest 2018 – Austin, TX w/ Wayfarer, Forn
6/18/2018 Reno's – Dallas, TX w/ Wayfarer, Forn
6/19/2018 89th St. – Oklahoma City, OK
6/29-30/2018 Electric Funeral Fest – Denver, CO
7/12/2018 Bluebird Theater – Denver, CO w/ Yob, Bell Witch
8/16/2018 Temple Of Ascension Vol. 1 – Edmonton, AB
8/17/2018 Psycho Las Vegas @ Hard rock Hotel And Casino – Las Vegas, NV
**PRIMITIVE MAN only
"…an over 75-minute-long, dense, disturbing soundtrack to horror. Manic blast beats and tremolo-picked minor chords melt into feedback-drenched waves of discomfort. The weight of the album is visceral, its misery and hopelessness made audible." – Noisey
"…filthy, ugly, brutish, and sounds like a long lifetime of hatred, pain, misery and destruction." – Metal Injection
"It's louder. It's heavier. It's noisier. Pure punishment. Musical masochism. Straight up no daylight chained to a cold, concrete, blood-stained floor…" – The Needle Drop
"…a double dose of their debut Scorn – McCarthy's tone is still that high-end Ballou-style (from Dave Otero) production that shows the frayed ends of sanity and his roar has never sounded deeper or angrier." – Decibel
"There is no other way to convey the realization of the vile nature of existence without tempos this slow, and of riffs so massively distorted, grotesque, and just fucking doused in nauseating hatred as these are…" – Cvlt Nation
"…some of the heaviest, grinding, industrial-charged sludge you're likely to suffer through." – Team Rock
"…an overwhelming masterwork of unbridled extremity." – The Obelisk
http://www.primitivemandoom.com
http://www.facebook.com/primitivemandoom
http://www.relapse.com
http://www.relapserecords.bandcamp.com
http://www.facebook.com/RelapseRecords
http://www.twitter.com/RelapseRecords