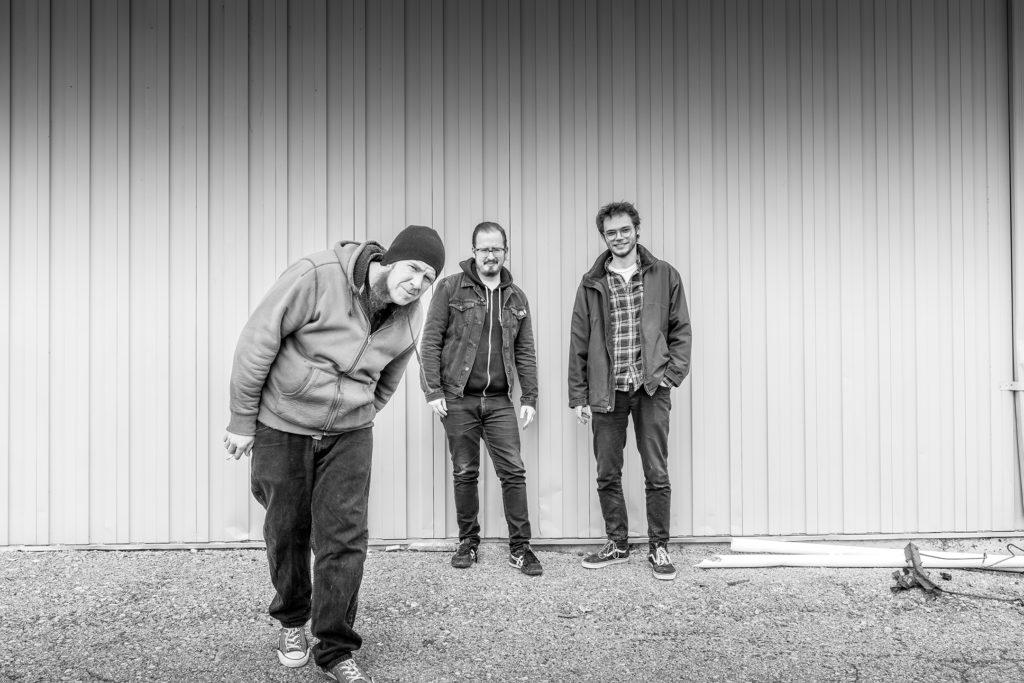 [photo by Tom L. Matthews]
Upstate New York punk/grunge trio SURMISER has issued a new single from their impending Hold The Static EP, as popular hardcore/punk webzine No Echo premieres the gnarled "ESF," alongside an interrogation with the band.
"'ESF', or Expensive Swedish Furnishings, is a song about being so fucking bored that you go crosseyed and into a hallucination daydream," offers SURMISER guitarist/vocalist Jay Andersen of the new single. "The being 'stuck in the couch again' part is a call to the cover of a Dinosaur Jr. record where it appears a couch is eating a human. It literally spawned from the most boring weekend in history, where I was seemingly unable to escape an overpriced IKEA you-build-it sofa. 'All my friends are in my head' is a play off of Nirvana's 'Lithium,' except I couldn't get ahold of any friends whereas Cobain found his…."
Stream SURMISER's "ESF" at No Echo RIGHT HERE.
Also see the band's "Trains" video HERE.
SURMISER is poised to forcibly eject Hold The Static on digital and CD on June 8th; find digital preorders HERE and watch for CD preorder shortly.
SURMISER will unleash tunes from Hold The Static at shows across New York surrounding the release, including a show this Friday, May 19th in New Paltz and a DIY record release show in Rosendale on June 9th, with more to be announced.
SURMISER Live:
5/19/2018 Bangkok Café – New Paltz, NY w/ Hairbag, Ramona Lane [info]
6/09/2018 The People's Cauldron – Rosendale, NY *release show w/ Hairbag, Mr. Blonde, more TBA
Hailing from the Woodstock/Saugerties region of New York, SURMISER formed in 2012 by Tom Matthews, Jay Andersen, and Jenn Russell. Following a lineup change, the first release with new drummer Lukas Lerner, SURMISER's Hold The Static sees the band embracing their '80s punk and '90s grunge roots. The band's intense fuzzed-out instrumentation, always paired with the right balance of verbed-out, in-your-face vocals, sees an occasional break of lush spatial effects, while the drums hammer down like thunder.
Influences from a wide array of punk, grunge, rock, metal, and alternative acts can be felt in SURMISER's cynical attack, with notes of TAD, Dinosaur Jr., Nirvana, the Melvins, Fugazi, Sonic Youth, and more forcing their way through on their no-holds-barred fourth release, Hold The Static. With four new songs littered with sarcasm, humor, uncloaked anger, and a complete unwillingness to compromise for the listener's comfort, Hold The Static was recorded by guitarist/vocalist Jay Andersen at his Bohemesphere Studio in Saugerties, and mastered by Oliver Ackermann at Death By Audio in Brooklyn, SURMISER wholeheartedly invites you to either get on board or step the fuck back.
https://surmiser.bandcamp.com/music
https://www.facebook.com/surmiserband