Texas powerhouse crossover outfit, POWER TRIP, has been confirmed to take part in one of the continent's best hardcore tours of the year this Fall.
Beginning October 4th, POWER TRIP will provide support for LA hardcore kingpins Terror on their massive North American headlining tour, the trek to forge a brutal clockwise path in North America all month. Throughout the trek additional acts including Fucked Up, Counterparts, Vehement Serenade and more will provide additional support, including Code Orange Kids on the majority of the dates.
In more immediate news, POWER TRIP is set to storm Baltimore on a one-off performance at the A389 Summer Extinction event TODAY, Friday, August 16th alongside Ringworm, Municipal Waste, Full Of Hell, Noisem and Impalers. And next month they'll join the melee when Harm's Way, Homewrecker and labelmates Dead In The Dirt come through their home turf.
POWER TRIP Tour Dates:
8/16/2013 The Ottobar – Baltimore, MD The A389 Summer Extinction w/ Impalers, Noisem, Full Of Hell, Power Trip, Municipal Waste, Ringworm
9/13/2013 Sons of Hermann Hall – Dallas, TX w/ Harm's Way, Dead in the Dirt, Homewrecker
10/03/2013 The Spot – El Paso, TX
w/ Terror, Fucked Up, Code Orange Kids:
10/04/2013 The Underground – Mesa, AZ [*no Fucked Up]
10/05/2013 Che Café – La Jolla, CA [*no Fucked Up]
10/06/2013 Echoplex – Los Angeles, CA
10/07/2013 Chain Reaction – Anaheim, CA
10/08/2013 Metro Operahouse – Oakland, CA
10/09/2013 Star Theater – Portland, OR
10/10/2013 El Corazon – Seattle, WA
10/11/2013 Rickshaw Theatre – Vancouver, BC
w/ Terror, Counterparts, Code Orange Kids:
10/12/2013 Dickens – Calgary, AB
10/13/2013 Pawnshop – Edmonton, AB
10/15/2013 The Exchange – Regina, SK
10/16/2013 Theater Café – Winnipeg, MB
10/17/2013 Black Pirates Pub – Thunder Bay, ON
10/18/2013 The Jubilee Center – Sudbury, ON
w/ Terror, Counterparts, Code Orange Kids, Vehement Serenade:
10/19/2013 Wrongbar – Toronto, ON
10/20/2013 Ritual – Ottawa, ON
10/21/2013 Tulipe – Montreal, QC
10/22/2013 Salle Kirouac – Quebec City, QC
10/23/2013 The Kave – Bucksport, ME
10/24/2013 The Studio at Webster Hall – New York, NY [*no Vehement Serenade]
10/25/2013 The Token – Detroit, MI
w/ Terror, Counterparts:
10/26/2013 The Hideout – Omaha, NE
10/27/2013 Black Sheep – Colorado Springs, CO
Surging with a modernized translation of the works of mandatory crossover pioneers Nuclear Assault, the Cro-Mags and Leeway, Manifest Decimation hurtles POWER TRIP's "steel, speed and destruction" ethos direct at the jugular with thirty-five minutes of crossover intensity that sounds like it was excavated from a 1987 time capsule with sixteen tons of radioactive dynamite. With nearly thirty-five minutes of thrashing violence, recorded by Arthur Rizk and Daniel Schmuck and produced, mixed, and mastered by Arthur Rizk at Solomon's Gate in Philadelphia, Manifest Decimation wages war on all in its earshot, much like the POWER TRIP name has become synonymous with in the wake of their rabid live shows.
"The thunderous clash of the drums kick in along with the choppy guitar work, it's execution catalyzing but not yet propelled, drawing to mind naval carriers, F-22's, and uneased military officials at the hilt, ready for blood… The riff finally kicks back in, rising in tension. An unfazed extraterrestrial force looks onward among the rubble of thousands of dead civilians. 10/10" – American Aftermath
"…by far the most intense batch of songs the band has written thus far… a massive beast of a record that takes no prisoners and will most definitely have you reaching for the repeat button upon it's end…" – Toxicbreed's Funhouse
"…great riffs, catchy shout-along choruses, legit "mosh parts," and brief ambient excursions that don't take away from the overall intensity." – Pitchfork
"Although much of this material is steeped in party thrash and hardcore conventions, the reverb adds some distance between the listener and the music, and the muddy production gives each song an evil vibe. The end result is a cavernous, menacing sound that's heavy on atmosphere but still aggressive." – Metal Injection
"The quintet's first LP brandishes muscle at the easiest provocation, bench-pressing power chords like rolls of paper towels and ripping T-shirts through sheer machismo." – The Austin Chronicle
"Manifest Decimation is a breath of fresh air in a genre that had been taken to a pretty logical extreme over twenty years ago." – Metal Assault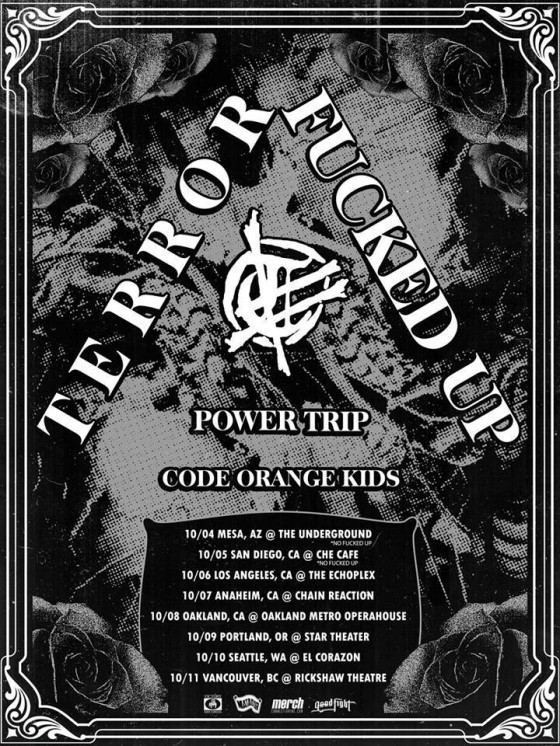 http://www.powertriptx.bandcamp.com
http://www.twitter.com/#!/PowerTripTX
http://www.southernlord.com
http://twitter.com/twatterlord
http://www.facebook.com/SLadmin