Michigan-based crossover death thrashers PLAGUE YEARS today unveil their official new video for "Incantation." Now playing at Revolver, the track comes by way of the band's punishing Circle Of Darkness full-length now set for release on September 18th via Entertainment One ("eOne").
Comments guitarist Eric Lauder of the track, "This song is about resurrecting the dead that were condemned by god. Corpses become masters of chaos, rising to become a part of hell's army to destroy their land and all things divine. This is one of the hardest and most aggressive songs on the record, relentless with its speed in the beginning and crushing heaviness at the end."
Revolver hails a "death thrash rager," adding, "PLAGUE YEARS channel early Sepultura on new ripper 'Incantation.'"
View PLAGUE YEARS' "Incantation" video at Revolver Magazine HERE.
Find the band's previously released video for "Play The Victim" HERE.
Circle Of Darkness will be released on CD, digital, and vinyl formats. For preordering options to go THIS LOCATION.
Like an icepick to the face, PLAGUE YEARS arrives with an electric surge of sudden pain. An unrelenting end of the world assault of the cataclysmic convergence of thrash and hardcore, with bits of blackened death and midtempo madness to spare, the Detroit master blasters are here to crash the crossover party. Summoning the primitive spirit of the singular moment when the heaviest of metal first smashed into a circle pit, PLAGUE YEARS reignites the flame with sharp fury.
Mining the subterranean depths once unearthed on classic Sepultura albums like Beneath The Remains and Arise, with the vicious bite of Germanic slabs like In The Sign Of Evil by Sodom and the Hall of Fame '80s output of Slayer, the devilish and down-tuned death worship within PLAGUE YEARS serves as a demonic calling card for the foursome; a brutal counterbalance to their otherwise likeminded thrash revivalists. On Circle Of Darkness, the band's full-length debut, PLAGUE YEARS reunites with engineer Arthur Rizk, whose work with Power Trip, Tomb Mold, Candy, and Cavalera Conspiracy has propelled him to the front of the horde amidst the resurgence of crossover thrash.
PLAGUE YEARS pays homage to Detroit forebearers Negative Approach and modern contemporaries Hellmouth in equal measure, while infusing the proceedings with a brutal spin of their own design. In terms of lyrical aggression, songs like "Play The Victim" and "Paradox Of Death" blend traditional death metal blood-and-gore fantasy with the unrestrained bravado of Detroit's grittier contributions to rap, like LOM Rambo and Motown upstart Icewear Vezzo.
Circle Of Darkness Track Listing:
1. Play The Victim
2. Witness Hell
3. Paradox Of Death
4. Eternal Fire
5. Circle Of Darkness
6. Evil One
7. Incantation
8. Nrftl
9. World In Blood
10. Urge To Kill
PLAGUE YEARS:
Tim Engelhardt – vocals
Eric Lauder – guitar
Rian Staber – bass
Mike Jurysta – drums
"…PLAGUE YEARS turn chugging into an art form, making simple stomps feel like genuine riffs." – Decibel Magazine
"Just try not to bang your head. We dare you." – Revolver
"Strap yourself in for a lightning ride." – New Noise Magazine
"A damn fine example of how thrash is coming back with some fine hardcore-heavy crossover." – Heavy Blog is Heavy
"Grab some friends, throw them around the room, and let the power swell of PLAGUE YEARS wash you free of all your rage and pain." – Metal Wani
"They play mean and powerful thrash music. The kind that lets you release the day's frustration with an eye bulging fist-clenching roar." – Life In Michigan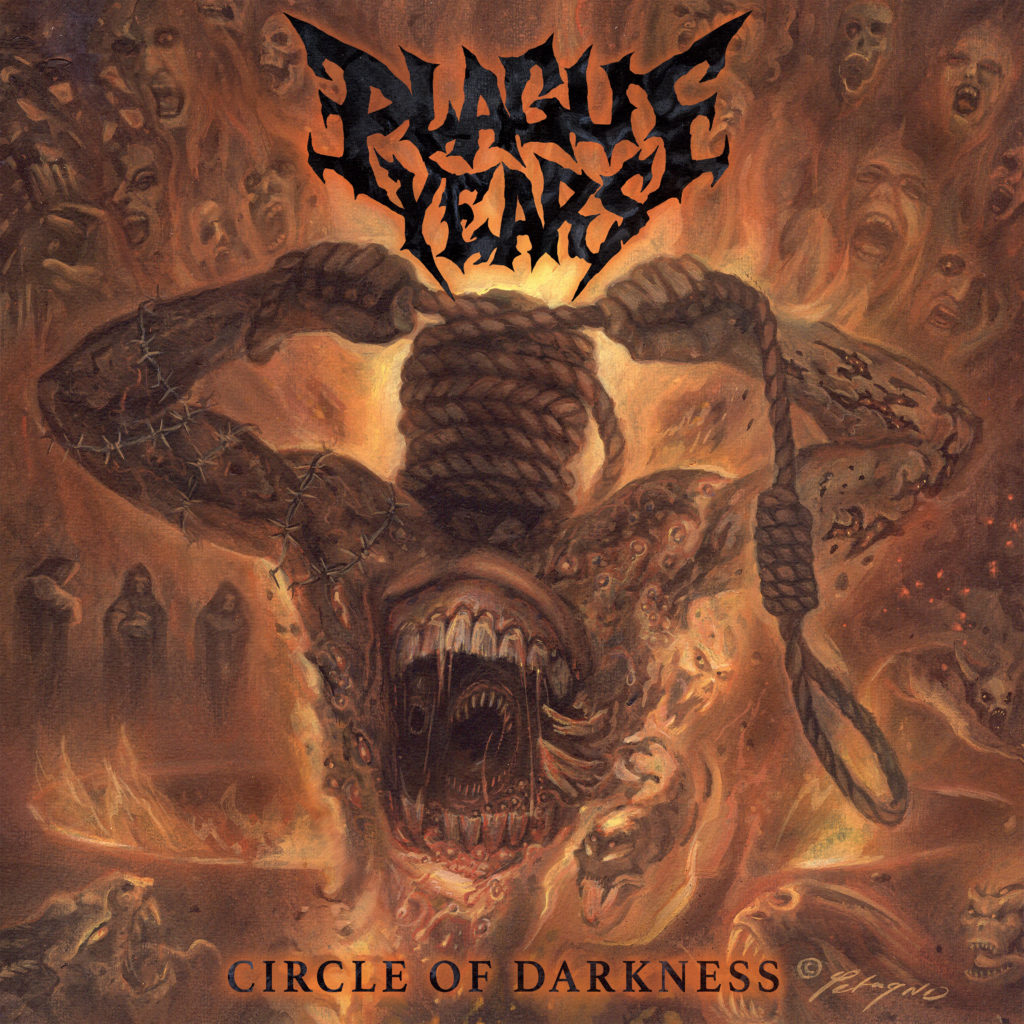 https://www.facebook.com/plagueyearsdet
https://www.instagram.com/plagueyearsmi
http://www.entertainmentone.com
http://www.facebook.com/eOneMusicUS
http://twitter.com/eonemusicus
http://www.instagram.com/eone_music