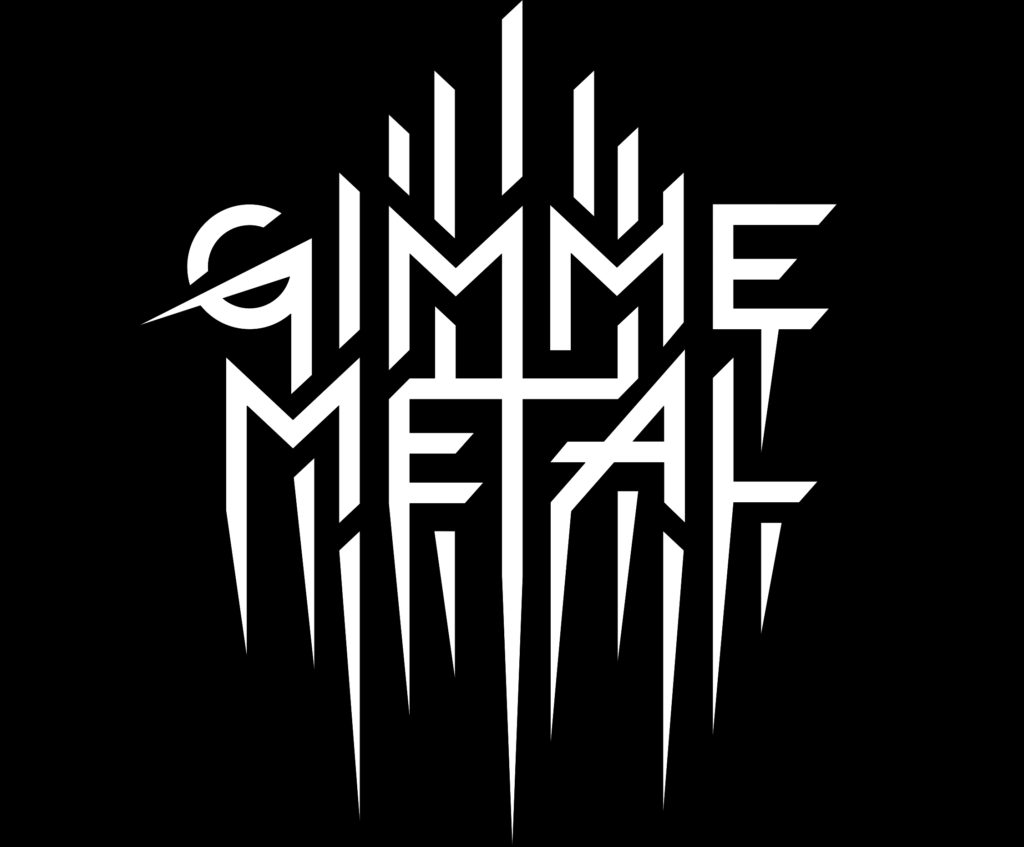 Each week, GIMME METAL publishes its radio chart listing the top 40 tracks played on the station. Already the best metal discovery service online, the GIMME METAL chart is a powerful tool for listeners, labels, and artists for staying up to date on the best new metal released by established greats and up-and-coming underdogs, all handpicked by GIMME's knowledgeable DJ roster and editorial team.
GIMME METAL Chart – July 24th, 2020:
1. Khthoniik Cerviiks – "Odyssey 3000"
2. Imperial Triumphant – "Rotted Futures"
3. Kataklysm – "The Killshot"
4. Temple Of Void – "Leave The Light Behind"
5. Hellripper – "Spectres Of The Blood Moon Sabbath"
6. Inter Arma – "Runnin Down A Dream"
7. Stygian Crown – "Devour The Dead"
8. Trial – "Colony Of Trial"
9. Primitive Man – "The Lifer"
10. Attaxe – "Metal Messiah"
Click HERE for the full Top 40 List.
Upcoming Shows on GIMME METAL: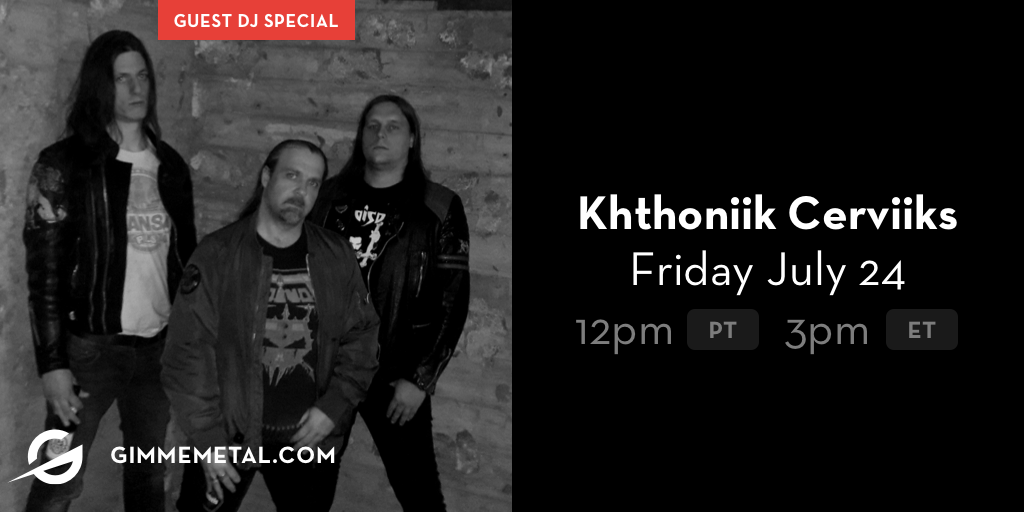 Khthoniik Cerviiks Guest DJ Special: Friday 7/24 at 3:00pm EST / 12:00pm PST – In 2016, German black/death alchemists Khthoniik Cerviiks released their critically acclaimed debut album, SeroLogical Scars (Vertex Of Dementiia) through Iron Bonehead. After a split LP with their comrades Howls Of Ebb in 2017, Æequiizoiikum has now arrived. At once swarming yet spacious, angular yet oddly anthemic, melodic yet miasmic, direct yet detouring, alien and futuristic yet in a manner most rusted and rustic… The band's startling poise here is more pronounced, with songs that dig their hooks deeper, the "metal" in their black/death metal simultaneously emphasized and abstracted, the gnarliness more graceful, the confidence simply off the charts… Truly, no one sounds like Khthoniik Cerviiks. GIMME METAL is pleased to welcome to the band to the guest DJ chair.
Metal Menagerie with DJ Jet: Saturday 7/25 at 1:00pm EST / 10:00am PST – Jet's been a DJ on the internet for over a decade as well as an interviewer and writer at Sick Drummer Magazine, Viaomega Magazine, and, most recently, No Clean Singing webmag. Hear founding bassist/vocalist Schmier of German thrash titans Destruction join Jet for an interview on the advent of their new live album Born To Thrash: Live In Germany (Nuclear Blast) on this, her Metal Menagerie!
Gimme 5 with Kelsey Chapstick: Tuesday 7/28 5:00pm EST / 2:00pm PST – Kelsey Chapstick returns with more interviews and album spotlights including investigations of Khemmis' More Songs About Death Vol 1 (Nuclear Blast), Primitive Man's Immersion (Relapse), The Ocean's Phanerozoic II: Mesozoic | Cenozoic (Metal Blade), Imperial Triumphant's Alphaville (Century Media), and Dee Snider's For The Love of Metal (Live) (Napalm)!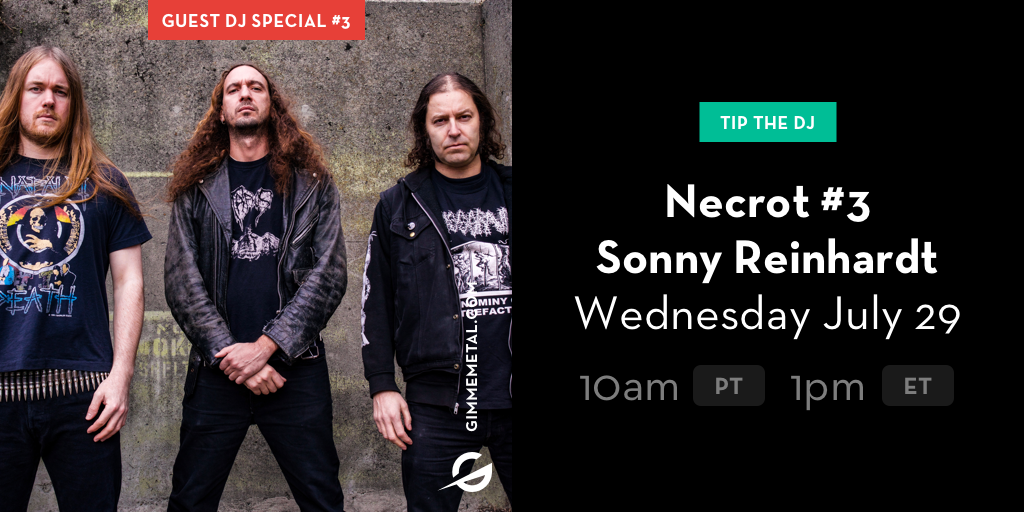 Necrot Guest DJ Special: Wednesday 7/29 1:00pm EST / 10:00am PST – Necrot guitarist Sonny Reinhardt hosts the final GIMME METAL special in their three-part series. The trilogy of shows coincide with three singles from the death metal/punk unit's upcoming new full-length Mortal, set for release next month via Tankcrimes. The album's first single, "Stench Of Decay," was unveiled on May 27th during vocalist Luca Indrio's set on GIMME METAL, Chad Gailey previewed "Asleep Forever," and Reinhardt will roll out "Your Hell." It's a Necrot summer!
Chepang Guest DJ Special: Thursday 7/30 at 11:00am EST / 8:00am PST – Relocated from Kathmandu, Nepal to New York City, Chepang have staked firm territory as a brutal musical force with which to be reckoned. The quintet — which features Mountain God and Bhotey Gore on vocals, Grandmaster Bhudey on guitar, and Trisula Da Hammer and Bijuli Da Himalayan Leopard on the dual drum attack — have culled influences from all over the spectrum, ably slicing and dicing them into their short blasts akin to such brethren as Naked City and Discordance Axis. They've collaborated with artists from other locales worldwide and will join GIMME METAL on the heels of their recent and amazing Chatta LP! Kshitiz Moktan (AKA Bhudey) will take listeners on a worldly tour of grind insanity; buckle up.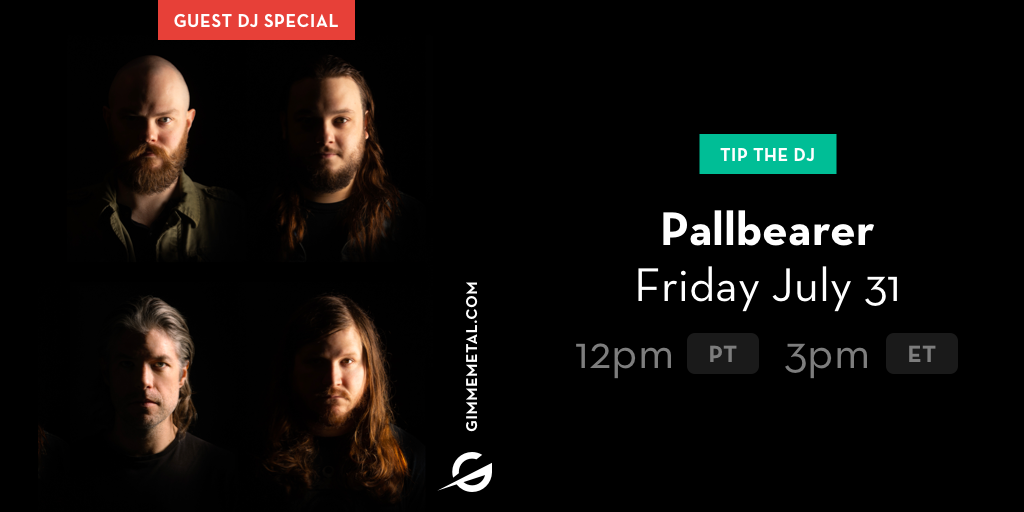 Pallbearer Guest DJ Special – Friday 7/31 at 3:00pm EST / 12:00pm PST – GIMME METAL is pleased to welcome Pallbearer's Brett Campbell and Joseph D. Rowland to the console next Friday. The band will release new album, Forgotten Days, this October via Nuclear Blast. Carefully plotted throughout 2019, the quartet's fourth long-player eschews the compositional maximalism that hoisted predecessor Heartless aloft with the heaviest grooves and the most visceral hooks to come out of Arkansans to date. Spread across eight towering tracks, Forgotten Days sees Pallbearer embracing their roots again, but this time with a doom-infused metallic spark that's both infectious and transcendent. This album is everything a Pallbearer fan could love; raw and riveting evolution, filled with emotion, and the unique downcast exuberance that has defined the band's storied career.
Don't miss it! Visit http://www.gimmemetal.com.
Coming Soon On GIMME METAL:
Michael Alago 8/03
Okkultokrati 8/03
Imperial Triumphant 8/07
Valdrin 8/10
Dark Descent label special 8/12
Ingested DJ show #2 8/14
Psycho Las Vegas 2019 revisited specials with interviews 8/15
No Clean Singing site special 8/17
Primitive Man 8/18
Skeleton 8/21
Trial 8/24
Pyrrhon 8/26
Knucklebonz 8/27
Moon Destroys 8/29
Carach Angren 8/31
King Fowley 9/04
Glassing 9/05
Intoxicated 9/09
Raven 9/18
Exciter 9/24
Venom Prison 10/02
Hellripper 10/09
GWAR 10/16
About GIMME METAL:
Founded by digital music veterans from Apple Music, Google Play, Beats Music, and Napster, parent company Gimme Radio builds highly engaged communities for the passionate fan on a genre-by-genre basis. The company launched its first community in June of 2017: the world's first 24/7 metal-focused service. Fans tune in to hear world class DJs playing metal they can't hear anywhere else – for free. The GIMME METAL app and streaming radio service allows the fans and the DJs/artists to communicate directly with one another in a live feed, in real-time, while they listen. Its roster of 70-plus DJs includes Dave Mustaine of Megadeth, Jessica Pimentel, star of Orange Is The New Black, Brian Posehn, and Randy Blythe of Lamb Of God among many others.
http://gimmemetal.com
http://www.facebook.com/gimmemetal
http://twitter.com/gimmeradio
http://www.instagram.com/gimmeradio