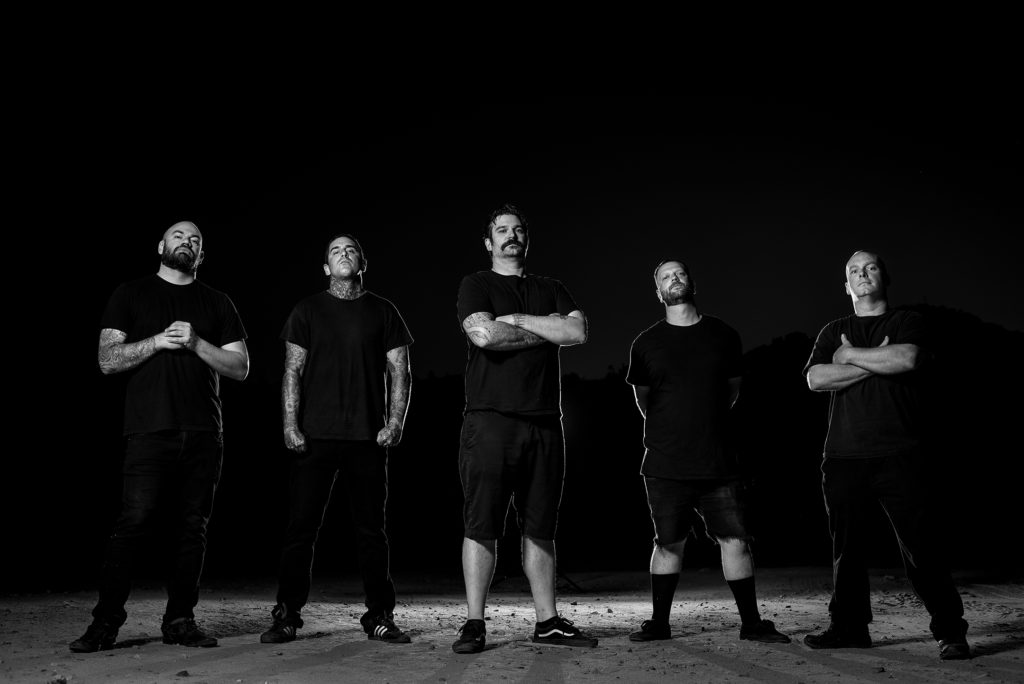 [photo by voltrondanger]
Creator-Destructor Records has announced the upcoming release of Imperial Cult, the venomous new LP from San Diego's hardcore destroyers PISSED REGARDLESS. The merciless opening track to the album, "Three Decades," is now streaming alongside preorders.
Having released a demo and two vicious 7″ EPs since their formation in 2013, Imperial Cult marks the first full-length offering from PISSED REGARDLESS. Featuring ten tracks of unrelenting thrash-fueled hardcore, the band has expanded upon their darker influences to create an album that feels thematically cohesive and unapologetically heavy, and primed for fans of Ringworm, Integrity, No Warning, Darkest Hour, and labelmates Light This City.
Imperial Cult was recorded between March and July of 2019 at Sunsick Studio by Alex Jacobelli, San Diego and mastered by Brad Boatright at Audiosiege (Obituary, Integrity, Nails) with cover art by Curse Of Face.
Stream PISSED REGARDLESS' decimating "Three Decades" RIGHT HERE.
Imperial Cult will see release on October 18th. Creator-Destructor has launched the vinyl preorders of the album, including two different colored vinyl variants; the 1st pressing limited to 250 copies. See preorder options at the label webshop HERE and Bandcamp HERE.
PISSED REGARDLESS guitarist Sean Walker explains, "We really wanted to challenge ourselves to do something different when the material for this record started taking shape. While trying to keep our roots, we wanted to experiment with other sounds and styles. Ultimately, we wanted to write a RECORD, not just track songs that we had written over the last year. We also wanted to work with an engineer with an ear for our genre. Our previous releases were hammered out with whoever we could afford, and while we are pleased with their outcome, they were done with a different mindset. We encouraged producer Alex Jacobelli to not let us settle and to push us to experiment and re-do until it was right, where in the past there was a lot more settling. When it came to mastering Alex suggested Brad Boatright which was someone we had in mind because of the endless list of bands he has done that we are influenced by. For the art we knew we also wanted it to be different than all the previous releases, when we found Imam/Curse Of Face we knew the art would complement what we had written."
Watch for additional audio previews, live dates, and more to be posted in the weeks ahead surrounding the release of Imperial Cult.
Imperial Cult Track Listing:
1. Three Decades
2. Halls Of Hate
3. Bleeder
4. Dark Disciple
5. Behold A Pale Horse
6. Dichotomy
7. All Bets Are Off
8. Castrated
9. Maniacal
10. Hell's Coming With Me
PISSED REGARDLESS:
Matt Gerken – vocals
Sean Walker – guitar
Chris Kitchen – guitar
Taylor Hewson – bass
Tim Whetsel – drums
https://www.instagram.com/pissedregardless
https://www.facebook.com/pissedregardlesshc
http://www.creator-destructor.com
http://www.facebook.com/creatordestructorrecords
http://www.twitter.com/CD_Records
http://www.creator-destructor.bandcamp.com